About our Partnership
Our partnership with the Boys & Girls Club of Harrisonburg and Rockingham County (BGCHR) started in February 2021. As of Fall 2023, JMU students who are members of JMU STEM Corps visit two of the Harrisonburg City BGCHR clubs on Friday afternoons to engage the children in our STEM Foundations and Integrations curriculum. This partnership is funded by James Madison University and 2023 Madison Trust donor support.
Curriculum
Because this program started during year-1 of the pandemic, we prioritized "fun" when selecting STEM activities from free online sources. In year-2, we began introducing science and design principles to our lessons but they were still disconnected and we did little to prepare our students to teach the principles. At the end of year-2 we made a comittmen to sustain this, improve it, and use it to test a new college student engagement model.
The summer before year-3, we decided to write an informal STEM curriclum that incorporated both level-approrpriate STEM foundations and modeled real-world integration of the disciplines. This "STEM Foundations and Integrations" Curriculum was written by STEM Center director, Dr. Kerry Cresawn, and is informed by the informal STEM education literature; VA science and math learning standards; and our two years of observing the children noting what they were most interested in, what made they feel successful, and what they most remembered.
2023-2024:
Energy & Technology (4 lessons) and People, Places, Science & Solutions (6 lessons)
We are working with twice as many children than the prior year by working with two club locations concurrently and the number of lessons is being scaled back from 19 to 10. Version 2 is divided into 2 themes.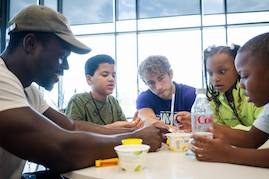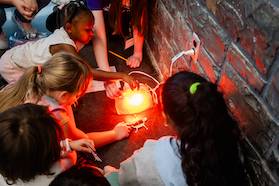 Revision Approach: After evaluating version-1 lessons and reviewing informal STEM education literature and reports, we decided to make the following changes or additions:
(1) Be more intentional in our integration of technology by a. providing opportunities to learn how technologies work by building simpler versions of the digital tools and b. identifying a science principle that is familiar to most children and could be used as a logical context for our technology applications.
(2) Demonstrate how the information we find on maps informs how we address problems through STEM and how information gathered through STEM practices can informs maps. 
(3) Build on the design process practices introduced in the previous theme by giving students the opportunity and framework to begin developing a design-thinking mindset with a focus on the role that empathy and social awareness play in addressing problems through STEM.
Like version-1, we distinguished science from engineering practices, but aim to better demonstrate how the two disciplines are integrated in the real world to address complex problems that impact society.
See photos here. 
Sharing our Curriculum
We are excited about the interest many have expressed in our lessons. We do plan to make Version 2 of our informal K-5 STEM curriculum openly accessible later this year. First, we need to pilot the remaining lessons, use feedback from the facilitators and BGCHR staff for improvement, and consult with partnering K-5 formal classroom teachers on alignment. This document will include all elements of the lesson, training materials we developed for our students, lists of materials with eVA-approved and alternative vendors, and reference to related VA Science and Math Standards. Please check back in May, 2024 for free access to this document. For more information on this, you can contact Dr. Kerry Cresawn (cresawko@jmu.edu).