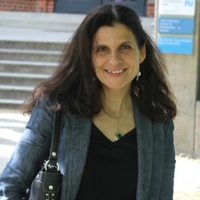 During the 2018-2019 academic year, Laura Katzman held the Terra Foundation for American Art Visiting Professorship at the John F. Kennedy Institute for North American Studies at the Freie Universität Berlin.
Education
M.A., M.Phil., and Ph.D. (Art History), Yale University
B.A. (Fine Arts), New York University
Areas of Expertise
Art of the United States, focusing on the history of photography, documentary photography, public art, and museum studies.
Previous Experience
2003-2007, Senior Lecturer in American Studies and Museum Studies for Smith College at the Smithsonian
2002-2003, Guest Professor of American Studies and Art History at the University of Hamburg in Germany
1997-2001, Visiting Curator of Photography at the Harvard University Art Museums
1995-2007, Associate Professor of Art and Director of Museum Studies, Randolph College
Grants
Katzman has received major research grants from the Smithsonian American Art Museum, J. William Fulbright Foundation, Judith Rothschild Foundation, Center for Advanced Study in the Visual Arts at the National Gallery of Art, National Endowment for the Humanities, Henry Luce Foundation/American Council on Learned Societies, and Andrew Mellon Foundation.  
At James Madison University, she has received two Edna Schaeffer Humanist Awards, a Cultural Connections Diversity Council Grant and the 2013-2014 Madison Scholar Award for outstanding faculty scholarship.
Publications
Katzman is co-author of the award-winning Ben Shahn's New York: The Photography of Modern Times (Yale University Press, 2000) and principal author of Re-viewing Documentary: The Photographic Life of Louise Rosskam (Penn State University Press, revised second edition, 2014).
Other recent publications include: 
Drawing on the Left: Ben Shahn and the Art of Human Rights (Duke Hall Gallery of Fine Art, 2017/2018)
"The Fine Art of Memorialization: A Conversation with Gunter Demnig," in Julia Lange and Marius Henderson, eds., Entangled Memories: Remembering the Holocaust in a Global Age (Heidelberg: Universitätsverlag Winter, 2017): 39-68
"Source Matters: Ben Shahn and the Archive," Smithsonian Archives of American Art Journal 54:2 (Fall 2015): 4-33
Curated Exhibitions
As an independent curator, Katzman co-organized Picturing Puerto Rico Under the American Flag: The Photographs of Louise Rosskam, 1937-1948, Hunter College East Harlem Art Gallery (2012);
Re-viewing Documentary: The Photographic Life of Louise Rosskam, American University Museum at the Katzen Arts Center (2011);
Ben Shahn's New York: The Photography of Modern Times, Fogg Art Museum/Harvard University Art Museums; Phillips Collection, Washington, D.C., Grey Art Gallery at New York University, and Smart Museum at the University of Chicago (2000-2001).
She has also curated exhibitions at the Duke Hall Gallery of Fine Art at JMU, Center for Documentary Studies at Duke University, Maier Museum of Art at Randolph College, and Asheville Museum of Art, N.C.
Current Book Project
Mining the Archive: Photography, Modernity, and the Office of Information for Puerto Rico examines 1940s documentary photography in Puerto Rico, analyzing the role that government photographs played in the modernization of Puerto Rico and in the construction of its postwar political and cultural identities on the island and stateside. Katzman has engaged in extensive research at the Archivo General de Puerto Rico, Universidad de Puerto Rico, Río Piedras, and the Fundación Luis Muñoz Marín. In San Juan, she has conducted oral histories with dozens of key historical figures and cultural luminaries, including Ricardo Alegría and Teodoro Vidal.