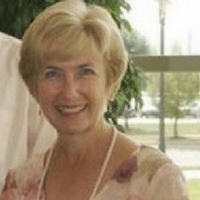 Art, Teaching Certificate, Art History

Year Graduated
1973
Major/Minor
Art major with teaching certification and Art History minor
Christina Beck Updike's dedication to Madison earned her the 2004 James Madison Distinguished Service Award. Christina was a valued employee of JMU for over 30 years and is one of JMU's most dedicated alums and boosters.
Updike ('73), and her husband Phil Updike ('73), generously funded the School of Art and Art History's first endowed professorship - the Beck Faculty Fellowship by Phillip and Christina Beck Updike. Christina also created JMU's Visual Resource Collection, a library of more than 100,000 visual images that serve the university. In 1997, Updike was recognized with the Visual Resources Association Distinguished Service Award.
Updike's dedication to JMU, her colleagues and her field is apparent in her long list of past leadership roles, including chair of the JMU Employee Advisory Committee, chair of JMU's Employee Appreciation Day Steering Committee, international president of the Visual Resources Association, chair of the national Visual Resources Curators Organization and Virginia representative to the Southeast College Art Association Board of Directors.
In addition, Christina served as the first chair of the Employee Appreciation Day Steering Committee. Updike also helped create the Madison Digital Image Database educational software that has revolutionized the use of digital images in and outside of the classroom. This tool is used by America's top universities and the program earned JMU its first grant from the Andrew W. Mellon Foundation. MDID has put JMU among the leaders in the use of digital images in teaching.