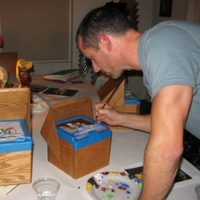 Art (printmaking) / Art History

Year Graduated
1991
Major/ Minor
BFA Art (Printmaking), minor in Art History

Noteworthy campus activity or achievement
Presenting at the past two National NAEA Conferences (2016/2017). Working with National Gallery of Art and the Smithsonian Portrait Gallery to develop and implement Teacher Workshops Nominated by my school for the Agnes Meyer Teacher of the Year Award 2016.
What are you up to now?
Teaching at Samuel W. Tucker Elementary in Alexandria, Va.

How does your art major/minor inform your career? How did it help you get to where you are now?
My training in Art Education from JMU prepared me for the challenges of teaching art in the classroom. Planning and implementing effective art lesson to help students find connections between art, their classroom studies , and themselves. 
What are some of the most valuable skills you gained from the School of Art, Design and Art History?
Learning from other Artist /Educators Understanding my Process of making Art.
What is your advice for JMU students knowing what you know now?
You have a lot to offer the world. Be brave;remember what Matisse said "Creativity takes Courage". Trust yourself and your artistic instincts;be willing and open to listen to criticism and see how it might improve your work.