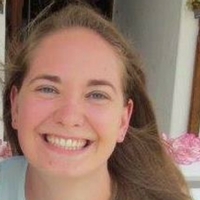 Graphic Design, Art History, Art Education

Year Graduated
2011
Major/Minor
BFA in Art, major in Graphic Design; minor in Art History and Art Ed Certificate 
Noteworthy campus achievement 
A number of my students have won Scholastic National Gold Keys for their art work. Every year we host a Pyramid Art Show AND Upper Level Art Exhibition on our campus and off campus at local galleries.

What are you up to now?
I am the Fine Arts department chair at Fairfax High in FCPS, where I teach computer graphics, animation and AP Art History. I am pursing my masters in Learning Design and Technology at Purdue University with the hopes of going on to complete my doctorate. 
How does your art major/minor inform your career?
I constantly refer to my graphic design experience to bring in real challenges and career centered projects when digital arts, design and animation. 
What is your advice for JMU students knowing what you know now?
Be open to change and take on challenges. Do not shut any doors. 
Website/ Blog
http://pjnaber1.wixsite.com/fairfaxcompgraph