James Madison University's vision is To be the national model for the engaged university: engaged with ideas and the world.  This perspective guided priorities during the 2014-15 academic year, when staff from the JMU Office of Research Development & Promotion invited local members of the Virginia Industrial Hemp Coalition to attend economic development forums in Harrisonburg. These meetings provided a venue for conversations focused on the potential economic and agricultural impact of industrial hemp in the Shenandoah Valley. This was an exciting prospect, as hemp had been banned as an agricultural product since the 1930s, despite humans utilizing hemp for thousands of years in a variety of applications, including: textiles, papermaking, rope, biofuels, human and animal feed, bioplastics, and insulation. The 2014 U.S. Farm Bill included a provision allowing states to regulate industrial hemp production for research purposes, thus providing a legal path for reintegrating hemp into the U.S. economy.
*Please note that industrial hemp and marijuana are genetically distinct forms of Cannabis.  Industrial hemp contains no more than 0.3% THC (tetrahydrocannabinol) and does not produce a psychoactive effect. 
Energized by the local interest in hemp, a JMU representative attended a meeting hosted by the Virginia Department of Agriculture and Consumer Services (VDACS) in the spring of 2015.  The purpose of this meeting was to bring together academia, industry, and lawmakers to discuss an industrial hemp research program managed by public institutions of higher education.  After receiving broad bipartisan support in the Virginia General Assembly, Governor Terry McAullife signed into law House Bill 1277 / Senate Bill 955, authorizing an Industrial Hemp Research Program in the Commonwealth.  Later that summer, James Madison University, Virginia State University, and Virginia Tech became the first three institutions to join this new initiative administered by VDACS.  JMU faculty members Michael Renfroe (Biology) and Sam Morton (Engineering) assumed leadership roles overseeing partnerships with external growers, experimental design, project implementation, data gathering and analysis, as well as opportunities for students to learn about industrial hemp and participate in research projects.  Please visit our Team page to learn more about the faculty involved.
JMU's first year (2016) partnering with growers included experimental industrial hemp plots in Albemarle and Rockingham Counties.  In the four years since, JMU faculty researchers and student assistants have collaborated with at least 20 agricultural operations stretching from the Shenandoah Valley to the Coastal Plain and Tidewater region.  Industrial hemp research experiments have focused on, but have not been limited to, the following objectives:
Field-based Research 
To determine how effectively hemp will grow in Virginia in the Ridge and Valley Province, examining growing conditions and analyzing soil properties 
To analyze harvest methods and determine if conventional agricultural equipment (seed drillers and combines) can plant and harvest industrial hemp without major problems 
To investigate the use of hemp seed oil in the production of fuels (biodiesel) and the use of press cake for livestock feed 
University-based Research 
To explore the potential for the chemical conversion of hemp oil to produce a qualified, quality biodiesel 
To develop both gas and liquid chromatographic analyses of the cannabinoids found in industrial hemp 
To develop a strong and extensive life-cycle systems overview 
To determine the potential for lignocellulosic derived biofuels 
To develop an economic landscape analysis of the current state of the industrial hemp market in the Shenandoah Valley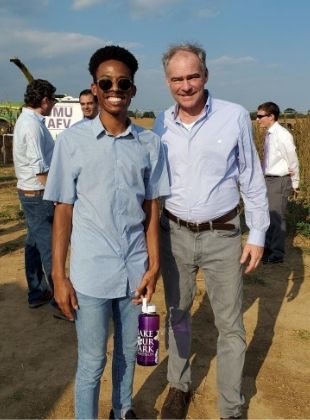 As a public institution of higher education with a commitment to engagement with the community, the team of JMU faculty and grower partners agreed early on about the importance of hosting field events to showcase experimental plots and present research findings.  Each year since September of 2016, members of the agricultural community; staff of local, state, and federal policymakers and agencies; university faculty and students; and others interested in growing industrial hemp and discussing market opportunities have been invited to participate in hemp field day demonstrations in Port Republic, VA.  Elected leaders, including U.S. Senator Tim Kaine and former U.S. Representative Bob Goodlatte, have also visited the field sites to hear directly from those working to advance an industrial hemp economy in the Commonwealth. 
After official approval from both the state GO Virginia Board and Region 8 Council in March 2020, JMU was awarded an Enhanced Capacity Building grant to gather and analyze data to better understand the current state of the industrial hemp market.  Partnering with seven municipalities, this project intends to study the impacts and opportunities of the industrial hemp industry for all of the Shenandoah Valley, including the assets and resources within the region.  For more information about this effort, please visit our GO Virginia Industrial Hemp Initiative page.