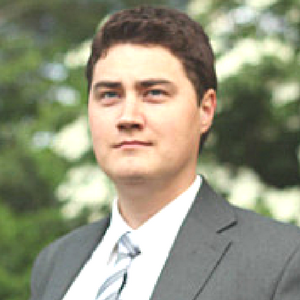 Alleyn Harned is the Executive Director of Virginia Clean Cities (VCC), a member of the U.S. Department of Energy-affiliated Clean Cities Coalitions program.
Alleyn joined Clean Cities in 2009, the same year Virginia Clean Cities, Inc., formed a partnership with James Madison University. That partnership allows Clean Cities and the university in Harrisonburg, Va., to work together to leverage resources, support alternative fuel initiatives and pursue opportunities to decrease pollution and reduce dependence on foreign oil.  
Prior to be named Executive Director, Alleyn served as the VCC 's Business Development Director.  He serves as the Virginia representative to the nine-state Southeast Natural Gas Vehicle Corridor Committee, and was coordinator for Virginia's initial 2010 electric vehicle readiness effort.  Harned was appointed to the State Advisory Board on Air Pollution in 2013.
Alleyn has worked on transportation and energy related issues in Virginia since 2006.  Before joining the VCC staff, Alleyn served as the Assistant Secretary of Commerce and Trade for the Commonwealth of Virginia where he assisted in drafting Virginia's initial Energy Plan, and participated in the Virginia Commission on Climate Change and Governor's Energy Policy Advisory Council.  Harned is a graduate of Ohio Wesleyan University, and has his Masters degree in Public Administration from James Madison University.
With Virginia Clean Cities, Harned leads the Virginia Clean Cities coalition's collaborative effort to assist stakeholders and the Commonwealth in programs to improve air quality, and increase American energy security and economic opportunity through the increased use of alternative fuels and vehicles.  Virginia Clean Cities has offices in Richmond VA, and on the James Madison campus in Harrisonburg VA.