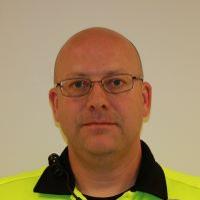 Lieutenant Cory Dove is a lifelong resident of Rockingham County, who enjoys spending time with his family, friends, pets and the great outdoors. He has 29 years of Law Enforcement experience.
Lieutenant Dove joined the James Madison University Police Department in 2006 as a Patrol Officer. In 2012, he joined the Joint Patrol Task Force, before being promoted to the rank of Patrol Sergeant in 2016. In 2021, he took over responsibilities as Sergeant of the Criminal Investigations Division, later being promoted to the rank of Lieutenant.
Prior to joining the James Madison University Police Department, Lieutenant Dove started his Law Enforcement career in 1994 at the Rockingham County Sheriff's Office, later serving the Town of Grottoes Police Department and the Town of Broadway Police Department, as a Patrol Officer. 
Lieutenant Dove is a graduate of the Central Shenandoah Criminal Justice Training Academy where he earned his Basic Law Enforcement Officer and Basic Jail Officer Certifications through the Virginia Department of Criminal Justice Services.  He has attended FBI-Leeda, (SLI) Supervisor Leadership Development as well as several other leadership and talent development courses. He has experience in patrol and investigations operations; to include advanced interview and interrogations, crisis intervention, campus safety and violence prevention, as well as numerous criminal and background investigation courses, along with multiple sexual assault response and trauma informed courses.