Research and Scholarship
Chasing the Madison Vision
Serving the Community to Advance Health and Wellbeing
---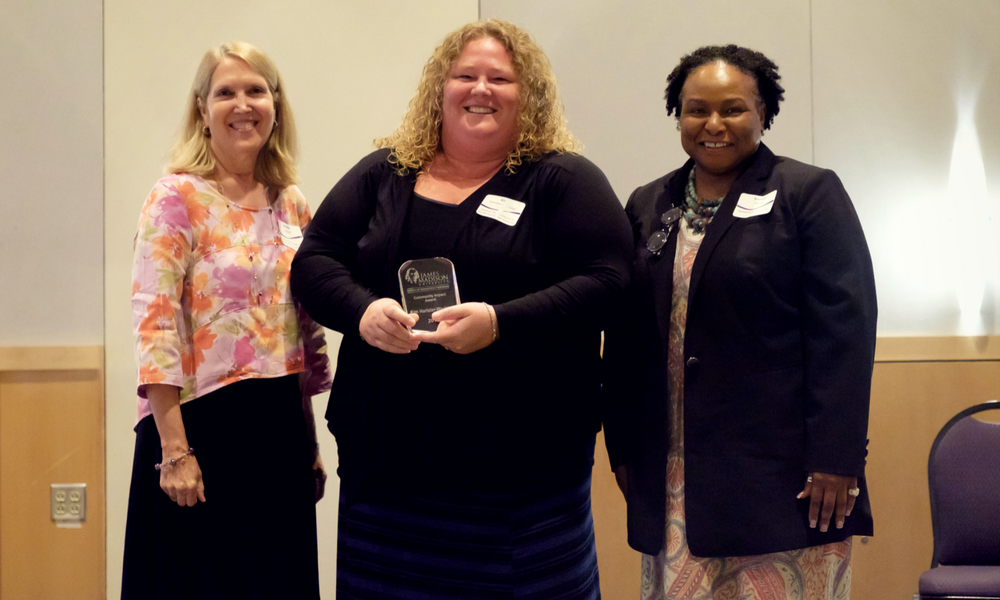 The Institute for Innovations in Health and Human Services (IIHHS), housed in the College of Health and Behavioral Studies, coordinates innovative health outreach programs in the Harrisonburg community and beyond. JMU Research & Scholarship conducted an interview with IIHHS Coordinator of Children and Youth Services, Kim Hartzler-Weakley, to learn about the people and services that are impacting countless families' lives for the better. 
---
Tell us about your professional journey. How did you come to the decision to continue on at JMU after graduating?
I will actually be a triple Duke come December 2017—I am currently a Ph.D. Candidate in the JMU School of Strategic Leadership Studies with a concentration in nonprofit and community leadership.
My desire to work in community-based public health is a combination of my passion for helping other people and two life-changing experiences I had while majoring in Health Sciences at JMU. My coursework included summer trips to Honduras and Haiti where public health conditions were so poor they're almost indescribable. But working in these countries made me feel certain that I had found my calling as a community health educator. I was also strongly encouraged in my career path by my JMU adviser and mentor, Dr. Theresa Wessel. I wanted to find a career in which I would be of service to my community and make a difference in the lives of children and youth.
After graduating with an undergraduate degree in Health Sciences (International Health) I learned about the newly formed Institute for Innovation in Health and Human Services (IIHHS) and knew that was exactly where I belonged. After completing my Master's degree, also in Health Sciences (concentration in Public Health Education), I was appointed the director of the Office on Children and Youth at IIHHS. And while serving in this role, I later was appointed the Coordinator of Children and Youth Services at IIHHS in 2013.
I am so fortunate to not only pursue my passions but to get to work with such talented and dedicated people interested in affecting change in our community. I think I am a strange person because I actually look forward to Monday mornings—every day gives me the opportunity to have an impact on my community.
 
What are your primary responsibilities as the Coordinator of Children and Youth Services for the Institute for Innovation in Health and Human Services?
As Coordinator of Children and Youth Services at IIHHS I serve in the Principle Investigator and Grant Administrator role for IIHHS grant-funded initiatives around children and youth issues. I oversee a grant portfolio of over $3 million and 44 staff members plus 63 part-time interpreters. I explore external funding opportunities with campus and community stakeholders around children and youth issues, preparing proposals for sponsors and/or donors as opportunities are available. I collaborate with academic programs and with other agencies in our locality, region, and state around the issue of youth development, in order to advance the missions of the College of Health and Behavioral Studies and the Institute.
All of my work is done in collaboration with the individual program directors and I take a very team-oriented approach to management. Without the hard work and dedication of these individuals and their direct-service staff, we would not be able to accomplish as much as we do in the children and youth services unit.


Why do Harrisonburg and the Shenandoah Valley need an IIHHS?
Harrisonburg and the greater Shenandoah Valley really benefit from the existence of IIHHS. Through externally-funded resources, collaboration with faculty, and the involvement of close to 1,000 JMU students annually, we are able to address the pressing and often unmet community of a whole range of vulnerable populations: limited English proficient people, immigrants, people living in poverty, people living with HIV/AIDS, children with special healthcare needs, caregivers of children with severe disabilities, caregivers of frail elders suffering with Alzheimer's, and people living in rural areas with very limited access to services.
Here are some numbers that highlight the significant role IIHHS plays in the community (2015-2016):
47,716 hours of student engagement in direct services, program assistance, and service learning
24,448 client services or clinical encounters on campus or at community sites
18,253 clients served by IIHHS programs
Extensive community connections sustained through dynamic grant-funded programs, thanks to grant revenues of $6,210,480 in FY15-16
250 events coordinated for the community
 
Why do JMU students need an IIHHS?  How do IIHHS experiences prepare students for life after graduation?
IIHHS provides significant momentum for the achievement of the JMU vision to be known as a national model of an engaged university. The experience students receive outside of the classroom through working with IIHHS expands not only their education, but their development as individuals. We believe in the importance of community engagement as a key aspect of a productive and meaningful life. Our staff is also dedicated to helping students make connections and grow their professional skills so they are able to successfully attain employment in their chosen fields.
In 2016, 900 students from 32 undergraduate and graduate degree programs partnered with IIHHS. These are quotes from just a few of them about their experience:
"I expanded abilities academically, socially and cognitively in ways class couldn't help me do."
"The outside experience greatly enhanced what I was learning. Applied in the real world, it was less abstract."
"Prepared me for my current work in DC public schools."
 "When I first entered college my interpersonal skills were terrible. The chance to work with a team helped me learn more about teamwork and how to effectively interact and communicate."
"My high school was 90% white people. In TPP I was exposed to different populations and saw how their families and cultures worked."
 "Working in the community gives you more insight into the complex causes and environments affecting these people's lives."
"I saw what foods kids were offered and how they were eating in school. It showed me the true relevance of my public health major."
 
Can you describe the experience of being honored at the White House and meeting the First Lady?
On November 15th, the
Reading Road Show: Gus Bus received a National Arts and Humanities Youth Program Award in a ceremony at the White House.  Read More 
I was so very honored to represent JMU and the "Reading Road Show: Gus Bus" at the White House. It was such an amazing experience that I will remember for the rest of my life. First Lady Michelle Obama spoke so inspirationally to the audience about working with youth, especially youth of color, and how the White House belongs to them, and that they can achieve anything; it brought tears to my eyes.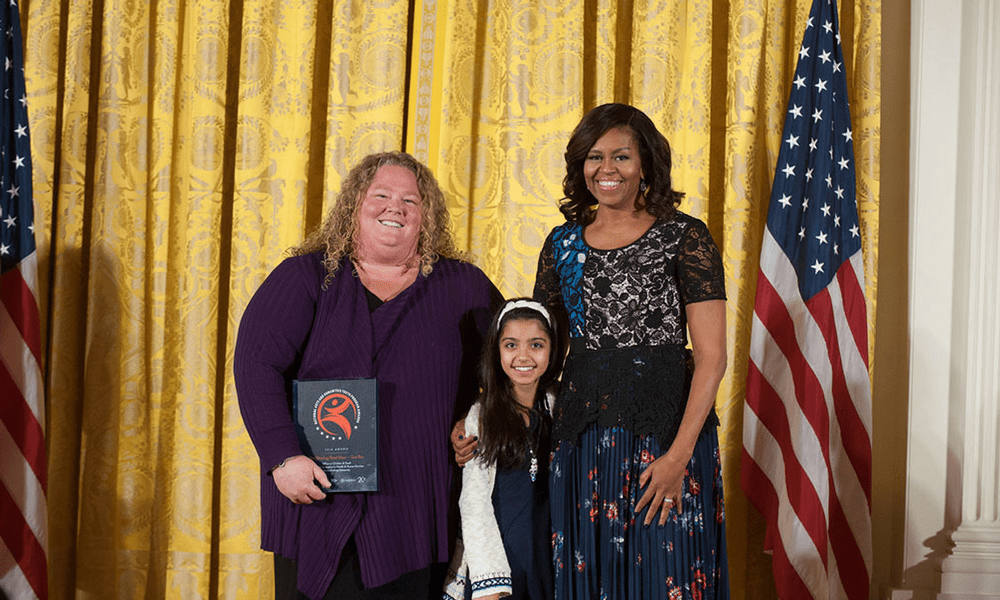 Also with me representing the program was one of our program participants, Sarah.  Her family moved to the Harrisonburg area in November 2013 on a refugee status after fleeing their home country of Iraq. The move was incredibly difficult for Sarah and her four siblings. No one, including her parents, spoke English when they arrived in the United States. When she entered school she struggled with the language and was unable to read and participate fully in class.
Sarah was extremely shy and did not have many friends until she was introduced to the Reading Road Show: Gus Bus. She was nervous to go on the bus at first, but when she finally got the courage she fell in love with it. She waited for the Gus Bus to visit her neighborhood every week and was ready to hop on as soon as it pulled up. She began checking out books, which in turn expanded her English vocabulary. She began making new friends in her neighborhood and felt more comfortable speaking English. The teachers on the bus began to see her grow as a reader. Eventually, she began reading aloud to other children on the bus, helping students in situations similar to hers, and assisting with the daily activities. Accompanying Sarah to the White House and seeing the experience through her excited eyes made the visit even more memorable for me.
Proposal development efforts by you and IIHHS staff helped secure a multi-year, multi-million dollar grant award from the U.S. Department of Health & Human Services -- the Virginia Personal Responsibility Education Innovative Strategies program (VPREIS). Can you describe how this program will benefit the community?
This is one of the most exciting projects of my career at JMU. We are serving youth residing in rural areas of Virginia with high teen birth rates, that demonstrate elevated risk factors for experiencing or causing a teen pregnancy, and contracting sexually transmitted infections (STI), including HIV/AIDS. The VPREIS initiative is a comprehensive, collaborative effort that will emphasize both abstinence and contraception and address the adulthood preparation subjects of healthy relationships, healthy life skills, adolescent development, and parent-child communication in order to increase knowledge and skills, and change behaviors among vulnerable populations.
The VPREIS initiative seeks to adapt the promising "Vision of You" (VOY) curriculum developed here at JMU into an interactive, self-paced online intervention for the following vulnerable high-school aged youth populations: 1) youth serving sentences in Virginia's juvenile detention centers, 2) youth attending alternative education and/or night school programs, 3) youth referred to Community Services Board programs. These population subsets of youth are not only transient and hard to reach through traditional approaches and programs, but they also exhibit multiple risk factors indicating a clear and significant need for an innovative intervention.
There is nothing like our program available in the field, so this project will really bring JMU to the national stage in the adolescent health arena. VPREIS is not only innovative, but we will be serving such vulnerable and often unreached populations of youth, who are at greater risk for experiencing a teen pregnancy. This project will change how sexuality education is delivered. After the five-year project, the program will be packaged and disseminated not only throughout the Commonwealth, but also throughout the United States, benefiting our local, regional, and state communities, in addition to communities all over the nation.


Thinking about your time at JMU and IIHHS, what are you most proud of?
Wow, this is such a hard question. I really am so proud of so many things during my time at JMU and IIHHS. I am immensely proud to be part of such an amazing university and the College of Health and Behavioral Studies, both as a student and employee. Being able to sustain and continually operate both the Gus Bus program and the Teen Pregnancy Prevention program over 14 years during changing political administrations, changing policies, a conservative community, and unstable funding streams is really a source of pride. The 61 percent reduction in teen pregnancy among 15-17 year olds in Harrisonburg is a huge accomplishment (especially given in public health 10-25 percent change is considered highly successful).
The Shenandoah Valley Child Development Clinic was asked by the Virginia Department of Health to expand three years ago and we have not only been successful at doubling the number of clients served in our expanded catchment area, but we have been able to implement practices and procedures to increase our efficiency and effectiveness, and drastically reduce our wait times. Seeing participants in our programs grow and develop through the years and pursue their passions has been very rewarding.
We currently have a staff member who was part of our Migrant Education and Gus Bus programs through elementary and middle school, and our Teen Pregnancy Prevention and Youth Council programs throughout high school who now works for the Migrant Education program, attends JMU as a student, and is such a remarkable person and tremendous role model for our students.
And of course, the recognition of the Gus Bus at the White House and getting to speak with and hug First Lady Michelle Obama is also something I am immensely proud of.  Honestly, I could probably go on for a long time here but I think I will stop with the examples.  I am so very proud to be a double (and almost triple) Duke and of all of the work that we do here at IIHHS, and I could not be happier to come to work every day!