The humanitarian toll of explosive hazards
CISR and its alumni shed light on the use of conventional weapons in the Russia-Ukraine war
Featured Stories
---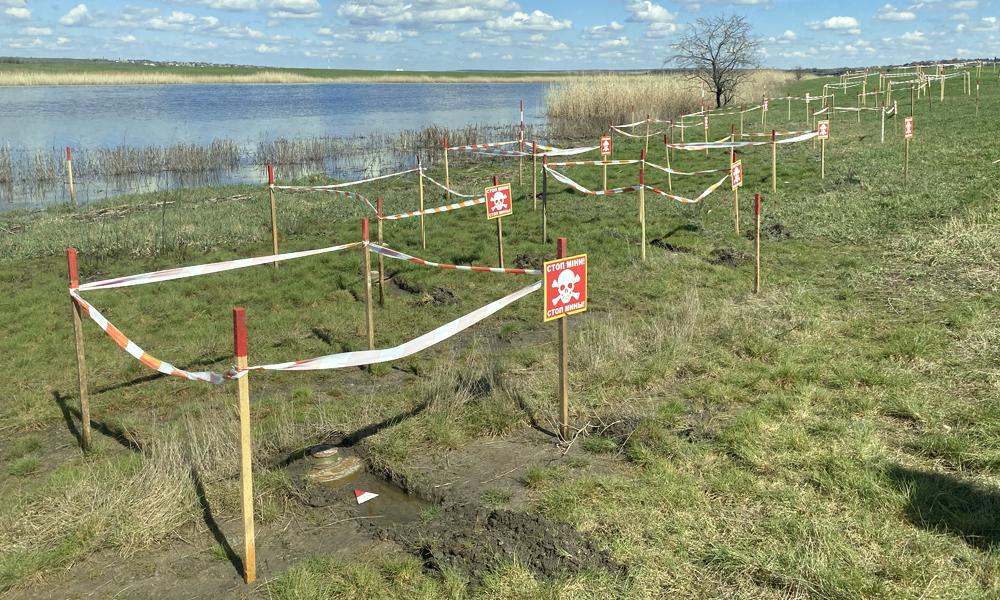 SUMMARY: Alumni of JMU's Center for International Stabilization and Recovery are working to clear Ukraine's war-torn regions of landmines and other unexploded ordnance, and stand ready to help with its post-war recovery.
---
On South Main Street in Harrisonburg, just down the road from the Quad, sits an unassuming, colonial house shaded by magnolia trees that is home to one of JMU's hidden gems, the Center for International Stabilization and Recovery. A student zooming past on an electric scooter might overlook the CISR offices inside Funkhouser House, yet nearly 400 student assistants have contributed to the nonprofit's post-conflict recovery efforts since its founding in 1996, many of whom went on to careers in humanitarian mine action.
Alex Pate ('16, '19M) first stepped through the doors of CISR in 2017 as a graduate assistant. Learning the administrative and reporting requirements of U.S. federal grants, meeting leaders in the field and traveling to the U.K. for a CISR-sponsored externship primed Pate for her current role in grants management at Mines Advisory Group, a landmine relief organization.
Russia's full-scale invasion of Ukraine in 2022 introduced new complexities to Pate's portfolio of projects and demanded swift action to prevent further atrocities related to explosive remnants of war. MAG had secured $8 million to clear landmines and unexploded bombs in Ukraine. "I had to jump in feet first, shifting focus to the otherwise quiet Europe region to get the new grant developed, submitted, approved and signed," Pate said. "The grant requirements were constantly evolving … I am always standing by to respond to needs, questions and to be contactable by the MAG Ukraine team and our partners."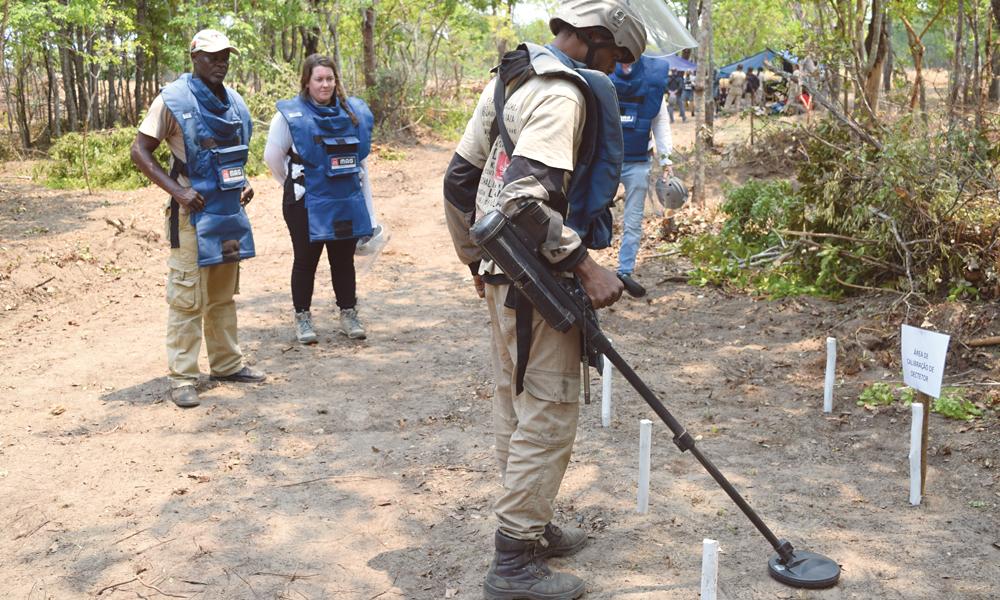 "MAG prioritizes recruiting staff who are local to the communities we work in, allowing local economies to thrive and giving communities agency over their own futures," said Alex Pate ('16, '19M), center.
Photo courtesy of Mines Advisory Group
With Ukraine now considered the most conventional weapons-contaminated country in the world, CISR honed in on the crisis by covering the war in its Fall 2022 issue of The Journal of Conventional Weapons Destruction. In choosing the cover photo, Heather Holsinger, CISR communications and publications manager, said the flag of Ukraine flying amid bombed buildings signifies the perseverance of its citizens.
Mines Advisory Group photojournalist Sean Sutton's striking black-and-white photo essay, "Ukraine: Through the Eyes of the People," graces the opening pages of The Journal. Taken in April 2022, the photographs depict the profound personal accounts of civilians as war rages around them in Andriivka, Bodoryanka, Irpin, Kyiv, Lviv, Ozera and Peremoha. "It shows the inhumanity of what people are having to live through. It shows the utter devastation," Holsinger said.
Published triannually and reaching more than 160 countries, The Journal serves as a print and digital forum for issues relating to post-conflict environments and explosive hazards clearance. "We are the platform through which nongovernmental organizations, governments, the U.N. and researchers share information about contamination, risk education, clearance efforts, survey and victim assistance in countries affected by explosive ordnance," said Jennifer Risser ('00), managing editor.
CISR's social media also acts as a conduit for exchanging lessons learned, a place for experts and academics who are directly active in helping the people of Ukraine. "We're like a highway for what's going on," said Blake Williamson ('12), social media manager. "That's where we come in."
In the fall issue, the article "Explosive Weapons Use and the Environmental Consequences" describes the massive damage to civilian and industrial infrastructure in Ukraine, resulting in the pollution of air, soil and water resources. Another Journal article notes that the Russia-Ukraine war is the most social media-documented conflict to date, which aids in the mapping of different types of explosive remnants and helps assess the level of contamination.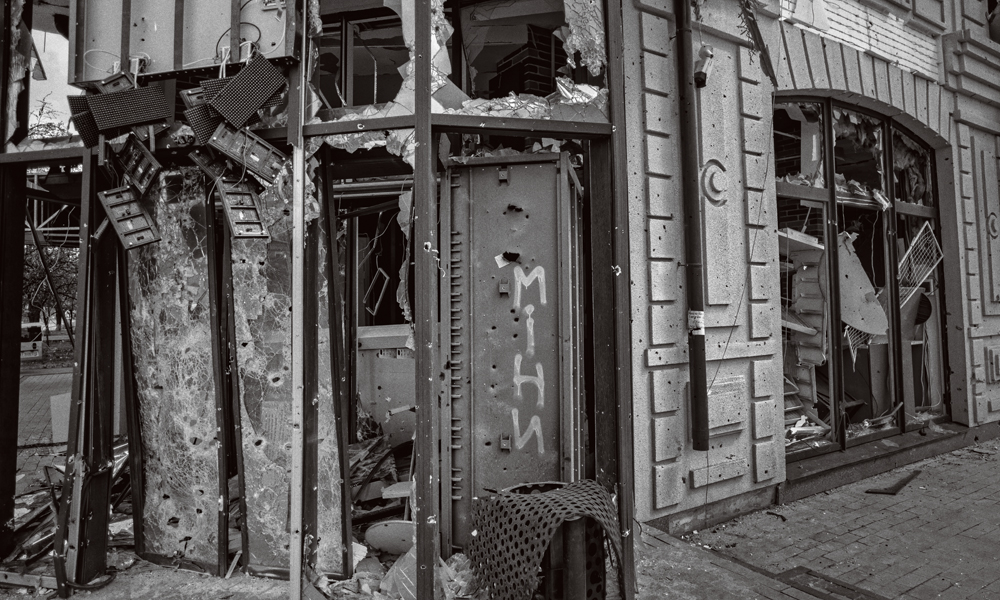 A booby-trapped store in Irpin, Ukraine, with the word "mine" on the entrance
Photograph by Sean Sutton/MAG
After a one-year hiatus, CISR is again managing the Frasure-Kruzel-Drew Memorial Fellowship program, an opportunity for fourth-year students, graduate students and recent graduates to apply for and serve in the Office of Weapons Removal and Abatement in the U.S. Department of State's Bureau of Political-Military Affairs. "We just completed a new round of recruitment last fall and have two newly selected fellows in the pipeline to start this summer," said Suzanne Fiederlein, CISR director. Thirty-five Dukes have served as fellows since 1999.
"[Sutton's photos] show the inhumanity of what people are having to live through. [They] show the utter devastation."
 — Heather Holsinger, CISR communications and publications manager
Winter's end is CISR's most eventful time of the academic year. In addition to preparing To Walk the Earth in Safety and The Journal for publication, every spring CISR presents Global Humanitarian Week to expose the campus and the local community to the issues and people working globally in countries affected by war. "Many of our CISR and JMU alumni who have gone on to work in the U.S. government and in international affairs participate in the annual events," Risser said.
This year, GHW featured keynote speaker Giles Duley, an award-winning photographer, U.N. advocate for disability and improvised explosive device survivor. He spoke in JMU's Hall of Presidents about his experiences and the people he has interviewed and photographed over the years, as well as his docuseries, The One-Armed Chef, in which he travels to Ukraine to break bread with citizens who cook for comfort, joy and hope during the war.
In March, CISR also hosted a delegation of Ukrainian mine action operators and managers who met with JMU faculty members, including Daniel Beers, John Hulsey and Ken Rutherford, to offer resources and assistance.
"To see a country experiencing conflict in this day and age is pretty horrifying, I think, to the entire world," Holsinger said. "It's part of the CISR mission to support Ukraine and its civilians in healing and recovery once the conflict ends."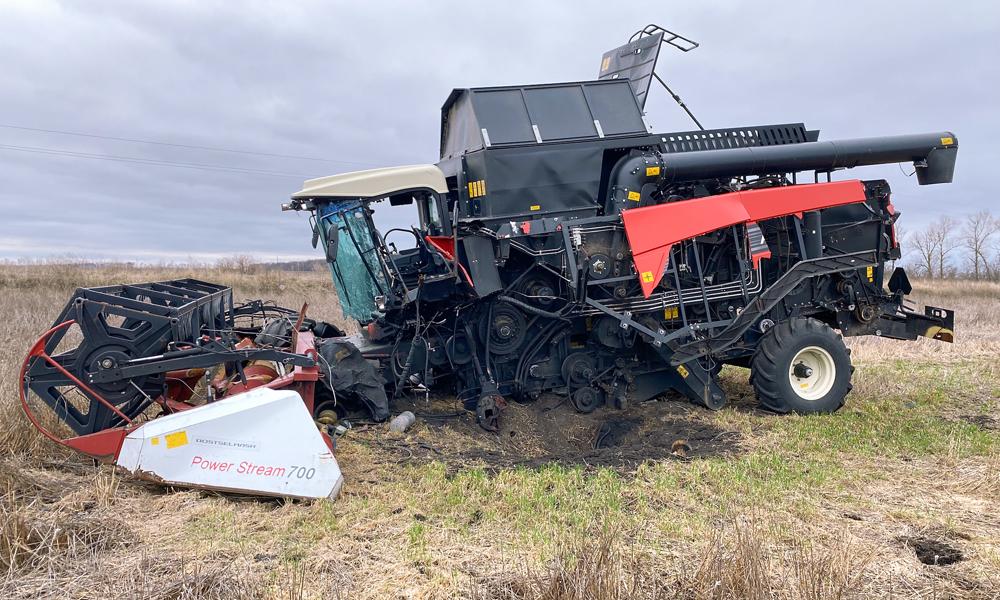 A tractor struck an anti-vehicle mine which occurred as a farmer attempted to cultivate a field near the city of Mykolaivka in eastern Ukraine. The blast was so big that it initiated a second mine. Fortunately, the farmer survived.
Photo courtesy of Ed Lajoie ('11) and The HALO Trust
Dukes in demining
Like Pate, Geary Cox ('06, '08M, '19Ph.D.) was introduced to mine action at CISR as an undergraduate English major in need of a summer job. Little did he know that he would become a full-time staff member. "Working on The Journal was surreal — when I started, I barely felt competent copy editing let alone working closely with humanitarian experts from around the world — but it was an incredible experience and underscores what a resource JMU has," he said.
After eight years at CISR, Cox now resides in Washington, D.C., as a senior conventional weapons destruction advisor at the Department of State. He said the State Department will provide more than $91 million to support train-and-equip projects that strengthen Ukraine's demining and explosive ordnance disposal capacity, including risk education to teach citizens how to avoid remnants of war — further preventing death and injury.
"It's devastating to think what Russia's ongoing occupation of Ukraine will mean for millions of people long into the future," Cox said. "But I think the mine action community has been quick to recognize the need and offer all kinds of creative assistance. [In January], a Ukrainian team visited Cambodia to exchange information on best practices for clearing explosive items. So you really see the community coming together to support the people of Ukraine."
Before Ed Lajoie ('11) rose through the field officer ranks to become head of operational compliance at The HALO Trust, one of the largest demining organizations in the world, he was an assistant project manager and research specialist at CISR, planning the Senior Managers' Course in Conventional Weapons Destruction on campus. Through CISR, he made contact with HALO. "I think it was partially my experience with CISR which helped get me hired at HALO, especially considering I was quite young compared to the typical HALO recruit," Lajoie said.
In the spring, Lajoie made a third trip to Ukraine with HALO to provide training and guidance to the teams on the ground, and ensure clearance was being conducted safely and efficiently. More than 700 HALO employees work in Ukraine to protect lives and restore livelihoods at risk from landmines and other explosives. "Huge swaths of farmland are contaminated and can't be safely used for planting in a country long considered one of the world's breadbaskets," Lajoie said.
"The casualties in the war on both sides combined would equal 15 JMU student enrollments in one year. And these are just soldiers."
 — Ken Rutherford, professor of political science
HALO believes in helping wherever and whenever it can. "We won't leave our staff from Ukraine, who make up the majority of our employees in the country," Lajoie said. "For them, this is not just a job but a duty, and we are proud to support them in making their country a safer place."
Ken Rutherford, professor of political science, knows too well the dangers conventional weapons pose to civilians. He lost his legs to a landmine in Somalia, after which he became an international mine-ban activist and served for nearly a decade as CISR's director. He holds discussions on the Russia-Ukraine conflict in his Global Politics and International Law classes. "The casualties in the war on both sides combined would equal 15 JMU student enrollments in one year. And these are just soldiers," Rutherford said, according to recently released U.S. intelligence.
In 1985, he visited Ukraine when it was part of the Soviet Union, remembering its strong sense of national pride. As the war in Ukraine stretches into its second year, it's unclear when the explosions will wane into a ceasefire. "You never underestimate how people are going to fight for their homeland. You can't measure that in tanks, planes and guns … There's no place like home," Rutherford said.
---
EDITOR'S NOTE: Amy Crockett ('10) worked at CISR for 12 years before becoming a content producer and editor for University Marketing and Branding.

---