School of Music 2020 Graduation
Congratulations, Class of 2020!
Greetings from Interim Director, Dr. Eric Ruple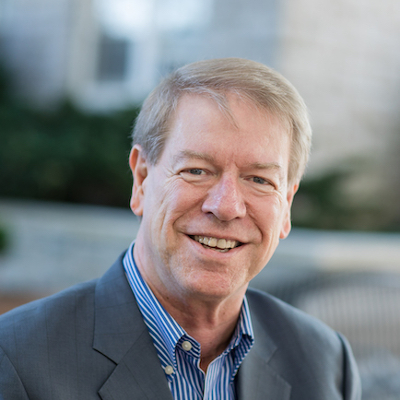 Dear Graduating Seniors and Graduate Students, 
As I write this on Friday morning, May 8, the day of your graduation, I think about how much I miss seeing you in person, especially this week: in the hallway of the Music Building shouting "Last Class Done!"; out on the Quad, taking pictures in your brand new cap and gown with friends; seeing you line up for the ceremony in the stadium on Friday afternoon; and especially hearing your names called and getting to shake your hand or give you a hug as you cross the platform and receive your diploma (wow - doesn't THAT sound like the "old normal"?).
I can tell you that your faculty teachers and the School of Music staff are just heart-broken by this as I am. Among the greatest joys of our profession is being able to celebrate your successes, in person, with each and every one of you. This day, Graduation Day 2020, represents your greatest accomplishment at JMU. We miss being with you terribly, and we love you.
Please take a few moments and visit the School of Music website where we again want to celebrate you in a meaningful way. You have challenged us, taught us, sometimes frightened us, brought us great joy, and in all ways made our lives as teachers and musicians that much better. Good luck in your many and varied future endeavors. Please stay connected online, and even more importantly, in person when we can do that again. We are forever your JMU family. CONGRATULATIONS and GO DUKES!!!
On behalf of the School of Music faculty and staff, and with great pride,
Dr. Eric Ruple
Greetings from Acting Dean, Rubén Graciani
Graduating Seniors 2020
Katherine G Allenbaugh - Magna Cum Laude

Evan Connor Amoroso

Alexis Sue Anderson

Sophia Rose Anzalone

Joshua Erik Ballinger

Manoa Lewis Bell

Amanda Nicole Bennett

Amy Bondaruk

Cathryn Julianna Brooks

Robert Brooks Carlson - Magna Cum Laude

Emily Anne Clark

Joel Lorenzo Clemens

Darby Marie Clinard

Patrick Carr Dahlman

Sarah Elizabeth Damers - Cum Laude

Christian Phillip Davis

Summer Lynn Davis

Erin Nichole Dixon - Magna Cum Laude

Kathryn Fowler Dobyns

Sarah Jane Dodge - Cum Laude

Alyssa Lynn Downing - Cum Laude

Natalie Morgan Dryer - Cum Laude

Mitchell Hayden Evans - Cum Laude

Aidan Christopher Everett

Joshua Mervin Fisher Cox - Cum Laude

Mary Kathleen Galvin

Megan Elizabeth George

Hannah Elizabeth Gould

Haley Kemp Griffith

Emily Eileen Gulli

Sharon Ailish Hall

Janelle Marie Harris - Cum Laude

Sophia Margaret Harrison

Sarah Colleen Humphreys - Cum Laude

Sydney Margaux Hunter

Yawsameen Izadpanah - Magna Cum Laude

Robert Eugene Jackson

Rebecca Gilbert Kenaga - Cum Laude

Chase Michael Ketron - Cum Laude

Geneva Mae Knight

Michael Loras Kregel

Karlee Jo Lanum - Magna Cum Laude

Codey Ethan Jared Logan

Terence Patrick McGlynn

James Richard McKenzie

Davina Eunice Miaw - Summa Cum Laude

Nathan Thomas Michaels - Cum Laude

Adam Perry Miller

Ty Napierskie - Cum Laude 

Michael James Niebergall - Magna Cum Laude

Alison Christine O'Bryan

James Dorsey Pennington

Rachel Ann Pennington

Theresa Perez

Breonna Michelle Proctor

Ian Roderick Ring

Douglas Avery Ritcher - Magna Cum Laude

Anastasia E Ross

Jacob Patrick Rozmajzl

Laura Fairbanks Ruple - Magna Cum Laude

Brian Reed Sauerwald

Andrew Michael Schlagel

Nicole Elizabeth Shawn

Jessica Ellen Stahle

Elijah Cole Steele

Hannah Leigh Thomas - Cum Laude

Adrianne Jordan Tomlinson - Magna Cum Laude

Cameron Dinh Tran

Michael Joseph Trulio

Erica Renee Unroe

Abigail Elise Volcansek

Seth Tanner Walker - Summa Cum Laude

Zachary Taylor Winkworth

Jordan Rebecca Wright - Cum Laude

Sara Yuting Zhu