Duke Dog (2005)

Thanks to donations from JMU alumni and substantial gifts from Rick ('89) and Christine ('90) Johnston, and Jeff ('91) and Karen ('91) Wolter (owners of the University Outpost), a giant bronze Duke Dog stands proudly outside the Plecker Athletic Performance Center by Bridgeforth Stadium! The Duke Dog weighs more than one ton, is 6.5 feet tall, and 8 feet long!
---
Alma Mater Stone (2016)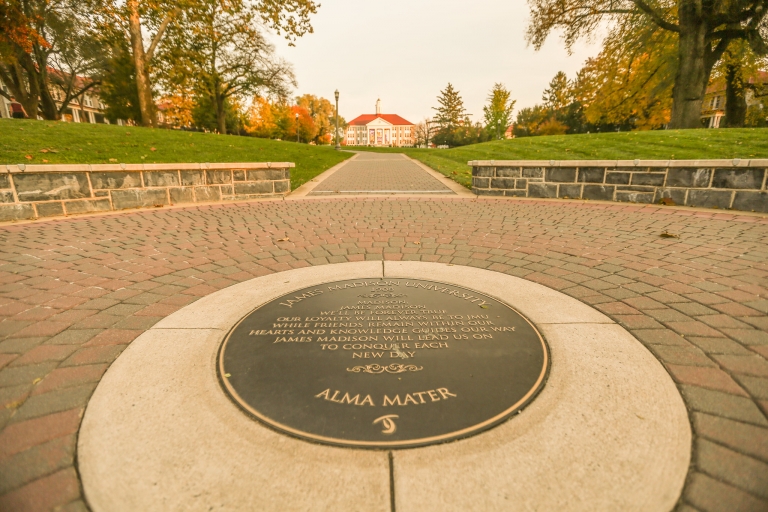 James Madison University is fortunate to have a very beautiful, and historic, campus! There are many landmarks that have been mainstays through the years- here's a list of some of the highlights!
---
Kissing Rock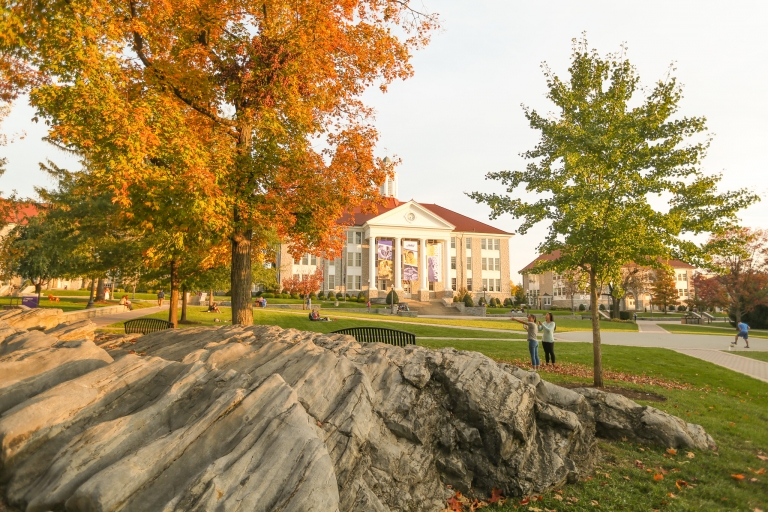 Discovered in the early 1920s during the construction of the Quad, what is known as the "Kissing Rock" has certainly been a lasting landmark on JMU's campus! The name "Kissing Rock" comes from JMU's early years as an all women's institution. The female students were not allowed to be in the presence of young men without a chaperone, so legend has it that the girls hid behind the rock to kiss their fellas. Legend also has it that whoever you kiss at the Kissing Rock is the person you will marry!
---
All Together One (2000)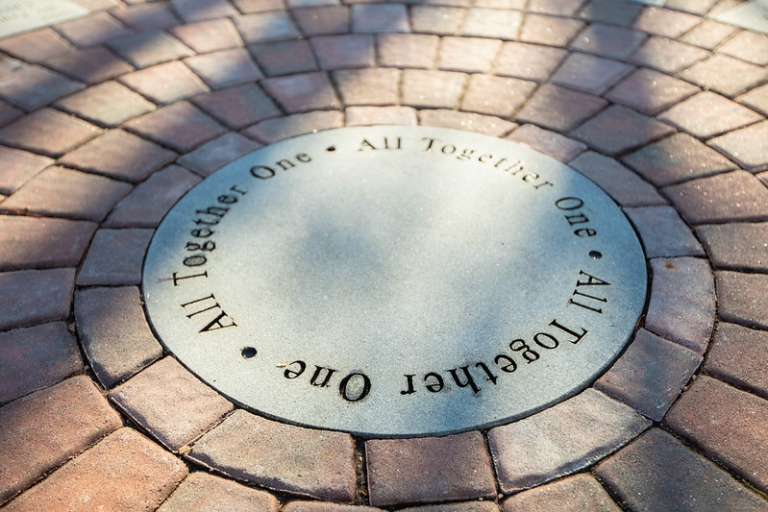 In 2000, the Omicron Delta Kappa National Leadership Honor Society started another great tradition on campus at JMU. Every year, exceptional students, staff, faculty, and community members who exhibit outstanding service, commitment, and a caring attitude toward the JMU community are nominated, and a select few are chosen to receive the award. Each award recipient will live on forever as a paving stone with their name is placed on the All Together One Circle on the Commons during a special dedication ceremony every year in the Spring.
---
Duke Dog Alley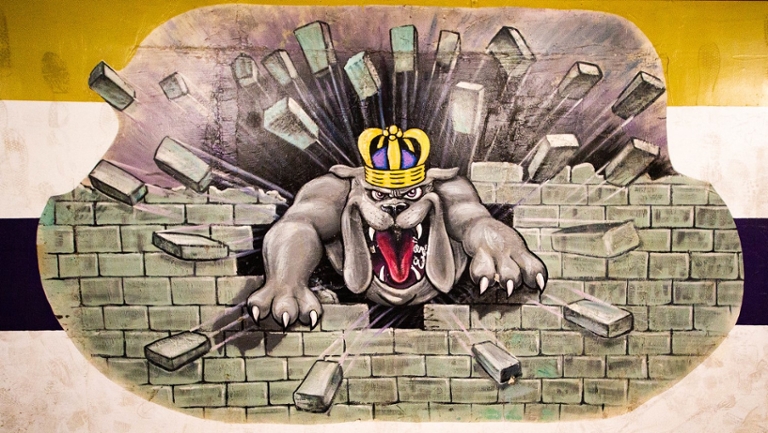 With the expansion of the university across I-81 in 1982, students needed a way to get to East Campus. Now, a tunnel that was originally used for water drainage by VDOT, is used for foot traffic under the busy interstate.
---
 Little Jimmy (2002)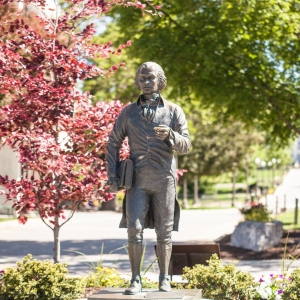 A lifesize statue of James Madison himself stands outside Varner House on the end of the Quad. "Little Jimmy," as he is known around campus, was donated by Bruce and Lois Forbes ('64) and their son Jeff ('90) and daughter-in-law Stephanie ('92), and was unveiled on Constitution Day, 2002. Students enjoy dressing up the statue in costumes or for holidays and events, and having their pictures taken with little Jimmy in their caps and gowns!
---
Big Jimmy (2008)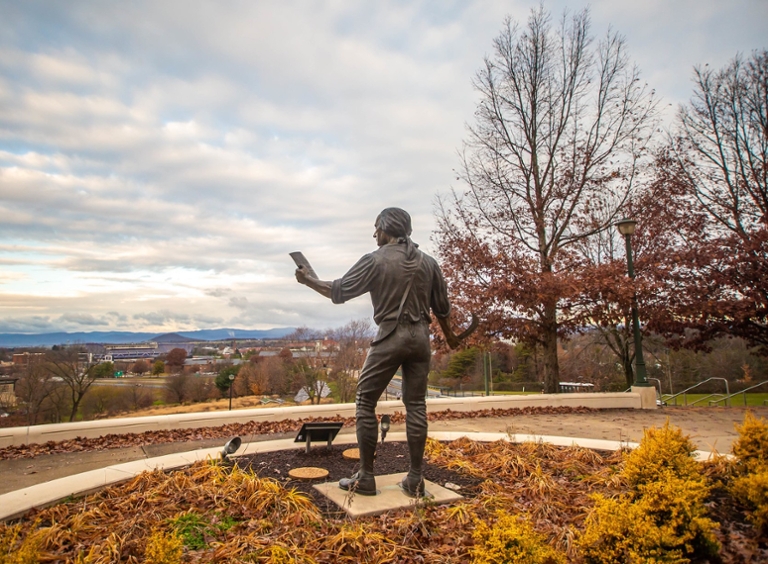 A huge statue of our friend James Madison, affectionately called "Big Jimmy," overlooks the beautiful Harrisonburg skyline from outside King Hall (formerly ISAT/CS). The statue was a gift from Bruce and Lois Forbes ('64) to commemorate JMU's 100th birthday!
---
Spirit Rock (2011)
The Madison Society proudly revealed this new JMU tradition in March of 2011! The Spirit Rock, placed in East Campus Meadow, is a giant rock meant for students to paint and decorate and show their JMU spirit! This new tradition will hopefully be a mainstay on campus and be a lasting landmark!
---
Centennial Fountain (2008)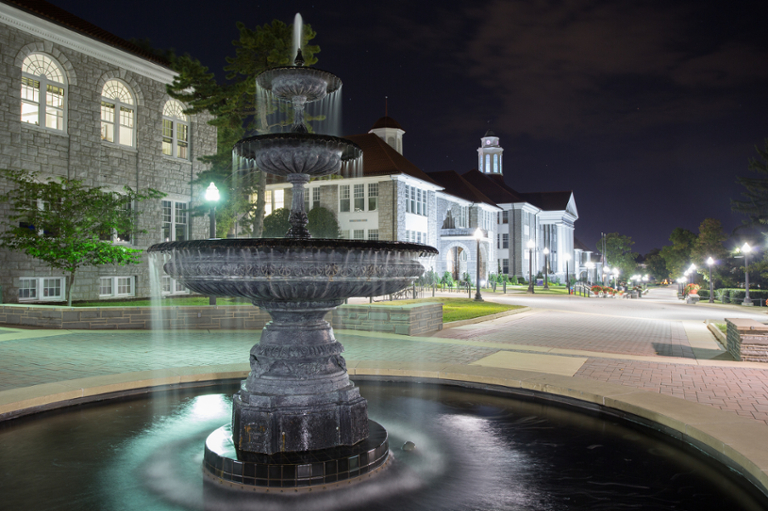 The fountain outside Burruss Hall was donated by JMU Board of Visitors as a gift for JMU's Centennial Celebration! Happy 100th Birthday, JMU!
---
Forbes Tunnel, Quad Tunnel, or "Qunnel" (2010)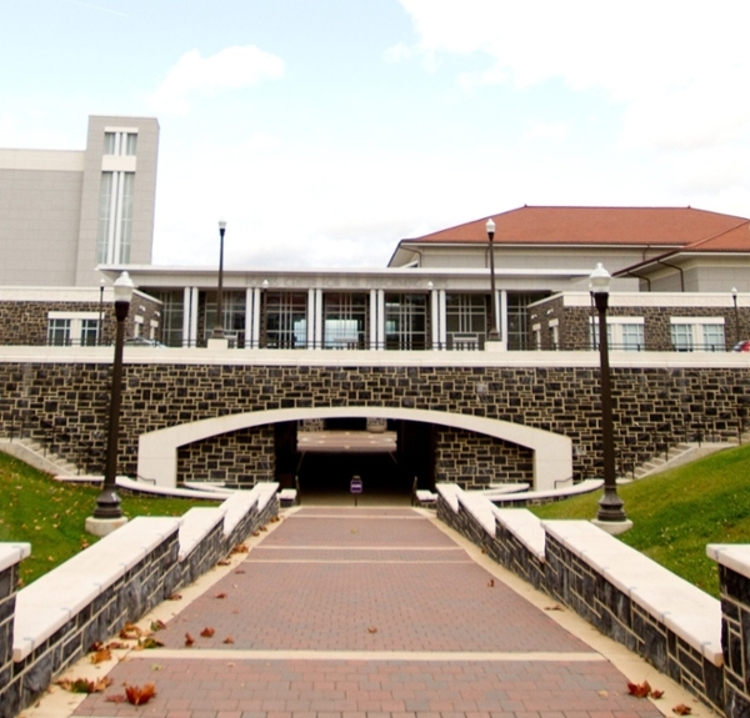 Unveiled on Graduation Day in the Spring of 2010, the Forbes Tunnel connects the Quad to the Forbes Center for the Performing Arts. Recently, (October 2013) the tunnel has been painted with one of James Madison's most well known quotes, "knowledge will forever govern ignorance." The quote, shown boldly in purple and gold, proudly displays JMU's dedication to higher learning. Watch the video below to see the newly painted tunnel walls!
---
Wilson Cupola (1931)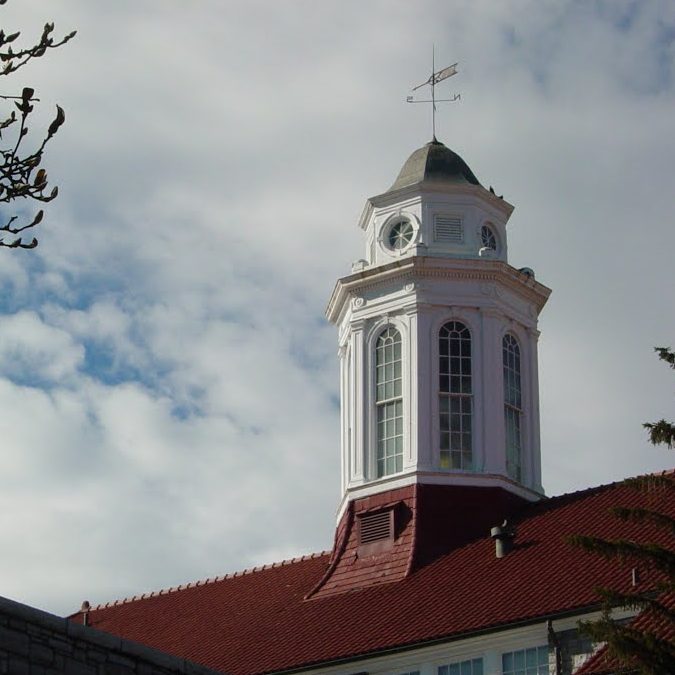 Dedicated in May 1931, Wilson Hall became one of the focal points of JMU's beautiful campus. The building was named after the 27th President of the United States, Woodrow Wilson, who was born in the nearby town of Staunton, VA. It was told that if you looked southwest out of the cupola, you could see Staunton!
---
Newman Lake (1967)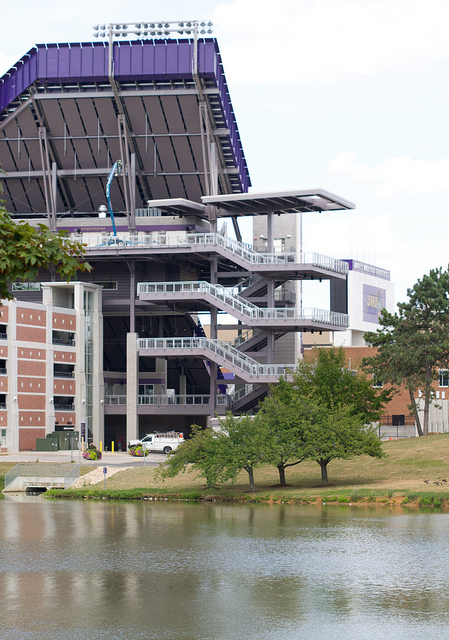 The 9.7 acre Newman Lake has served as the first beautiful sight visitors see on campus for over 40 years now. The beautiful addition to the lake, the Estes Memorial Fountain, was donated in 1996 by the Estes Foundation and Martha Estes Grover ('83) in memory of her mother, Dorothy Thomasson Estes ('45). From Nursing students jumping in the lake at graduation, to picnicing and sunbathing on its shore, students have found a way to make Newman lake a lasting landmark on JMU's campus.