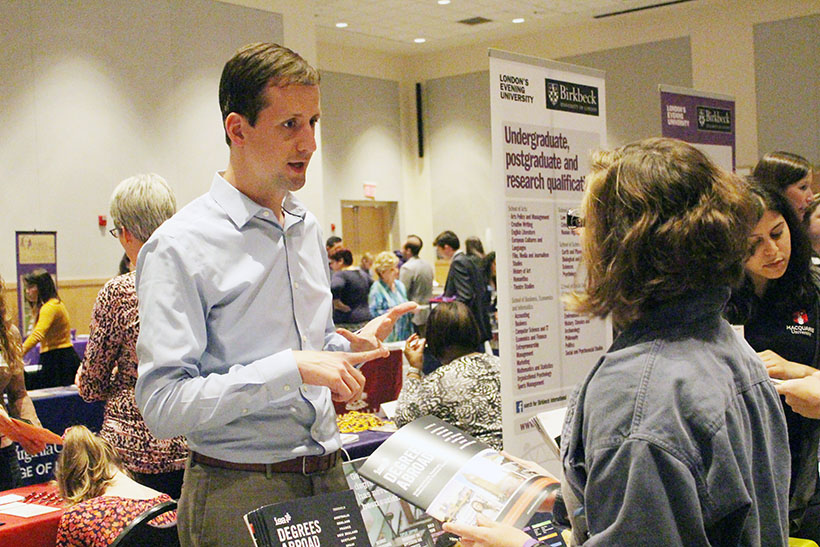 Information For Students
SAVE THE DATE!
Students - no registration required!
Tuesday, September 19, 2023
3:00 - 6:00 PM
Location:
Hotel Madison
710 S. Main St.
Harrisonburg, VA 22801
What to Expect
The purpose of a Graduate and Professional School Fair is to meet with Grad School Representatives from different universities and graduate school programs to learn about what each school has to offer in terms of post-graduate studies. It is an excellent time to explore, compare, and contrast different programs and learn what is needed to be competitive when it comes time to apply. It is a great way to start conversations with people who can be influential in helping with the selection, application, and acceptance process.
Graduate School Set Up
When you check-in at the Fair, you will receive a map of how schools are arranged.  Before beginning, find where schools are with which you want to meet, and make a plan of action of whom you will visit first, second, and so on. 
Some schools bring several graduate representatives. Focus on one representative. While your goal is to gather information, be aware of those around you. If there is a line forming, make a plan to come back when the representative is less busy, and continue your conversation at that point.
Be ready to talk about your interests and what you are thinking about in terms of what you want to study in graduate school. Graduate schools are focused on specific career pathways, and representatives will expect to talk to you about how their programs will help you prepare for a specific profession or career.
Some Representatives leave early
Depending on a representative's distance to travel home, they may leave a little earlier than the official end of the Fair. With that in mind, arrive to the Fair as soon as you can.
Should a school of your interest have to cancel or leave before you have an opportunity to talk with the representative, contact The Graduate School and they will provide the name of the graduate representative for that school in order that you may get in touch with him or her for more information.
---
How to Prepare
Identify Schools that Interest You:
Make a list of the schools you would like to connect with at the Fair. When you arrive at the Fair, visit with the schools that you are already interested in. 
Take time to visit with schools you haven't considered yet. There are many outstanding programs that may be a strong fit with your interests and what they have to offer.
Select schools that may be considered as second, third, and fourth choice. It is important to consider several schools in your search for the right school. Sometimes students are not accepted into their first choice school. It is important to research additional schools in the event that the first choice school is not an option.
A school of your interest may not be represented at the fair. While you may not be able to visit with a particular school, the graduate fair provides the opportunity to explore similar programs, learn about requirements for grad school, and may be helpful for you in understanding what graduate programs look for in their most qualified candidates therefore giving you an edge in understanding what you need to do to be accepted by your school of choice.
Talking with Recruiters:
Maintain eye contact as you provide your introduction.
Listen to the Recruiter about the organization and opportunities.
After you introduce yourself, the recruiter will describe and provide literature about their organization and opportunities.
The

grad school representative

 will expect that you ask questions, and they will ask you questions.
Your Introduction:
You will want to think about what you want to ask grad reps about their programs.
You will only have a few minutes with a recruiter, so you want to prepare a succinct statement that introduces you and covers what you are interested in exploring by way of a graduate program and a career goal.
As the conversation progresses, you can also mention what excites you about studying in this field in the future, how your interests, experience, research and skills align with a grad program, and what you're passionate about. Think about what might set you apart.
Prepare Questions to Ask:
As you research schools, there will be questions that arise and you should write these down so you remember them at the Fair. You can use the university websites to explore their graduate programs prior to Fair.
Create your own questions, but here are some examples:

What do you look for in your best candidates for this program?
What kind of research and projects does your program like to see?
Where are your graduates finding jobs?
How important are GPA and GRE scores?
How many are accepted into the program?
Who would you recommend that I talk to in order to make sure I am doing what I need to do to be accepted into the program?
What is campus life like?
What is unique about your program?
Are their graduate assistant opportunities or other opportunities for financial assistance?

Bring questions that you've compiled to the Fair. Glance at the questions you want to ask before you arrive at the grad rep's booth so that you can maintain eye contact throughout your conversation.
Dress Nicely:
While a suit is not required, it is a good idea to dress in what is called business casual attire.
You want to make a good impression, and you want the grad rep to take you seriously. Dressing in something nicer than jeans helps your appearance to seem more professional.  
Business casual usually means wearing nice pants or a nice dress. Comfortable shoes are recommended because you will be on your feet for at least an hour or two at the fair.
A genuine smile is a great way to build rapport.
What to Bring:
You don't have to bring much. The grad reps will have information for you regarding their programs. The Fair will provide bags for you to carry your information.
You may want to bring your smartphone to enter phone numbers and other information, however, DO NOT use your phone while in the fair, especially if you are engaged with a grad school rep. Nothing will impact them more negatively than an interruption in which you take a phone call.
You may bring a pen to take notes, but pens are provided at the fair by most grad school reps.
---
Parking Information
JMU students should park in designated student parking lots. Off campus guests please email grad@jmu.edu for parking infomation.
---
Inclement Weather
If the university is closed or the opening of the university is delayed until 11am or later, the Fair will be rescheduled. If the university opens by 10am, the Fair will run as scheduled. In the event that the university closes during the day the event will be immediately canceled, and all employer fees will be refunded. For JMU cancellation information go to https://www.jmu.edu or call 540-433-5300.
---
Contact
The Graduate School Fair is sponsored by the Northern Shenandoah Valley Regional (NSVR) Consortium.
For more information, contact The Graduate School, 540-568-6131, grad@jmu.edu
---
If you are a recruiter, please visit the Recruiter Page.