Andrew Barnes: Instructor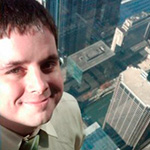 Andrew Barnes, former JMU assistant director of debate, rejoins our faculty as instructor. He completed his Ph.D. in 2015, and his dissertation at Georgia State University centered on this question: What rhetorical possibilities underwrite or stymie transnational action, given the apparent emergence of thin cosmopolitan norms and the persistence of the nation-state system? The project attends to instances of American presidential address at the U.N. General Assembly, a prime location to study the intersection of cosmopolitanism and the nation state given the President's inevitable position for superpower interests. Through an analysis of presidential address at the U.N. General Assembly, Andrew identifies an emergent cosmopolitan rhetoric.
Andrew was invited to present research on presidential rhetoric at the United Nations with co-author Dr. Mary Stuckey of the Peter S. Kalikow Center for the Study of the American Presidency at Hofstra University. Other notable presentations have examined the relationship between hegemony and cosmopolitanism at the Rhetoric Society of America conference; a project focused on strategic ambiguity and argumentative practice during the negotiations over recognition of the People's Republic of China, presented at NCA; and the Summer Conference on Argumentation at Alta.
Andrew has co-authored papers on presidential rhetoric in Presidential Studies Quarterlywith contributions to foreign policy focus collections; an analysis of presidential rhetorical productions of global community appeared in Evaluating U.S. Presidential Leadership at the United Nations and Prospects for Twenty-First Century Governance (2012). He co-authored a chapter on presidential response to the shifting tactics of rogue nations and terrorist tactics in The Guide to U.S. Foreign Policy: A Diplomatic History (2012).
Research interests include presidential and foreign policy rhetoric, contemporary rhetorical theory, cosmopolitanism in all its varieties and argumentation. He has taught courses in rhetorical theory, argumentation and debate, public speaking, and media theory as well as a communication studies introductory course.
To recharge, Andrew enjoys taking advantage of what the Shenandoah Valley has to offer by hiking in the fall, skiing in the winter, and cycling in the spring and summer.