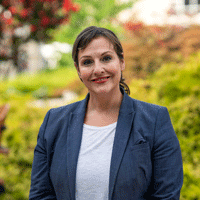 Alison Fisher Bodkin, Ph.D., Southern Illinois University at Carbondale, came to JMU in 2009. She grew up on a farm in rural Illinois. Alison attended Bradley University for her BS in Speech Communication and a Women's Studies minor. While there, she competed on the national championship speech team (Individual Events). Alison went on to get her master's degree in Speech Communication at Miami University of Ohio and her teaching certificate in Women's Studies. She earned her Ph.D. in Speech Communication from Southern Illinois University. Her dissertation explored the use of humor in environmental advocacy. In 2016 she earned tenure and was promoted to Associate Professor. Alison is a Graduate Faculty Member teaching in the Communication and Advocacy MA program in the School of Communication Studies. She also, since 2010, has served as an Affiliate for the Women's Gender and Sexuality Studies program here at JMU. 
Alison teaches courses in general education (SCOM 123) and the major's core (SCOM 240 and 241: Communication Theory and SCOM 242: Presentational Speaking). In the Advocacy Studies concentration, she has taught SCOM 352 (Communication and Social Movements), SCOM 354 (Environmental Communication and Advocacy), SCOM 442 (Advanced Topics in Advocacy Studies [the advocacy studies capstone]), SCOM 348 (Gender and Communication). SCOM 302 (Ecofeminism) and SCOM 301 (Shout Out JMU Feminist Blogging). Many of these courses count toward the Political Communication, Environmental Humanities, and Women's Gender and Sexuality Studies interdisciplinary minors. Alison has also taught SCOM 541 (Rhetorical Theory and Advocacy), SCOM 653 (Critical Perspectives: Environment, Advocacy, and Public Culture) SCOM 695 (Fieldwork in Communication and Advocacy) at the graduate level.
Alison's research appears in journals including Text and Performance Quarterly, Feminist Media Studies, Environmental Communication, Food Studies, and the Texas Speech Journal and multiple prestigious edited book volumes. Alison enjoys collaborating on scholarly projects with colleagues and graduate students. Outside of academic life, Alison is a cancer survivor who loves the Chicago Cubs, gardening, and hound dogs.