Featured Stories
Consultants present at national conference virtually after COVID-19
Communication Center students and faculty presesnt original scholarship at national conference. READ MORE>
Alum Profile Tutor: Chris & Ellie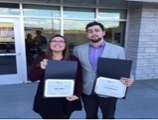 How did Ellie & Chris translate their problem-solving skills into their careers? READ MORE>
Upcoming Events
SCOM Final Exam Review Sessions (via JMU Webex, all times Eastern Time Standard time zone):
Tuesday April 28 3-4pm
Wednesday April 29 12-1pm
Thursday April 30 1-2pm.
To join a review session, you will start at the JMU Webex website (jmu.webex.com). Navigate to the top-left menu icon and go to the Webex Training page (https://jmu.webex.com/mw3300/mywebex/default.do?siteurl=jmu&service=7). From here, you should be able to locate the review session you wish to attend. The password required to attend should have been shared to you from your SCOM 12X instructor. If not, you can contact us at commcenter@jmu.edu for the password. 
To take advantage of the review session, have as much of the final exam study guide already completed. If you are not able to attend or have follow-up questions, please contact us or schedule an appointment with a communication center consultant.