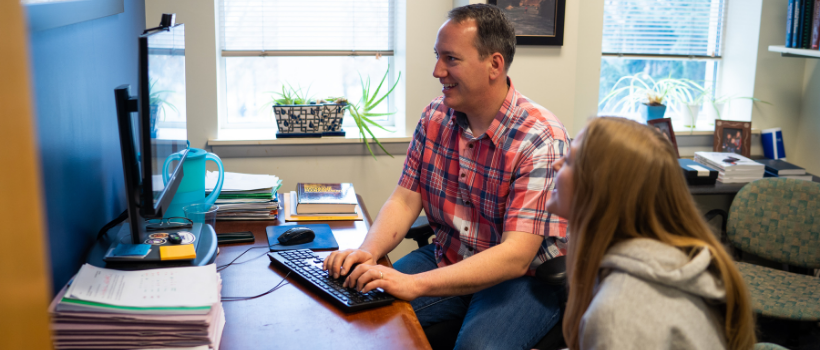 Faculty Positions
Computer Science
James Madison University
Tenure-Track Assistant Professor
Computer Science Department, Information Technology Major
The Department of Computer Science at James Madison University invites applications for a tenure-track faculty position, to serve in the new Information Technology Major, to begin August 2023. Preference will be given to applicants at the tenure-track Assistant Professor level, and exceptional candidates at other ranks will also be considered.

Information Technology (IT) is a new major in the Department of Computer Science, with a focus on computer networking, cyber security, web technologies, data science/machine learning and mobile development. The new IT major accepted our first freshman class in fall 2022 and has more than 64+ students and is rapidly growing. The JMU Computer Science department is a dynamic and supportive community with 26 full-time faculty members and approximately 700 undergraduate majors for computer science and information technology majors. We also offer an online M.S. Degree in Information Security. We are dedicated to maintaining a culture that balances excellence in teaching and small class sizes with opportunities for faculty and student research. We have many active clubs and organizations including Women in Technology, Robotics, Forensics, Cyber Defense, and a student ACM chapter. We are especially interested in qualified candidates that share our commitment towards building equitable and inclusive environments. The new hire be part of the faculty team that starts and builds the Information Technology Major within the Computer Science Department. Additional information about the new major is available at http://www.jmu.edu/it/ 

Duties and Responsibilities:
Applicants from all areas of specialization are encouraged to apply. We especially welcome candidates with a background in Web Technologies, Machine Learning, Database Systems, Web and Mobile Development, and/or Computer Networks and Information Security. Candidates should demonstrate the ability and interest in providing high-quality undergraduate teaching. Preference will be given to applicants with the potential to develop and sustain an active, undergraduate-oriented research program. Candidates will demonstrate a commitment to diversity, equity, and inclusivity that supports the Computer Science Department and University mission of integrating diverse perspectives and removing barriers to participation.

Qualifications:
A Doctorate (Ph.D., D.Sc., etc.) in Computer Science, Computer Engineering, Information Technology or a closely related field at the time of employment is required for a tenure-track position.

To learn more and to apply, go to joblink.jmu.edu and reference posting F2056 or go to https://joblink.jmu.edu/postings/13158. Review of applications begins 12/12/2022. Salary is commensurate with experience.

James Madison University is committed to creating and supporting a diverse and inclusive work and educational community that is free of all forms of discrimination. This institution does not tolerate discrimination or harassment on the basis of age, color, disability, gender identity or expression, genetic information, national origin, parental status, political affiliation, race, religion, sex, sexual orientation or veteran status We promote access, inclusion and diversity for all students, faculty, staff, constituents and programs, believing that these qualities are foundational components of an outstanding education in keeping with our mission. The university is interested in candidates whose experience and qualifications support an ongoing commitment to this core quality Anyone having questions concerning discrimination should contact the Office for Equal Opportunity: (540) 568-6991.