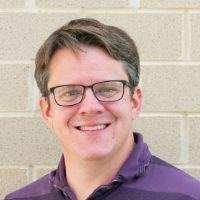 Research Description
Our lab focuses on understanding why muscle diseases arise. We use a wide variety of structural biology techniques to study the structure, function, and dynamics of individual proteins that are altered in such diseases. We then study how these changes in proteins affect cell structures or whole cells. Our scientific goal is to better understand the basic mechanisms employed by cells that allow them to simultaneously be strong and flexible.
Related Scholarship
Protein structure/function relationships
NMR and X-ray protein structure determination
Protein dynamics
Small molecule and peptide agonist/antagonists of proteins
Education
PhD in Biochemistry, 2008, University of Maryland, Baltimore, MD
MS in Cellular and Molecular Biology, 2002, University of Pennsylvania
BS in Biology, 2000, Haverford College, 

Haverford, PN
Select Publications
Whitley JA, Ex-Willey AM, Marzolf DR, Ackermann MA, Tongen AL, Kokhan O, Wright NT, Obscurin is a semi-flexible molecule in solution, Protein Sci 2019 Apr; 28(4): 717-26.
Ng R, Manring H, Papoutsidakis N, Albertelli T, Tsai N, See C, Li X, Park J, Stevens TL, Bobbili PJ, Janssen PML, Bunch TJ, Hall SP, Lo Y, Jacoby D, Qyang Y, Wright NT, Ackermann M, Campbell SG, Patient mutations linked to Arrythmogenic Cardiomyopathy enhance calpain-mediated degradation of desmoplakin, JCI Insight 2019;13(5).
Hu LR, Ackermann MA, Hecker PA, Prosser BL, King B, O'Connell KA, Asico LD, Jose PA, Meyer LC,

Berndsen CE, Wright NT, Lederer WJ, Kontrogianni-Konstantopoulos A, Arrhythmia and deregulated Ca2+ cycling underlie the development of hypertrophic cardiomyopathy due to mutant obscurins, Science Advances 2017 Jun 7; 3(6).