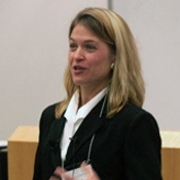 Education, Honors, Awards
ACS Stanley C. Israel Award Regional Award for Advancing Diversity in the Chemical Sciences, 2016

2016 JMU Ford Faculty Award, 2016

Cottrell Scholar Award (2015, class of 1997)

Professor of Chemistry (2009-present)
Henry Dreyfus Teacher-Scholar Award (2003)
Margaret Oakley Dayhoff Memorial Award in Biophysics (2002)
Associate Professor James Madison Unviersity (2002-2009)
NSF Presidential Early Career Award for Scientists and Engineers (1998)
Assistant Professor James Madison University (1996-2002)
Ph.D. University of Minnesota (1994)
B.S. University of Connecticut (1989)
Research Interests
Salt ions influences on protein stability, structure and aggregation.
Substrate binding induced changes in protein structure and function.
Quantitating neurotransmitters and their  metabolites in blood and urine.
Research Description
Most of our research is focused on studying how substrate binding and solution conditions specifically alter protein structure, stability, aggregation state and function.  In particular we are interested in two proteins:  RecA, a DNA repair protein from E. coli and yeast phosphoglycerate kinase.  Both of these protein's structures and activity is differentially altered by substrate binding, pH and salt conditions.  Studies in our laboratory utilize enzyme activity assays, infrared and circular dichroism (CD) to monitor protein structure and stability under a variety of solution and substrate conditions.  In addition we have some studies aimed at finding methods to reproducibly quantitate neurotransmitters and their metabolites in urine and blood samples.
Selected Recent Publications
Johnson, N.O., Light, T.P., MacDonald, G., and Zhang, Y. (2017) "Anion-Caffeine Interactions Studied by 13C and 1H NMR and ATR-FTIR Spectroscopy." Journal of Physical Chemistry B, 121, 1649-1659.

Light, T.P., Corbett, K.M., Metrick, M.A. and MacDonald, G. (2016) "Hofmeister Ion-Induced Changes in Water Structure Correlate with Changes in solvation of an Aggregated Protein Complex." Langmuir, 32, 1360-1369.

Metrick, M.A. and MacDonald, G. (2015) "Hofmeister ion effects on the solvation and thermal stability of model proteins lysozyme and myoglogin".  Colloids and Surfaces A: Physicochemical and Engineering Aspects, 469, 242-251.
Metrick, M.A., Temple, J.E. and MacDonald, G. (2013) "The Effects of Buffers and pH on the Thermal Stability, Unfolding and Substrate Binding of RecA".  Biophysical Chemistry, 184, 29-36.
Cannon, W.R ¨., Talley, N.D., Danzig, B.A¨., Liu, W., Martinez, J.S., Shreve, A.P., & MacDonald, G. (2012)  "Ion Specific Influences on the Stability and Unfolding Transitions of a Naturally Aggregating Protein; RecA".  Biophysical Chemistry, 163-164, 56-63.
MacDonald, G.  Integrating Interpreting, Hearing, and Deaf and Hard-of-Hearing Students in Summer Research, in Broadening Participation in Undergraduate Research A Publication of the Council on Undergraduate Research.
MacDonald, G.  "Teaching Protein Purification and Characterization Techniques a Student-Initiated, Project-Oriented Biochemistry Laboratory.  Journal of Chemical Education, 85, 1250-1252 (2008)
White, E.M; Holland, A.R; & MacDonald, G. (2008)  Infrared Studies Reveal Unique Vibrations Associated with the PGK-ATP-3-PG Ternary Complex.  Biochemistry, 47, 84-91 (2008)
MacDonald, G. A Highlight of Best Practices for a Research Supportive-Curriculum, p. 108-109 In the book:  Developing and Sustaining a research Supoprtive Curriculum:  A Compendium of Successful Practices, CUR publication (2007).
Schwartz, C.M.;  Drown, P.M., and MacDonald, G. "Difference FTIR Studies Reveal Nitrogen-Containing Amino Acid Side Chains Are Involved in the Allosteric Regulation of RecA".  Biochemistry, 44, 9733-9745 (2005)
Butler, B.C.; Hanchett, R.H.; Rafailov, H.; and MacDonald, G. Investigating Structural Changes Induced By Nucleotide Binding to RecA Using Difference FTIR.  Biophysical Journal, 82, 2198-2210 (2002)
Seal, B.C., Wynne, D. and MacDonald, G.* "Deaf Students, Teachers, and Interpreters in the Chemistry Lab" Journal of Chemical Education, 79, 239-243 (2002).
Olchowicz, J.C.; Coles, D.R; Kain, L.E.; and MacDonald, G. "Using Infrared Spectroscopy to Investigate Protein Structure" Journal of Chemical Education, 79, 369-371 (2002)
Brewer, S.H.; Cresawn, S.G.; Nguyen, D.T.; & MacDonald, G. (2000) "Difference FT-IR Studies of Nucleotide Binding to the Recombination Protein RecA" Journal of Physical Chemistry B, 104, 6950-6954.