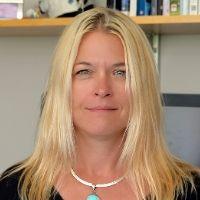 Research Description
Our research studies how environmental conditions alter protein structure and stability. This work may help understand abnormal protein unfolding as is observed in a wide range of neurological diseases. Studies in our laboratory utilize a variety spectroscopic techniques such as infrared, circular dichroism and fluorescence. These studies allow us to identify how buffers, metals and salts alter the structure, solvation and aggregation of the model drug caffeine and a variety of proteins and peptides.
Education
PhD in Biochemistry, Molecular Biology and Biophysics, 1994, University of Minnesota
BS in Biophysics, 1989, University Of Connecticut
Select Publications
Seal, B.C., Wynne, D. and MacDonald, G. (2002) Deaf Students, Teachers, and Interpreters in the Chemistry Lab. Journal of Chemical Education, 79, 239-243.
Light, T.P., Corbett, K.M., Metrick, M.A. and MacDonald, G. (2016) Hofmeister Ion-Induced Changes in Water Structure Correlate with Changes in solvation of an Aggregated Protein Complex (2016) Langmuir, 32, 1360-1369.
Metrick, M.A. and MacDonald, G. (2015) Hofmeister Ion Effects on the Solvation and Thermal Stability of Model Proteins Lysozyme and Myoglobin. Colloids and Surfaces A: Physicochemical and Engineering Aspects, 469, 242-251.