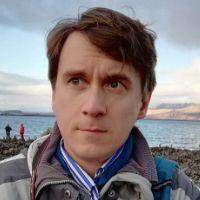 Research Description
Most of our work is focused on biochemical and biophysical studies of cytochromes, a large class of heme-containing proteins involved in energy transduction and biological catalysis. We use a wide range of experimental and computational techniques including: DNA cloning and mutagenesis, recombinant protein expression and isolation, time-resolved absorbance and fluorescence spectroscopy, mass spectroscopy, isothermal calorimetry, small- and wide-angle X-ray scattering, and molecular dynamics simulations.
Related Scholarship
Charge and energy transfer in proteins
Small- and wide-angle X-ray scattering
Time-resolved laser spectroscopy
Education
PhD in Biophysics and Computational Biology, 2010, University of Illinois at Urbana-Champaign
Select Publications
Kokhan, O., Marzolf, D.R. (2019) Detection and quantification of transition metal leaching in metal affinity chromatography with hydroxynaphthol blue. Anal. Biochem., 528, 113347.
Kokhan, O., Ponomarenko, N., Pokkuluri, R.P., Schiffer, M., Mulfort, K.L., Tiede, D.M. (2015) Bidirecetional photoinduced electron transfer in Ruthenium(II)-tris-bipyridyl modified PpcA, a multi-heme c-type cytochrome from Geobacter sulfurreducens. J. Phys. Chem. B, 119, 7612-7624.
Kokhan, O., Ponomarenko, N., Pokkuluri, P.R., Schiffer, M., Tiede, D.M. (2014) Multimerization of solution-state proteins by tetrakis(4-sulfonatophenyl) porphyrin, Biochemistry, 53, 5070-5079.