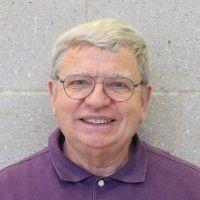 Research Description
My current research involves using the thermal dehydration of metal salt hydrates for solar energy storage and waste heat recovery. We use ATR-FTIR and in-situ powder x-ray diffraction to establish the reaction pathway, differential scanning calorimetry to establish the energetics of the process and thermal analysis to establish the dynamics of the process. Most of our research has involved soluble metal sulfates, but investigations of insoluble metal oxalates are still being investigated.
Related Scholarship
Thermal Decomposition Kinetics
CVD/ ALD Deposition Processes
Metal Oxide and Metal sulfide Catalysts
Catalytic Hydrogen Production
Effect of Hydrogen Bonding on the NMR Spectrum
Using Quantum Calculations to Predict chemical Shifts
Education
PhD in High Temperature Chemistry, 1977, Iowa State University, Ames, IA
BS in Chemistry and Mathematical Sciences, 1969, Iowa State University, Ames, IA
Select Publications
Morales, A.C.; Cooper, N.D.; Reisner, B.A.; DeVore,T.C.; Variable temperature PXRD investigation of the phase changes during the dehydration of potassium Tutton salts, J. Therm. Anal. Calor. 2018, 132 (3) 1523 – 1534.
Bagley, A.C.; AbuNada,I.; Jun Yin; DeVore, T.C., Investigations of NMR Chemical Shifts using DFT-B3LYP- GIAO Calculations, NMR Spectroscopy in the Undergraduate Curriculum, Volume 2. 2016.
Ross, M.W.; DeVore, T.C.; "Desorption of Nitric Acid From Boehmite and Gibbsite," J Phys. Chem, B 112, 2008, 6609-6620.