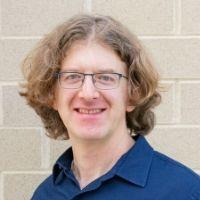 Research Description
In the Caran lab, we use the tools of organic synthesis to make novel compounds in an effort to develop self-assembled soft materials (colloids) with well-defined properties. We subsequently use a wide variety of tools and analytical methods to measure the properties and to understand the modes of self-assembly of the colloidal aggregates formed by these novel compounds. Students in the Caran lab synthesize, purify and analyze the structure of these novel molecules, and subsequently study the self-assembled materials using an arsenal of analytical techniques including nuclear magnetic resonance (NMR) spectroscopy, powder X-ray diffraction (XRD), scanning electron microscopy (SEM), optical microscopy, differential scanning calorimetry (DSC), isothermal titration calorimetry (ITC), surface tensiometry, conductivity and attenuated total reflectance infrared (ATR-IR) spectroscopy
Related Scholarship
Colloidal and supramolecular organic systems. Synthesis of rationally designed compounds and study of their self-assembly and aggregation using a wide variety of physical and spectroscopic methods.
Molecular Recognition. Engineering of molecules to recognize molecules with complementary functionalities.
Nanoscience Education. Development of laboratory and lecture modules to introduce undergraduate students to nanoscience.
Chemistry Demonstrations. Working with K-12 and college educators within and beyond Virginia on the development and implementation of science demonstrations for both classroom and outreach activities. 
Education
PhD in Chemistry, 2001, Emory University, Atlanta, GA
BA in Chemistry/Biochemistry, 1996, Colgate University, Hamilton, NY
Select Publications
MacDonald, G.; Caran, K. L.; Hughey, C. A.; Bradley, J. J. "Summer REU Program Integrating Deaf and Hearing Participants in Chemistry Research." Best Practices for Chemistry REU Programs (ACS Symposium Series, Vol. 1295) Griep, M. A., Ed.; Watkins, L., Ed.,  American Chemical Society, 2018, 1295, 45-57. https://doi.org/10.1021/bk-2018-1295.ch004. 
Gallagher, T. M.; Marafino, J. N.; Wimbish, B. K.; Volkers, B.; Fitzgerald, G.; McKenna, K.; Floyd, J.; Minahan, J. T.; Walsh, B.; Thompson, K. Bruno, D.; Paneru, M.; Djikeng, S.; Masters, S.; Haji, S.; Seifert, K.; Caran. K. L. "Hydra Amphiphiles: Using Three Heads and One Tail to Influence Aggregate Formation and to Kill Pathogenic Bacteria." Colloids Surf. B. 2017, 157, 440-448. https://doi.org/10.1016/j.colsurfb.2017.06.010 
Minbiole, K. P. C.; Jennings, M. C.; Ator, L. E.; Black, J. W.; Grenier, M. C.; LaDow, J. E.; Caran, K. L.; Seifert, K.; Wuest, W. M. "From antimicrobial activity to mechanism of resistance: the multifaceted role of simple quaternary ammonium compounds in bacterial eradication" Tetrahedron, 2016, 72(25), 3559-3566. https://doi.org/10.1016/j.tet.2016.01.014