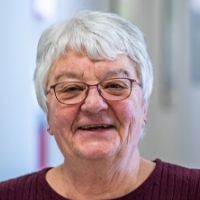 Research Description
Our research focuses on the design of transition metal complexes with hemilabile ligands. These complexes potentially have use as catalysts. Resent studies have involved the synthesis of ruthenium and palladium complexes with Ph2P(CH)nP(O)Ph2 and pyrazolylpropenamide derivatives as ligands.
Education
PhD in Organic Chemistry, 1974, Bryn Mawr College, Bryn Mawr, PA
MA in Organic Chemistry, 1971, Bryn Mawr College, Bryn Mawr, PA
BS in Chemistry, 1965, Wheaton College, Norton, MA
Select Publications
Amenta, D.S.; Liebing, P.; Biero, J.E.; Sherman, R.J.; Gilje, J.W.; Edelmann, F.T. Synthesis and crystal structures of three new benzotriazolylpropanamides. Acta Cryst. 2017, E73, 880-885.
Walton, L. R.; Knight, S. E.; Herold, S. K.; Olsonowski, K. J.; Amenta,D. S.; Gilje, J. W.; Yap, G. P. A. The Reactions of RuCl3(NO)(PPh3)2 and RuCl3(NO)H2O with Ph2P(CH2)nP(O)Ph2,n= 1, 2, or 3: Crystal Structures of Rutheniumnitrosyl Complexes Containing Monodentate and Chelating Ph2P(CH2)nP(O)Ph2 Ligands. Polyhedron. 2018, 144, 44-54.
Palombo, T. M.; Liebing, P.; Hildebrand, S. J.; Patrikus, Q. R.; Assarsson, A. P.; Wang, L.; Amenta, D. S.; Engelhardt, F.; Edelmann, F. T.; Gilje, J. W. Complexes of Palladium(II) Chloride with 3-(Pyrazol-1-yl)propenamide (PPA) and Related Ligands. Polyhedron. 2019, 171, 493-501.