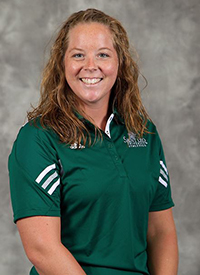 Susan Cross
Susan graduated from JMU in 2009 and has since attended UNLV for her Master's in Kinesiology with Sports Medicine Concentrating.
She has worked with multiple sports: Women's volleyball, cross country, men's and women's swim, men's soccer, softball, and men's and women's golf. She also spent time as a clinician at Eldorado High School. 
Susan is currently the Director of Sports Medicine at Saint Leo University. She said the most unexpected part of her job is that "the relationships have always been one of my favorite aspects about our profession and our role, especially with collegiate athletes, but what has been the most surprising part of my job is how the relationships have lasted even after the athletes graduate and move onto their next chapter."
Her personal interests include CrossFit, enjoying the sunshine, and hanging out with her rescue pitbull named Emma!
Why JMU Athletic Training?
"Athletic training has always been the passion I wanted to pursue, and after stepping foot onto JMU's campus, I felt it in my bones that this is where I belonged. The athletic training education program was unlike anything I ever expected and exceeded all expectations. You'll love the person you become at JMU, and you'll especially love the clinician you become thanks to their athletic training program."
Advice for Students:
"Continue to use the momentum of our profession to make your mark, create relationships, educate those around you, and put your patients first."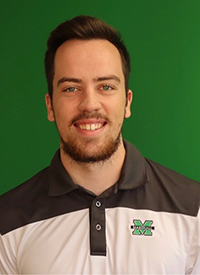 Rudy Morrow
Rudy graduated from JMU in 2019 and is currently a graduate assistant at Marshall University, working with a local high school in Ohio.
He is pursuing a Masters Degree in Exercise Science with a concentration in Post-professional Athletic Training.
While Rudy was at JMU, he worked with Women's Volleyball, Women's Field Hockey, Men's Soccer, and at Broadway High School.
Advice for Students:
"Learn as much as you can and don't be afraid to make mistakes; messing up is how you learn. Cultivate relationships with preceptors and peers because you never know where they can take you. Lastly, enjoy JMU while you're there because it goes by QUICKLY."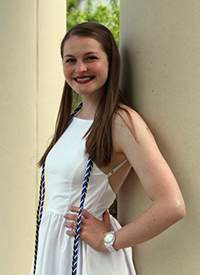 Jules Oehrlein
Jules is a 2019 Graduate from JMU and is currently doing a year long Athletic Training residency program at Orthopaedic Specialists of North Carolina in Raleigh, NC.
Every 2 months, she does new rotations which include: surgery, neurology, chiropractic, orthopedic urgent care, as well as optional rotations.
In the afternoon, Jules works as an athletic trainer at a high school, primarily covering football. She chose to do this year long program so that she can "get experience working on my own as an athletic trainer while also seeing how an athletic trainer fits in many other healthcare settings".
Why JMU Athletic Training?
"As a recent alum, the JMU AT program has prepared me so much for my first job after graduation. I currently am an athletic training resident, which means I rotate through different settings that athletic trainers can work in, and I work part-time at a high school. The program's diversity and skills taught in the clinic and classroom made me feel prepared when starting all of my different residency rotations. Whether it be acute care, rehabilitation, etc., I have felt so confident in my skills, thanks to the supportive and challenging faculty, preceptors, and classmates."
Advice for Students:
Jules' advice to current students is "to learn something different from each rotation you do because having a diverse set of experiences will help you in whatever setting you choose to go into. Also, don't be afraid to ask a ton of questions and take all the advice you can get from your amazing professors and preceptors while you have them as direct resources!"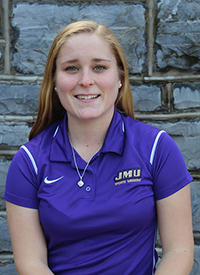 Amy Napier
Amy graduated from JMU in 2017 and has since completed her Masters Degree in Higher Education Leadership at Valdosta State University in South Georgia. She is currently pursuing her Doctoral Degree in Higher Education Leadership from Nova Southeastern University.
While at Valdosta State, Amy worked with the football team, who won the National Championship in 2018! She continues to work with the football program as well as within Sport Administration while pursuing her Doctorate.
Her professional interests are concussion rehabilitation and the psychosocial aspects of the athletic identity. Amy said, the most surprising part of her job is "the lessons I have learned from my student-athletes. My patients have pushed me to be a better clinician and have taught me resiliency".
Advice for Students:
"Take advantage of the inspiring staff (clinically and academically) to build professional networks. Don't forget that your classmates will also make up that network! I am a proud JMU alumni and thankful for all the opportunities!"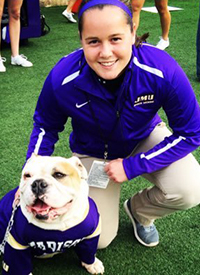 Kelly Martin
Kelly is a 2016 JMU Graduate. She completed her masters degree at UVA, then worked for one year at UNC-Asheville before returning to UVA to be the softball Athletic Trainer.
Her personal interests are post-operative rehabilitations and the healing process and the role of biomechanics for sport-specific activity. Her favorite thing to do in her free time includes getting outside and doing activities including hiking, kayaking, rock climbing and exploring.
The most unexpected part of the job for her is "the appreciation and "thank you's" from student athletes in what can be a sometimes thankless job."
Why JMU Athletic Training?
"For me, I chose JMU Athletic Training for the opportunity. The BOC pass rate results speak for themselves, but the thing that resonated with me was the family atmosphere it provided. Small classrooms for an intimate learning experience, coupled with a school that invests in its program, allows for the utmost growth for the individual and the profession. The amount of support and connection that the alumni have is also unmatched. It's obvious when you go to conventions or other schools, and people ask about your background, and you say you went to JMU – they immediately know that you were prepared appropriately."
Advice for Students:
"Ask questions and don't be afraid to fail, you learn best through "doing"…. also lots of coffee for preseasons."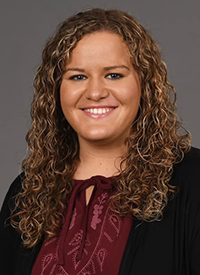 Kaitie Mast
Kaitie graduated from JMU in 2019 and is currently a Graduate Assistant and Virginia Tech, working with men's and women's tennis. She is currently pursuing her Master's Degree in Education.
Kaitie said "I am so thankful for all of the wonderful people I learned from at JMU! I'm so proud to be a JMU AT alum."
Why JMU Athletic Training?
"My experience as an athletic training student at JMU exceeded all of my expectations. The program gave me countless opportunities to learn and grow as both a clinician and as a person. The academic faculty truly go above and beyond to prepare their students to pass the BOC and ultimately become successful certified athletic trainers. The preceptors take the time to facilitate learning in a way that challenges their students, which allows them to become excellent health care providers. When I've attended conferences, people always speak highly of JMU and its students. I feel that this program's ability to prepare athletic training students to practice as health care professionals is unmatched. Attending JMU was the best decision I ever made, and I am so proud to call myself an alumna of the JMU Athletic Training Program!"
Advice for Students:
"Take advantage of every learning opportunity that comes your way. Learn as much as you can from your preceptors and professors now—don't be afraid to ask questions! Also get involved in the profession \however you can, networking is so beneficial in this profession and can open up so many doors for you!