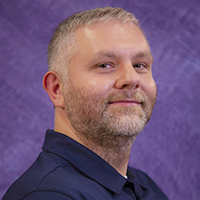 Russell Belcher
Russell is from St. Paul, Virginia. He received his B.A. in preK-6th grade education from the University of Virginia's College at Wise and previously taught students at the elementary and middle school levels in Southwest Virginia. In the future, Russell hopes to work in either the pediatric setting with clients exhibiting language delays, hearing impairments, and other developmental diagnoses that impact or in a rehabilitation center for elderly patients motivated to get their ideal quality of life back for themselves or their families. In his free time, he likes spending time with his family, traveling, playing board games, and appreciating/modifying cars as a car enthusiast. Russell chose the online program at JMU because it was the best fit for himself as a working professional transitioning into this new career as an aspiring speech-language pathologist.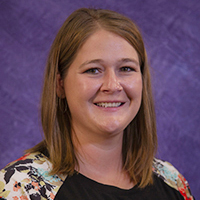 Laurie Ann Bowcutt
Laurie Ann is from small town Ririe, Idaho. She received her B.S. in education from Brigham Young University-Idaho and did her prerequisite coursework at the University of Idaho. In her free-time, Laurie Ann enjoys playing board games with her family, camping, and exploring new places. She specifically enjoyed exploring Harrisonburg and the surrounding areas during summer clinic for JMU's SLP online students.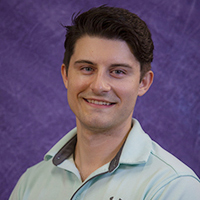 Connor Dietz
Connor is from Annapolis, Maryland and currently lives in Severna Park, Maryland. He is a double duke, receiving a Bachelor of Science in Communication Sciences and Disorders from James Madison University in 2015. Immediately following graduation, Connor completed a year of volunteer service with AmeriCorps as a ranger for the Maryland Park Service. He has also worked as an SLP-A for almost five years in Maryland public schools. In the future as an SLP, Connor hopes to work with adults, preferably in a hospital setting. In his free time, he loves gardening, hiking, and doing other outdoor activities. JMU's online program worked best for him because he did not want to relocate or stop working to pursue graduate studies.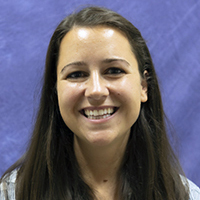 Rebekah Eaton
Rebekah is from Fredericksburg, Virginia. She received a B.A. from the University of Mary Washington, where she double majored in Historic Preservation and Art History. She also holds an M.A. in Architectural History from the University of Virginia. For the past 10 years, Rebekah has taught in an Autism Early Childhood Special Education classroom in the public schools. Before pursuing her passion of teaching, Rebekah worked in the fields of archaeology and museum education. She is hoping to continue working with the pediatric population as a future SLP. In her free time, she loves to travel and go on adventures with her family.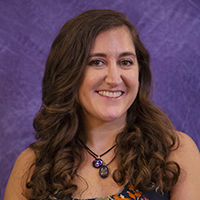 Kai Filippini
Kai Filippini is from Torrington, CT and currently lives in Richmond, VA. She was an undergrad at Northeastern University in Boston, MA where she received a B.S. in Music Industry. After working in event planning & production post-undergrad, she decided to change fields and became a Certified Nursing Assistant working primarily with memory-care patients in a home health & hospice setting. She loves the population but found the roles of the job too hard on one's body to enjoy a long career. She decided to become an SLP to continue caring for her clients in a different, more sustainable capacity. She chose the online program at JMU due to her desire to continue working where she had access to SLPs to gain insight into how her future as an SLP will look, and couldn't be happier with her decision! She loves the flexibility of online learning and having access to clinical externship sites within the area she will be working one day.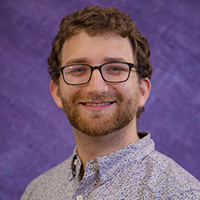 Andrew Goldstein
Currently residing in Leesburg, Virginia, Andrew is an active singer and teacher in the DC metro area. He has performed with the Washington National Opera and Maryland Lyric Opera choirs, as well as in Italy, Michigan, Pennsylvania, and more. Andrew has taught K-12 chorus, band, and general music in multiple school systems and teaches voice, piano, and saxophone privately. Andrew received his master's degree in Voice Pedagogy, bachelor's degree in Music Education, and certification from the Contemporary Commercial Music Institute at Shenandoah Conservatory. While he loves working with all ages and disorders, Andrew aims to become a voice therapist for singers and speaking professionals, gender-affirming voice therapy, and expand his knowledge of the voice!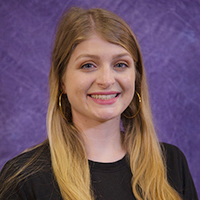 Sarah Gragan
Sarah is from Leesburg, Virginia. She received her B.A. in Linguistics from the College of William & Mary with a minor in Arabic Language & Literature. She is interested in working with children and adults with intellectual disabilities as well as patients following traumatic brain injuries. She is excited for the upcoming opportunity to work with adult populations and experience a rehabilitation setting. In her free time, she enjoys hiking, traveling, and playing music.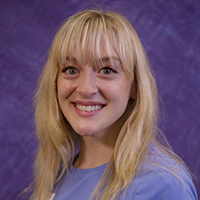 Afton Hiatt
Afton grew up in Elkin, North Carolina, and now lives in Charleston, South Carolina. She received her B.S. in Communication Sciences and Disorders at Western Carolina University. Her current interests include early intervention; however, she is thrilled to have the opportunity to work with a variety of other populations as well. In her free time, she enjoys spending time with family and friends, traveling, reading, and dancing.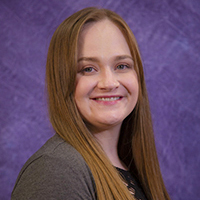 Chelsea Hobert
Chelsea grew up in Vienna, VA and currently resides in Yorktown, VA with her husband and three children. As a military family, they have lived in many places over the past 18 years, including Washington State, Germany, Florida, and Texas. She received her Bachelor of Health Science in communication sciences and disorders from the University of Florida in 2021. She has a keen interest and excitement for the field of communication sciences and disorders throughout the lifespan and looks forward to working in a private practice and/or rehabilitation setting in the future. Having relished her clinical experiences thus far working with pediatric populations, she looks forward to upcoming experiences working with adults.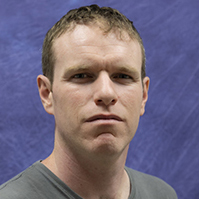 CJ Holden
CJ is originally from Denver, Colorado, but currently resides in Fort Myers, Florida. He received his undergraduate degree in Liberal Arts from Salve Regina University in Newport, RI. He is an avid traveler and has spent most of the past 10 years living abroad in Australia and New Zealand. He frequently visits Japan with his wife and their 2-year-old son. Currently, CJ teaches English online to adult learners, and also works in a local skilled nursing facility. His favorite unit at the SNF is the dementia unit, and he tries to spend most of his time there. CJ is undecided on which area of the speech field interests him most, and at the moment prefers to remain open to all options. He does know that he will consider doing teletherapy to some extent so that he could spend more time in Japan with the family he has there while still being able to work as an SLP.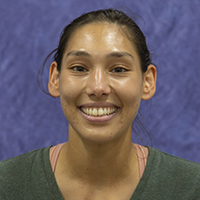 Evelywn Jones
Hi! I'm from Midlothian, VA. I graduated from the University of Virginia in Charlottesville, VA with a Bachelor of Science in Biochemistry and Bachelor of Arts in Psychology. I have been working in healthcare ever since but felt there was a lack of patient-interaction in my various roles. I began searching for a career that would blend my passion for science with helping people and was fortunate to discover the world of speech-language pathology. In the future, I hope to work with autistic or special needs adults to ensure they have the tools and strategies to be effective communicators and live a fulfilling life. My favorite part of the program is the clinical practicums which allow me to apply what I've learned from my courses to real patients with an experienced clinical educator at my side. I have been fortunate to work with clients who have rare disorders/conditions such as, cerebral palsy, myotonic dystrophy, Treacher-Collins syndrome, and are deaf or hearing impaired. The online program has the advantage of being placed at a clinical site that is near where I live, and it also allows me to attend graduate school and work at the same time. In my free time, I love to run, garden, bake and eat desserts, and I always try something new to keep life exciting.
Paige Jones
Paige is from Santa Rosa, California. She attended Sacramento State University where she majored in Communications Sciences and Disorders. She worked as a speech language pathology assistant prior to pursuing her masters online at James Madison University. In her free time, she enjoys spending time outdoors with her family and listening to live music.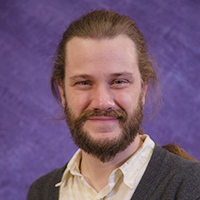 Eben Kuhns
Eben is from Mount Vernon, Virginia and received his B.F.A. in Theatre Performance at Virginia Commonwealth University. He has worked as an actor around DC, Maryland and Virginia over the past decade, and currently works as a historical character interpreter performing around the country as Alexander Hamilton. Throughout his career, he's found joy and empowerment in self-expression and language, and was drawn to the Speech Language Pathology profession as a means of helping others find their own voices. He is interested in exploring the pediatric side of the profession, particularly in articulation and fluency. In his free time, he enjoys spending time with family (dog included), cooking, and playing video games.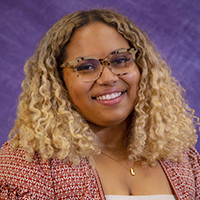 Josephine Miller
Josie grew up around the world (Japan, Italy, England, Virginia), but currently reside in Los Angeles, CA. She majored in Communication Sciences & Disorders at the University of Virginia with a double major in Music and a performance concentration. Josie works as an event planner, opera singer, and has worked with children in a variety of settings. She has so many interests in this field that it is hard to select just one. At the moment, she is most interested in working in a medical setting where she can help patients with voice disorders and dysphagia. She also has an interest in working with neonatal babies and infants. The sky's the limit but she is excited to be in this growing and relevant field! As someone who has many passions and interests, Josie appreciates the flexibility of an online program and the sense of autonomy she has as an online student. She also loves how diverse her cohort and their experiences are. In her free time, Josie enjoys listening to music, traveling, exploring local parks, and spending time with loved ones.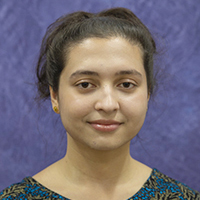 Isbah Nasir
Isbah is from Douglasville, Georgia. She received her undergraduate degree in Neuroscience from Georgia State University with a background in molecular neuroscience research. She hopes to work with a diverse array of people in the medical setting with a focus on neurological disorders, voice disorders, swallowing disorders, and functional communication. In her free time, she enjoys reading books, making art, and trying out new hobbies. She is looking forward to learning more about the field and gaining diverse clinical experiences.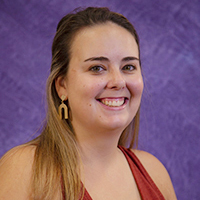 Carolyn Osberger
Carolyn grew up in metro Detroit, Michigan and currently lives in Charlotte, North Carolina with her husband and daughter. She received her undergraduate degree in elementary education from Michigan State university and taught kindergarten and first grade. After finishing her masters at JMU, she aspires to continue her work with children as a pediatric speech language pathologist. In her free time, Carolyn enjoys baking, reading and going for walks with her family.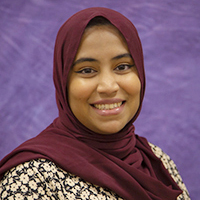 Maha Qureshi
Maha was born in Denver, Colorado and spent some years in Karachi, Pakistan. She currently resides in NYC. Maha did her undergraduate degree from the University of Central Florida in Communication Sciences and Disorders. She worked for Florida public school systems as an SLP at the bachelor's level before applying for her master's at JMU. Maha hopes to use her degree to work in the medical setting as an SLP. Maha is a first-time mom who loves to travel and explore new places. She likes to bake, read books and is on the search, with her husband, for the best halal food restaurants throughout NYC!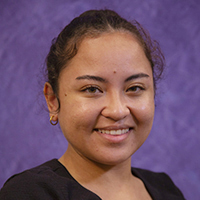 Jessica Ransom
Jessica is from Egg Harbor Township, New Jersey, and received her B.S. at Stockton University, majoring in Health Sciences with a concentration in Communication Disorders. She is very proud to be taking part in a fantastic online program and is very happy to have grown so close to the other members of her cohort. Her current interests involve adult swallowing disorders, aural rehabilitation, and AAC. In her free time, she enjoys reading, writing, creating digital art, and traveling.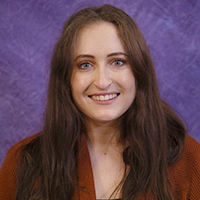 Emily Rose
Emily lives in Kinston, North Carolina with her husband and son. She received her undergraduate degree from the University of North Carolina at Chapel Hill, majoring in Psychology with a minor in Speech and Hearing Sciences. Her previous work experience is diverse, with time spent working as a special education teacher and an assistant project manager for a construction company. Emily chose the JMU online program to allow more flexibility to spend time with her family. Following experiences with two relatives' neurological conditions, Emily became inspired to empower clients and families to improve their communication and quality of life. Her current clinical interests include swallowing and aphasia, and she hopes to expand her interests by working with clients of all ages and backgrounds. In her free time, she loves to cook and travel.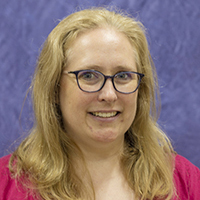 Heather Scharre
Heather Scharre was born and raised in Montana and currently lives in Alexandria, Virginia. She received her M.A. in Behavior Analysis from University of Nevada, Reno and is a Board Certified Behavior Analyst (BCBA). Heather has provided Applied Behavior Analysis (ABA) services to children with autism and their families for over 20 years. She is excited to expand her knowledge into the field of speech-language pathology. Heather enjoys walking in nature, boxing, and spending time with her three young children.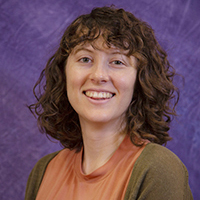 Devin Shiple
Devin is from Arlington, Virginia. She graduated from the University of Virginia in 2014 with a bachelor's degree in anthropology and linguistics. Prior to beginning the JMU graduate program, Devin worked as a court reporter in Washington, D.C. She is excited to be a part of the graduate program and explore a variety of clinical settings and populations! In her free time, Devin enjoys dancing, hiking, and petting as many dogs as possible.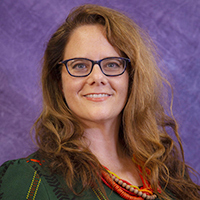 Emilia Bradshaw Smith
Emilia has a Bachelor of Music from The College of New Jersey. She was born and raised in New Jersey but has called Ohio home for the last 18 years. She is a former middle school choir and piano teacher and current private music teacher. Emilia has five mostly grown children and enjoys road trips, reading for pleasure, and fostering dogs when she's not doing schoolwork. She is excited to be at JMU working toward a career change to become an SLP.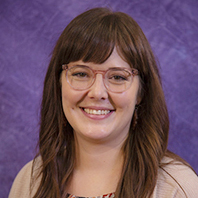 Denise Swanberg
Denise grew up in El Paso, TX. She earned an undergraduate degree in vocal music performance with a minor in Spanish at Texas Tech University and a degree in music education at the University of Texas at El Paso. For 11 years, Denise taught music in a public dual-language immersion elementary school in Alexandria, VA. Her interest in speech-language pathology was sparked after observing the positive transformation her students went through as a result of their participation in speech therapy. She is interested in working with pediatric populations and culturally and linguistically diverse clients.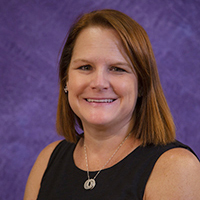 Kimberley Turner
Kimberley resides in Virginia Beach, Virginia. She received her undergraduate degree in Communication Sciences and Disorders from The University of Kansas and a master's degree in Psychology from Capella University. She desires to work with children and has a strong interest in both the autism community as well as the hearing-impaired population. Kimberley is married and has moved around multiple times due to her husband's Navy career. She has three daughters, ages 17, 10, and 9. In her spare time she enjoys Broadway productions, tap dancing, reading, writing, watching her children dance both recreationally and competitively, watching movies, playing games, and spending as much time as possible with her girls, husband, and friends. She is enjoying the challenge of this program and is happy to finally be fulfilling her dream of becoming an SLP thanks to JMU!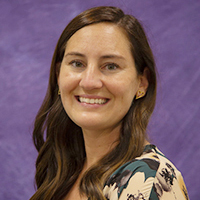 Theresa Vollrath
Theresa is from Virginia Beach, VA. She graduated from William and Mary with degrees in Elementary Education and Psychology. She has been teaching for the last 15 years. She is planning on becoming an SLP in the elementary school setting, but is open to the possibility of moving outside of the public school system, as well. She likes being outdoors and visiting new parks with her 3-year-old son.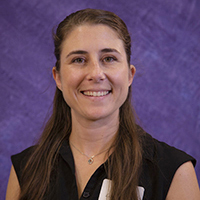 Lauren Zuk
Lauren is from Simi Valley, CA. She received her B.A. in English with a minor in Education from the University of Richmond. Previously, she has worked as a secondary English teacher and in corporate events and weddings. Currently, she is an instructional assistant at a private school for students with disabilities. She enjoys working with teenagers and young adults with autism, but is open to working with different populations in educational or medical settings. Working in JMU's clinic and getting to know her fellow clinicians has been the part of the program she's enjoyed the most so far. Outside of school and work, Lauren reads, crochets, kickboxes, and spends time with her husband and friends.