M.A. Art (Art Education) Testimonials
Nicole Ross (MA '18)

Q: What drew you to the SADAH's graduate art education program?
A: In my second year of teaching K-8 art, I was looking to further my knowledge in the field of art education. So many teachers at the school I was working at lauded the programs, faculty, and the knowledge, experiences, and connections they gained at James Madison, so I looked into their graduate art education program. I was impressed with the design of the program, attracted to the core and elective courses, and drawn to the research of the distinguished professors within the department. Upon meeting the faculty members and students already enrolled in the program, the tight-knit community was immediately evident. Not only were the students in search of broadening their understanding of the field—the professors were as well. I really appreciated how the faculty had cultivated symbiotic relationships with their students. It was also clear that the professors were in full support of their students' research interests, tailoring coursework and content to further students' endeavors. The program was rigorous, but never unmindfully, preparing students for whatever future they were working towards.
Q: How did your experiences in the program prepare you for your current doctoral studies?
A: I often reflect on my experience in the program at JMU as I consider how well prepared I feel in my current doctoral program. In a school of about 40 first year students in various strands of education PhDs, I am the only student who has received full funding two years in a row via scholarship. In my first year, I have solo presented a research project at a state-level conference, had two paper presentations accepted to national and international conferences (AERA and INPE), been asked to publish with two different professors on a large-scale research project and a book review, and been elected to the editorial board of the High School Journal, the oldest student-led scholarly journal in the country. In addition, I have received high passes in all of my courses thus far, the highest mark a student can achieve in graduate courses at UNC. This is all to say that I have been incredibly well-prepared by the faculty, courses, and experiences in the graduate art education program at JMU. I sincerely believe that this particular program has given me a leg-up in my doctoral studies, and has been instrumental in my success thus far.
Q: What was the focus of your M.A. Thesis? What did you learn most about designing and implementing this substantive level of research?
A: My master's research project was grounded in advocacy of art education, with an element of criticality. It focused on comparing the higher-order levels of thinking promoted by the 8th grade World History, English, and Art curricula. I conducted historical, auto-ethnographical, and quasi-experimental research to ascertain a genealogical understanding of curricular trends in America, various perspectives of the levels of learning encouraged by each of the three courses, and document analysis of curricular units. With this combination of methodologies and methods, I was exposed to and practiced a wide variety of research tools. This has been crucial to my current doctoral research, which has undoubtedly grown out of my master's thesis research. I have since conducted research using critical discourse analysis, critical social theory, and narrative inquiry, which has all been guided by my experience with methods in my master's thesis. I think that the critical analysis that I cultivated in my master's program has had the most impact on my current research.
Q: What would you say to prospective candidates who are interested in our MA in Art Education program?
A: My experience in the graduate art education program has been invaluable to my knowledge of the field of art education and beyond. This program was incredibly influential in my decision to pursue a doctorate degree as well as my career-readiness. For art teachers hoping to further their understanding of the field, enhance their pedagogical prowess, or prepare themselves for a career in academia, the graduate art education program at JMU will equip you with the tools necessary to reach your highest potential. I will always be grateful for the knowledge, skills, and community I gained from my experience in this program.
Krista Staton (MA '14)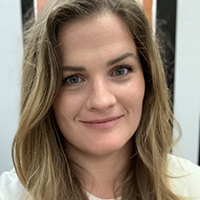 Q. What drew you to the SADAH's M.A. in Art Education program?
A. My undergraduate art education experience was through JMU so I was aware of the quality of the faculty who would have much to offer at the graduate level. The small class sizes and one-on-one experiences allowed for tailoring to the specific interest areas of all students in the program. The program is accommodating to teachers still in the classroom while pursuing the degree.
Q. How did your experiences in the M.A. in Art Education program enhance your return to K12 teaching?
A. I gained confidence in my effectiveness as an art educator. I learn so much each year through teaching and that will probably always be the case, but I know that the driving force behind my practice is stronger because of the education I received at JMU. Though trends within the field are important to stay on top of, I feel that my foundation is much stronger because of my education. I gained even more curiosity for art and education. I spent a lot of energy in one aspect of art education through my thesis research, but there are many other interesting and important topics that can be just as thoroughly explored.
Q. What was the focus of your M.A. Thesis? What did you learn most about designing and implementing this substantive level of research?
A. I focused on best practices for in-classroom peer critique strategies in the secondary art classroom. Narrowing my focus for my thesis research was enlightening in itself. It was valuable to see the wide range of topics one could explore in contemporary art education. I chose the topic because it was what I struggled most with, having a few years of teaching behind me before beginning the program. The benefit of extensive research in a specific topic allows for opportunities to be a leader to others in that area as my peers chose varying topics that they became experts in leading.
Q. What would you say to prospective candidates who are interested in our MA in Art Education program?
A. I cannot imagine there is a program with better faculty. The faculty has diverse interest areas of their own. They offer a wide range of perspectives and experiences in the field while maintaining the core belief in the importance of art education. It amazes me when I run into the faculty at conferences and they remember my name, where I teach, and ask specific questions about how things are going. I know I have an ongoing, genuine support system in the art education community at James Madison. This remains extremely valuable to me and I am very thankful for it. Some professors from the program spoke at the last VAEA conference hosted at JMU and I was reminded of how engaging and passionate they are. It made me nostalgic for their lectures. I loved being in class with every faculty member in the program.