Visual and Performing Arts Programs at JMU
Visual and performing arts at JMU are all about artistic expression and creative thinking. Learn more at www.jmu.edu/arts.
At JMU our visual and performing arts students are trained in traditional practices and new approaches and technologies.
Our graduates shine because they receive excellent artistic training and also learn to use the distinctive way artists think in real world problem solving.
Highlights
220,000 people have attended over 1,700 performances in the breathtaking Forbes Center for the Performing Arts, the region's premier performance facility.
Our Forbes Center for the Performing Arts houses five performance venues specially designed for student, faculty and guest performances.
Art exhibitions take place at a variety of galleries on campus, showcasing the work of freshmen through seasoned professionals.
All of our students work in state-of-the-art facilities alongside faculty and visiting professional artists. Recent visits from celebrities include Patti LuPone, Bobby McFerrin, Bruce Hornsby, Ailey II, Peter Plagens, Garrison Keillor and Jefferson Pinder.
Our students learn a variety of skills transferrable to any and all careers: critical thinking, discipline, teambuilding, communication, innovation, creativity, empathy, self-reflection, and citizenship (a tenet core to our namesake, President James Madison).
Entrepreneurial opportunities are available in areas such as the student-run Studio Theatre, ArtWorks gallery and music series in a local retirement community.
Our students are engaged in cross-disciplinary learning and study abroad. The Madison Art Collection and the Institute for Visual Studies offer classes of interest to a variety of majors. Partnerships include engineers working with designers and entrepreneurs. Current study abroad activities include Opera in Freiburg, Germany and a Dance-China exchange program with Chengdu University.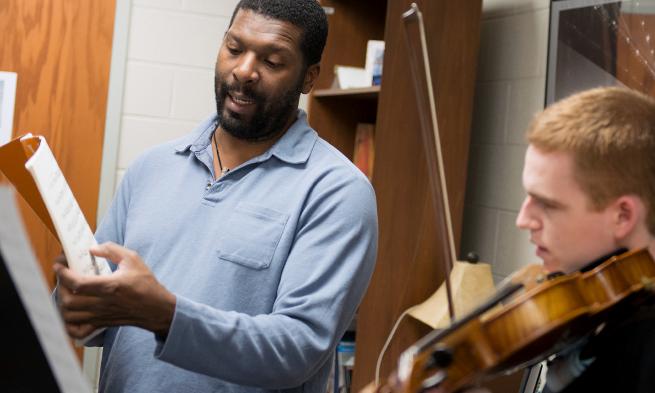 'I take very seriously the idea that the teacher should be a teacher and a mentor and an example. I have seen that from my own teachers, and I am sincere when I think that it's just as important to lead by example as it is to be able to say, "You're out of tune here" or "you need to use more bow there." '
— Amadi Azikiwe, viola professor