Graduate Application - International Students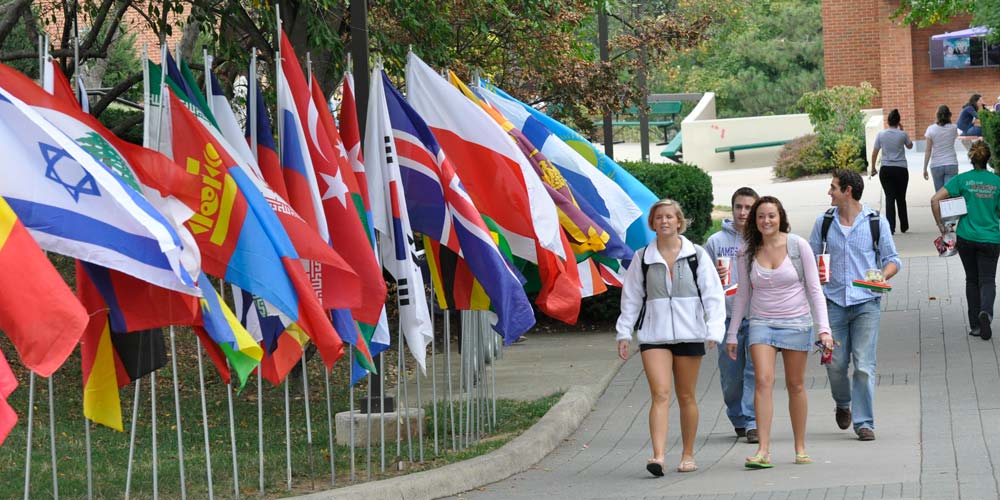 Quick Guide
STEP 1:
Find your program of interest for admission requirements and deadlines.
STEP 2:
Gather your required items. We recommend starting one year in advance.
STEP 3:
Create an online application. Upload your required materials directly to the online application. View FAQ for more help
STEP 4:
Submit your application and pay a non-refundable $55 application fee
STEP 5:
Look for important e-mails to activate your e-id and MyMadison account
STEP 6:
Check the status of your application
I got in! Now what?
Congratulations!
First: login to MyMadison to accept or decline the offer
Next: watch for e-mail requesting official financial documents to begin processing your student visa (if needed)
Also: submit OFFICIAL proof of U.S. equivalency of your Bachelor's or higher degree before you start your program
How to apply to a graduate program as an international student
Anyone who has or will obtain a bachelor's degree from a regionally accredited institution in the U.S. or a comparable degree from an officially recognized college or university outside the U.S. may apply for graduate admission.
International students are welcome to apply to any of our programs, however, be aware that student visas cannot be issued for programs that are exclusively online. Please check your program's requirements page before submitting an application.
Start early
Check your program for application deadlines and requirements. 
If you live outside of the US, we recommend you start 12 months in advance (or earlier if your program has an application deadline)
If you live within the US, we recommend you start 6 months in advance (or earlier if your program has an application deadline)
Do your research
Gather your required items
Below is a list of required items for all international applicants in addition to the online application and a non-refundable $55.00 (U.S.D) application fee.
Credential evaluation
Applicants from non-U.S. universities will submit a course-by-course credential evaluation from one of the credential evaluation services listed at this link. The credential evaluation must be uploaded with your application and is for review purposes only. If you are accepted into a program, an official credential evaluation showing a U.S. equivalent degree must be received by the Graduate School before an I-20 will be issued.
Transcripts
Transcripts from all universities/colleges where you have earned or anticipate earning a degree. When you apply you will upload transcripts (in English) with your application and are for Review Purposes Only. IF you are accepted into a program, you will be required to send official transcripts to The Graduate School if they are not included with your credential evaluation.
Fiscal Responsibility Form
The Financial Responsibility Form will be uploaded with your online application. 
Financial Declaration Form
If you are admitted into a program and an international student on an F-1 or J-1 visa you will receive an e-mail with instructions to submit the Financial Declaration Form along with your proof of funds. The SEVIS I-20 will not be issued without these documents. Additionally, if you are offered a graduate assistantship, please be aware that it will not cover all your costs. You will need to show that you have funds for at least one year of all living and educational expenses. Currently that yearly cost is approximately $31,840 (U.S.D.) or more for some programs. You will be sent an email with instructions after you have been accepted into a program. Learn about fees.
Official TOEFL or IELTS score
International students must present evidence of English proficiency. TOEFL or IELTS is generally required for all applicants whose first language is not English, regardless of U.S. citizenship status. (Exceptions: applicants who have earned a Baccalaureate or Master's degree from a recognized institution of higher learning in the United States or other English-speaking country before entering JMU are generally exempt from this requirement.) Send your official TOEFL scores directly to JMU institution code 5392 from Educational Testing Services (ETS) or have the IELTS center send official scores. The operational standards for admission to The Graduate School are listed below. Please note that individual programs may have higher TOEFL or IELTS requirements, so you should check with your program of interest for any specific scores that might be listed. Official scores will be required prior to application review or before we issue visa documents. TOEFL or IELTS scores must be received directly from the testing center. We do not accept any unofficial Test Report Forms from students.
Minimum TOEFL requirement: 88 internet-based
Minimum IELTS requirement: 7.0
Official test score
Most programs require either the GRE or GMAT test. Please refer to our Catalog to see which test score you may need.
If required by your program, send official GRE or GMAT scores directly to JMU Graduate School institution code 5392 from the testing site. Please note that individual programs set their own GRE or GMAT requirements, so you should check with your program of interest for any specific scores that might be listed. If tests are required, then official scores need to come directly from the testing center. 
Visa
You must be able to enter the U.S. on a valid nonimmigrant visa.
International Student Advisor Report
For students currently studying here in the U.S. under the F-1 student status, the International Student Advisor Report form will need to be completed and sent to JMU in order to transfer your SEVIS I-20. Delays will result if the Student Advisor Report is submitted late. (this step will need to be completed after you are accepted into a program and you accept our offer)
Other application requirements
Your application will not sent to the program of interest until we receive the above items at The Graduate School.  Also, be aware that your program may have additional requirements such as letters of recommendation or other items that are specific to your program. Check your program's requirement page and follow their guidelines. After you apply, check your application status at MyMadison and click on the Applicant Center.
Need more help?
For more on the online application, view our Frequently Asked Questions. If you have questions regarding international applications and requirements, contact Tracie Esmaili (esmailtb@jmu.edu).