James Madison University: Where Change is the Status Quo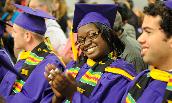 Changing the world one person at a time
It's not just a slogan. It is Madison — a living, evolving university where change is the status quo. Equipped with the power that knowledge gives, JMU students, faculty and alumni work toward a brighter future in nearly every sector of global society. Read more >
The Madison Experience
Be the Change

Members of the extended James Madison University community are changing the world in nearly every sector of our global society. A collective desire for a stronger, better, smarter, brighter future bolts through Madison faculty, students and alumni - just about everyone within the JMU family can feel it.

A World of Opportunity

At JMU, diversity equals endless possibilities. It means you are accepted for who you are and for your unique talents. It says that your individuality makes this university a richer place. From spending a semester overseas in our popular study-abroad program to becoming a leader in one of our more than 300 clubs and organizations, immersion in the world of JMU means opportunity.