Community with IDEAS: April 2021
The Student Affairs Newsletter
---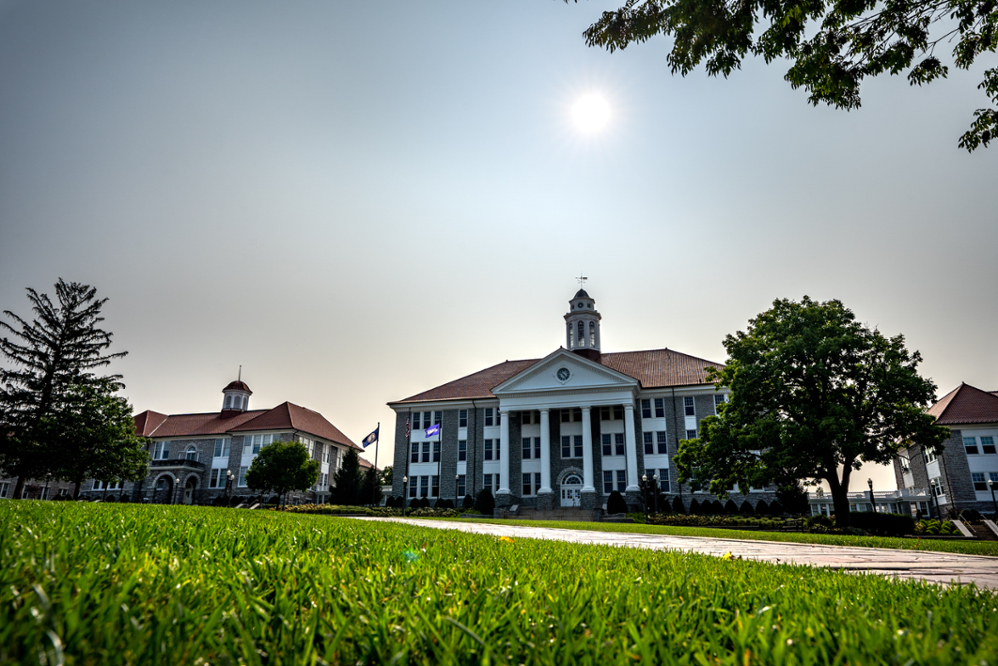 Letter from Dr. Tim Miller
Happy April everyone, 
We are sprinting to the finish of this academic year and already working hard on plans for the summer and next fall. There is still much to do before we celebrate the Class of 2021 at Commencement in May but I am excited by all of the possibilities ahead of us. It really does seem like there are good things ahead for all of us as we increase the number of faculty, staff and students getting vaccinated in the coming weeks. When I look back to a year ago and the uncertainty and fear that drove so much of our lives, I am excited for decisions focused on hope and a future that we will be able to build together.
Discussion on Values
I appreciated the recent discussion about our current values and based on that conversation we will be launching a small team to examine a value centered around Diversity, Equity and Inclusion which was a clear outcome from the discussion. We are also continuing to examine possible outcomes for our work in Student Affairs as part of the next steps in our strategic planning process. Academic Affairs has also been strategic planning for the last few years and they are coming to the end of that process. I hope you will take a few minutes and read what they have proposed for JMU in the Academic Affairs Strategic Plan. 
Future Org Chart for Student Affairs
I also wanted to take a moment to share with you all the newest org chart for Student Affairs that we will put in place in August of this year. This plan will lay out our structure with five distinct functional areas to better organize ourselves and serve our students. We will be adding a new Associate Vice President for Career and Academic Success that will work with the University Career Center, Community Service-Learning and Orientation. This will allow us to focus Jim McConnel's area as Student Life and develop Marsha's area as Health and Well-being. These changes will give each AVP and their teams the opportunity to create strategic direction that will then flow up to our larger Strategic Plan for Student Affairs. I am also hopeful that this will create synergy within each area that will then transcend their teams, our division and the university. 
I have also asked Dave Barnes and his team to take on our centralized divisional efforts of Communication and Marketing within University Unions. Angela Ritchie will lead this newly formed area that will include Ann Simmons and the TAD team led by Lindsey Kelly. This team will continue the current work to support and coordinate marketing and communications across all of Student Affairs. We will also be creating a Special Assistant to the Vice President role that will work directly with me. The full org chart is at the bottom of this letter so you can see it more clearly.   
New homes
Many different offices and individuals will be moving this summer and I am excited to see the possibilities that these new locations will bring. All decisions have not been made yet but at this point we know the following changes will occur this summer:
The Well team will be moving to UREC and becoming a part of that community.
CMSS will be moving to the space vacated by the Well in SSC and SOGIE will remain in that space.
Advocacy will move from the Well into the Counseling Center and they will expand their space into 3202 and 3200 in the Student Success Center.
Brent Lewis - AVP for Diversity, Equity and Inclusion and the new AVP for Career and Academic Success will be moving to the 3rd floor suite along with their new Administrative Assistant and the Dean of Students team.
Other moves will be announced once we finalize things and work with the impacted staff to ensure that their voices are included in the decisions.
As soon as we have finalized the list of locations for departments and staff we will share that with the whole division over email since it may be some time before we have another chance to gather and share.
Welcoming new members to our community
Now that the hiring freeze has been lifted, many of us are in the midst of search processes to bring new colleagues to our community. By the time we finish all of our searches, retirements and other departures that have happened in the last two years almost 20% of our team will be new to JMU or Student Affairs. This is a large amount of turnover and an incredible influx of ideas and energy. I hope we can all see this as a challenging but incredible opportunity and take the time to get to know candidates for our positions and focus less on fit and more on our future.  
When I am hiring for people on my team I look for work ethic, attitude, flexibility, authenticity and passion for students and our work. I believe everything else can be taught but these are intrinsic and someone either has them or they don't. When you are asked to sit on a search, I want to challenge you to examine what you are looking for and don't sacrifice the qualities you look for as you consider candidates. We have seen some incredible people leave or retire in the last few years and their work and legacy at JMU demands that we not sacrifice in our selection of their successors, and instead focus on finding individuals that will take us to the next level in our work. 
As you can see there is a lot going on for all of us and I appreciate your willingness to continue to push through to the summer. Soon our Summer Springboard will be upon us and that signals the beginning of another year at JMU. Please make plans to take time for yourself over the summer and enjoy some time away from the office. I know I am excited for my annual trip to the Outer Banks at the end of May and the chance to recharge, play some golf and relax with Jamie. 
Thanks as always for everything you do and take care,
Tim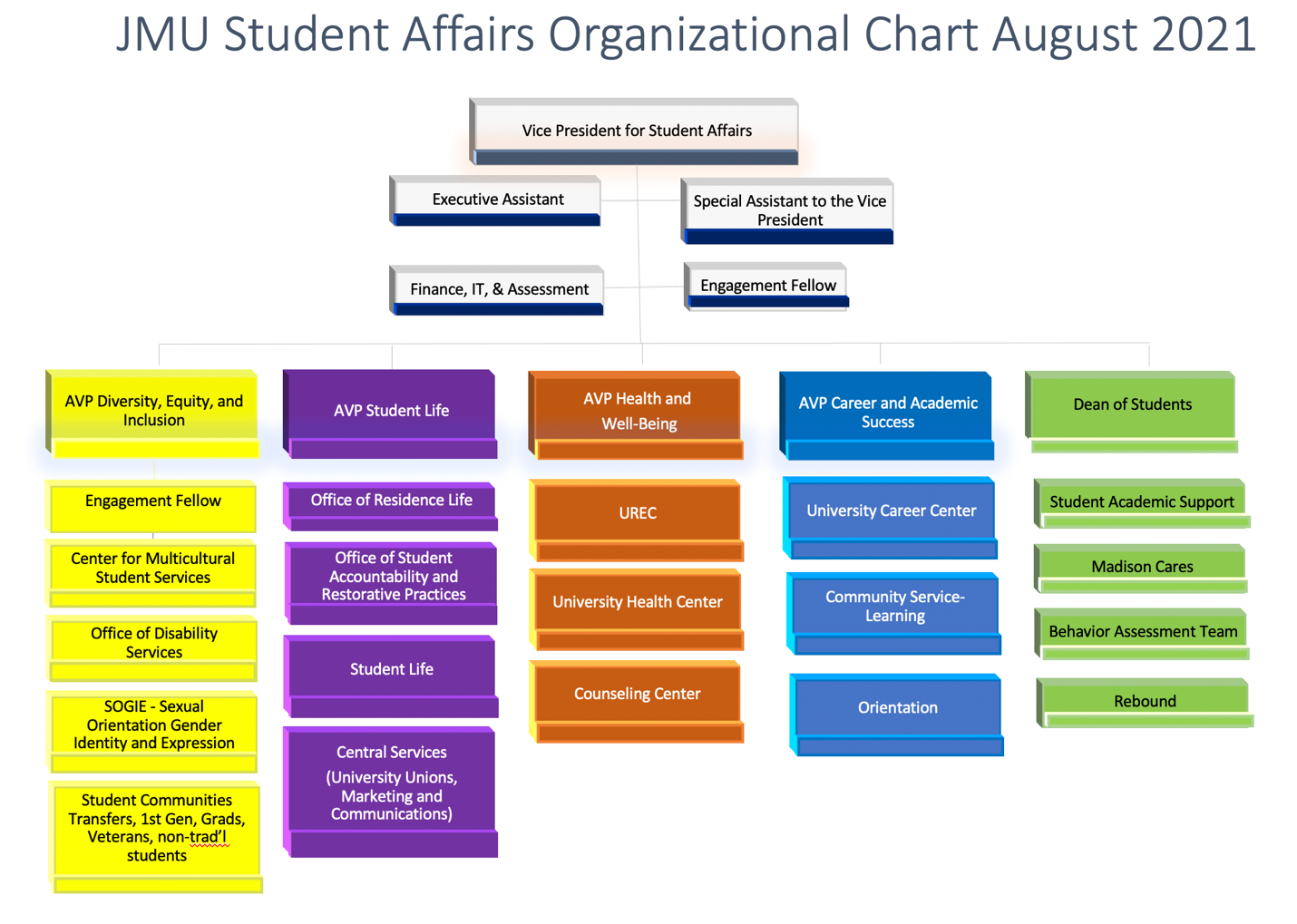 Feature Article
CMSS in the Spring Season of Rebirth
As we think of spring, we think of rebirth, rejuvenation, renewal, resurrection and regrowth. Spring of 2020 brought challenges that the majority of us would have never imagined. In many areas of our country, COVID-19 brought devastation and despair and for some greater unity in communities in ways not experienced before. Neighbors began reaching out to neighbors from their windows to support one another. As time went on, we also started to see more of the realities of the injustices in this world. Long-standing problems were laid bare for all to see. This was a year of reckoning, and the social justice movement against racism, hatred and bigotry against Black and Brown lives took center stage and activism was at the forefront within many communities. Closer to home at JMU, student voices brought to light several issues around racial unrest and biases that were shared with administrators, faculty and staff. Students shared with us their own experiences on campus. This movement towards more equity and inclusion created by students provoked the CMSS (Center for Multicultural Student Services) and our colleagues to evaluate how we provide intentional support to minority students.
CMSS strives to provide opportunities to address racial equity and create an inclusive campus through advocacy, support, cultural education and dialogue. Through this, we hope to foster an environment to honor and respect, as well as understand, intersectionality and effective allyship. It is our goal to facilitate spaces where our students' voices are valued and respected. When we say our students, we mean students of color and all underrepresented students on campus. The time is now to have these difficult conversations. The time is now to do a self-evaluation of our feelings, beliefs and biases. It is time to seek out the true history and ask questions, have an open mind and not get defensive if the answers are against all that has been embedded in us over our lifetime.
COVID-19 shifted us to virtual programming. CMSS hosted a variety of programs, dialogues and cultural speakers in support of diversity initiatives that opened spaces for students, faculty and staff to listen, learn and engage in multiple perspectives around DEI topics. 
In the fall of 2020, the Office of Disability Services (ODS) and Center for Sexual Orientation Gender Identity and Expression (SOGIE) and CMSS together were realigned to form JMU's new Student Affairs Diversity, Equity and Inclusion (DEI) area. Our units are under the direction of the new AVP, Dr. Brent Lewis. Spring of 2021 in many ways is ushering in a new season! CMSS is definitely seeing the rejuvenation, renewal, resurrection and regrowth of its relevance to students and our peers within the campus community. CMSS will be renewing its mission statement and name. Over the next several months we will be moving from our current location in Madison Union to join with DEI partners in the Student Success Center. We would like to say thank you to everyone who has encouraged and supported CMSS throughout the years and those who are involved in making SSC our new home!
Updates and Opportunities
JMU Libraries COVID-19 update
To promote mask-wearing at all times, we have adjusted the Libraries' COVID-19 "no food and drink" policy. We will no longer offer an exception for personal water bottles. Our new policy is consistent with the COVID-19 "no food or drink" policy for JMU classrooms and labs. You can still order food and drinks to go at the Starbucks in Carrier Library, but Starbucks is not an exception to the policy. Learn more.
 Please contact Kristen Shuyler (shuyleks@jmu.edu) or libraries@jmu.edu with any questions.

University Health Center
New Staff: Debra Hoover–Occupational Health Nurse
Conferences and Presentations
Community Service-Learning (CS-L)
Misty Newman participated in the first virtual ACPA conference. She enjoyed learning from colleagues across the country (and even a JMU CSPA alum) and looks forward to opportunities to incorporate some new insights into her work.

Misty Newman and Steve Grande participated in the 13th Annual JMU Diversity Conference. They engaged in a variety of sessions and especially found the Keynote, Dr. Janice Underwood, to be informative and appreciated her call to action. They look forward to being a part of JMU's forward momentum.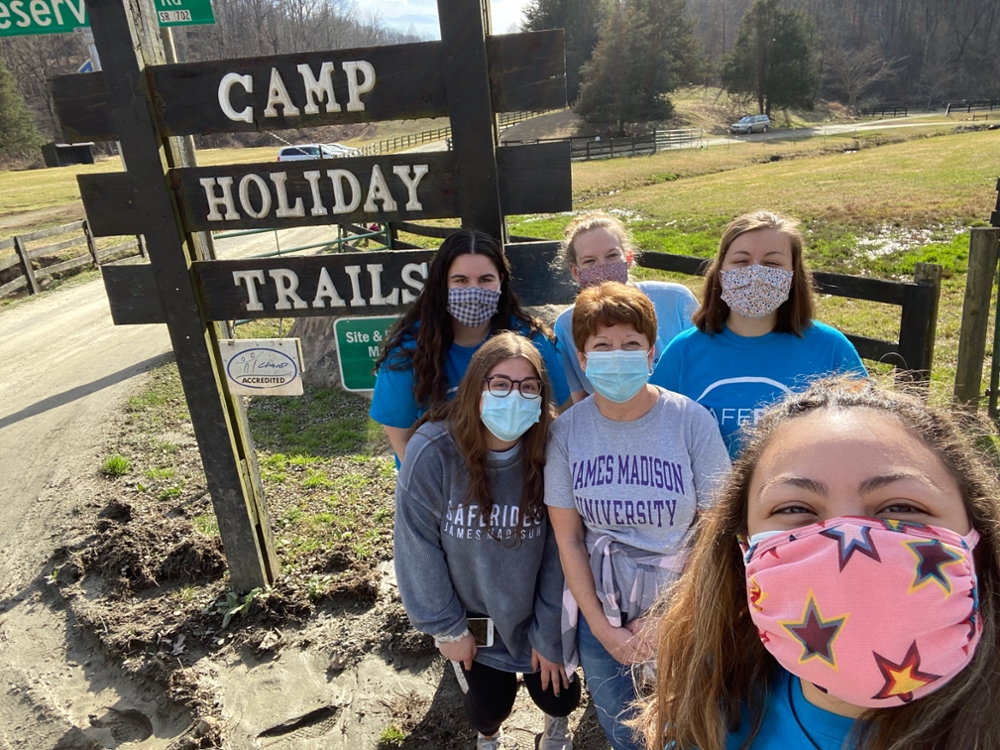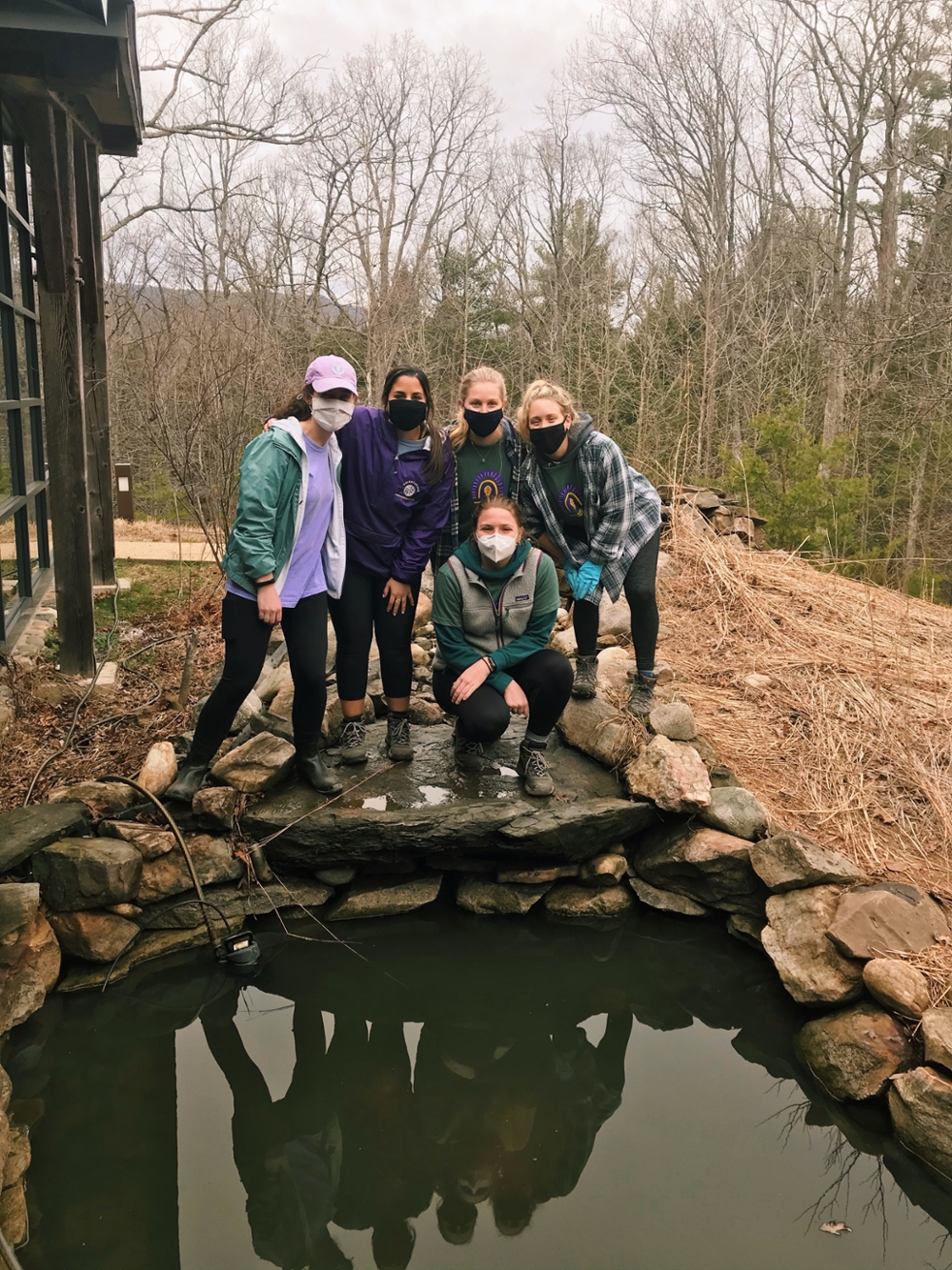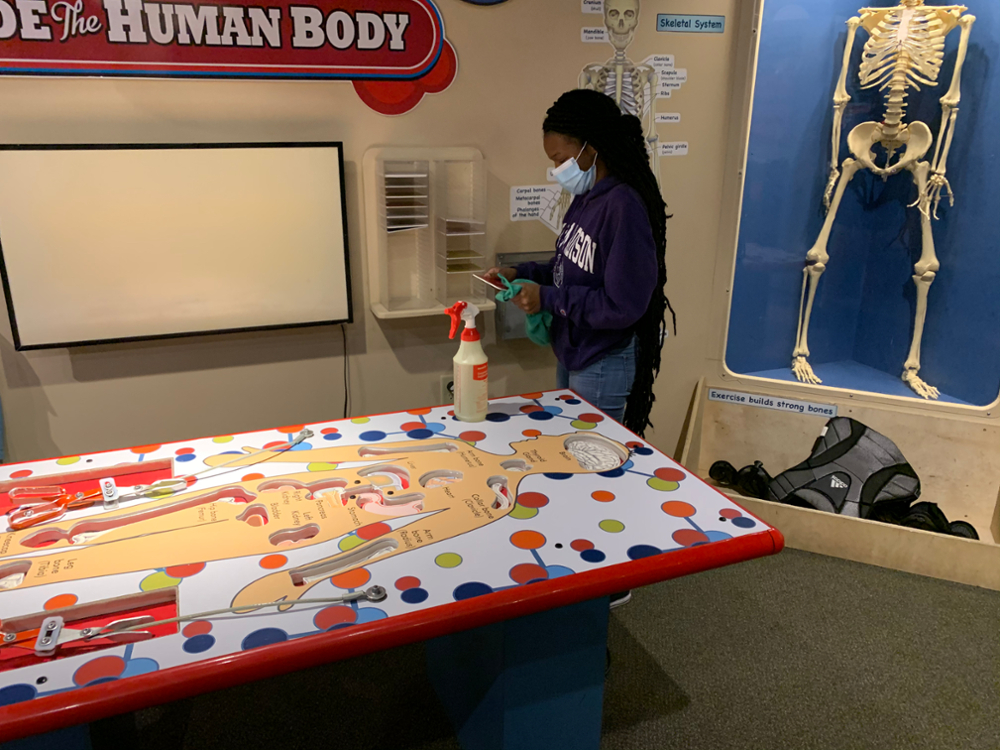 University Career Center
Lilly, MaryGrace and I are all first years in the CSPA program and also served on the Madison Leads committee with some other fabulous members to develop and facilitate the conference over the course of last semester and into this one.
It can be hard to acknowledge the good that we put into the world every day in a society that values people based on productivity. The leadership you are already capable of has and will continue to have an impact on those around you! Come talk with us about why it's not about changing the world - it's about doing the amazing things you do and sharing with others that they do amazing things, too. *Note: this is a feel-good session that will involve sharing personal experiences. Folx is encouraged to, but not required to talk about a moment when someone made a positive impact on their life." We had about 19 participants in our session and had a great time!
Office of Residence Life (ORL)
Emily Higham, Sam Squyars, Garrett Suhr and Justin Tarbell attended the SEAHO (Southeastern Association of Housing Officers) virtual conference from February 24–26.
Center for Multicultural Student Services (CMSS)
Chervon Moore - Keynote speaker at Grand Valley State University and also attend their new members Greek 101 in January
Cierra Ballinger - Ballinger, C, Garmer, W, Mechalkse, C. (December 2020) Student Leadership Center Assessment Plan, Presented at James Madison University, Harrisonburg, VA. PSYC 600 Assessment Capstone
Ballinger, C. (January 2021) Graduate Degrees in Higher Education, Presented at Sigma Gamma Rho Sorority, Inc. Undergraduate Leadership Summit
Rebeca Barge and Gabriel Driver - Diversity Conference - "The Center for Multicultural Student Services developed a student leadership program founded in self-authorship and critical race theory to enhance introspection and social justice practice among students and practitioners. Participants will have the opportunity to connect the 6Gs Leadership Experience principles of Ground, Growth, Grace, Grind, Grit, and Gratitude to how they lead their own lives."
Achievements
Community Service-Learning (CS-L)
At this time last year, Community Service-Learning mobilized to support 18 teams of Alternative Breakers in 13 states and Jamaica as they attempted to complete their service, process the news that JMU's spring break would be extended, and return home safely.
This year's group of student Alternative Break leaders have had to be flexible and resilient in the face of great uncertainty and frequent disappointments, and we are very proud of them as they lead day-long service-learning projects with local partners throughout the month of March. They're contributing in a variety of ways, from disinfecting the entire Explore More Discovery Museum to building and planting a community garden at a health clinic in rural Page County to planting a stand of American Chestnut trees at a state park.
In addition to celebrating their accomplishments, the Alternative Break Program would like to thank the following members of the division for serving as Learning Partners and sharing their time and enthusiasm with our students:
Lorie Miller
Colleen Waller
Steve Grande
Jo'Nae Olds
Carolyn Smith
Misty Newman
Office of Residence Life (ORL)
ORL's Business Operations team won SEAHO's COVID response award. Given "In recognition of invaluable contributions to your residents, home department, and institution during the COVID-19 global pandemic crisis." Presented to Holmes Browne, Sam Butler, Jennifer Dodson, Courtney Samuelu, Jon Strine, and Stephenie Williams.
Jason Jones was recognized for SEAHO's Service Award given "In recognition of meritorious service to the students and Housing organization of your home institution"
Publications
SOGIE-Sexual Orientation, Gender Identity and Expression Programming
The SOGIE Programming Advisory Board has created a "Faculty and Staff Inclusion Guide." This will be available to SOGIE's website in the coming months, and a copy is available here as well. 
Virtual Opportunities
SOGIE-Sexual Orientation, Gender Identity and Expression Programming
Apr. 13 – SOGIE and CMSS have partnered for a virtual staff training hosted by the Human Rights Campaign. There will be two opportunities to join for this training. Register here
Apr. 15 – Lavender Graduation - 6 p.m. on Zoom. RSVP here. 
About Community with Ideas
The masterminds behind the scenes.
Community with Ideas is your monthly newsletter.

We welcome all comments and suggestions. Please contact a Community with Ideas committee member to submit content, photographs or announcements. We look forward to hearing from you!
COMMITTEE MEMBERS
Marsha Mays-Bernard | AVP Liaison | maysbeme@jmu.edu 
Dawn Miller | Chair | mille2da@jmu.edu 
Ann Simmons | UHC-The Well | simmonae@jmu.edu 
Angela Ritchie | UHC-The Well | ritchiac@jmu.edu 
Eliza Moreno | UHC-SA GA | morenome@jmu.edu 
REPRESENTATIVES
Allison Smith
Leslie Beam
Brittany Dioszeghy
Moriah Fallon
Emily Higham
Jessica Herring
Darius Perkins
Dawn Miller
Lindsey Richards
Dianne Nibblins
Heather Reid
Ann Simmons
Jill Staley Wade
Mollie Zenz
Jennifer Iwerks
Brent Lewis
Allahjah Smith
Photo contributions from JMU Creative Media