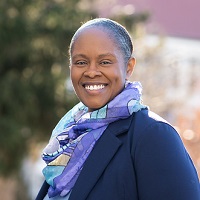 Malika Carter-Hoyt, Ph.D. serves as the new vice president for diversity, equity and inclusion and chief diversity officer (CDO), beginning Aug. 25, 2022. She was selected through a highly competitive national search.
Carter-Hoyt comes to JMU from the State University of New York College of Environmental Science and Forestry (SUNY ESF). In 2017, she joined the SUNY ESF community as the college's first CDO. She has also served as the CDO for SUNY Upstate Medical University and is the chief executive officer of Passion4Pivot LLC, a social justice consulting firm. Before beginning her work at SUNY ESF, she was the inaugural CDO for the city of Worcester, Massachusetts.
Carter-Hoyt earned her doctorate in philosophy with a concentration in institutional analysis from North Dakota State University; master's degree in higher education and student affairs administration from the University of Vermont; Bachelor of Science degree in middle childhood education from Cleveland State University; and Associate of Art with a concentration in stenography from Cuyahoga Community College.
Among her numerous awards and accomplishments, Carter-Hoyt was presented with the Harriet Tubman Freedom Fund Award during the Syracuse NAACP's 42nd Annual Freedom Fund Virtual Dinner in 2021. This award, the highest honor given by the organization, is presented annually to an individual whose extraordinary leadership and efforts have contributed to eradicating racial injustice, promoting social equity and advancing and improving the community at large. In her time at JMU, Carter-Hoyt has been named an "Impact Maker" in the 100 People to Meet by Virginia Business and was accepted to the NASA Astrophysics Database of Global DEI Practitioners who will evaluate the inclusion plans of scientific proposals submitted. Lastly, as an active member of Association of Public and Land-grant University's (APLU) Council on Diversity, Equity, and Inclusion (CDEI), Carter-Hoyt agreed to serve as CDEI's liaison to the Council on Strategic Communications (CSC).