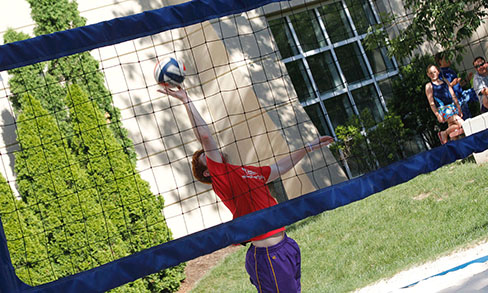 Sports and fitness at JMU
Think you have what it takes to be an All-American? Or maybe one of our club sports teams is you? See yourself ripping around during a couple different intramural sports seasons? Are hiking and canoeing more your thing? How about the thrill of shoving 300 pounds through the roof from the bench? 
We have 18 Division 1 intercollegiate athletics teams, a growing list of club sports teams and a vibrant intramural sports program. Our adventure program has possibilities you may never have considered before.
Your game is here.
Don't have a game yet?
Don't have a clue what your game is? No worries. We have you covered. That's the great thing about all the options we have – you are bound to find something that piques your interest and holds it.
The four distinct seasons of the year we have here in the Shenandoah Valley of Virginia bring with them lots and lots of opportunities for recreational variety.
Winter may find you zipping down the ski slopes or tubing at nearby Massanutten Resort or one of the other popular ski resorts within a couple hours' drive.
Summer is a great time to grab some friends and head for one of the many popular area swimming holes, take a tubing trip down one of our area rivers or check out the newly opened water park that's 15 minutes away.
Spring is the perfect time to try out our two disc golf courses, the disc golf course at JMU's University Park and the other in Harrisonburg's Westover Park, tee it up the traditional way at one of the half-dozen local golf courses or stretch your legs on a hike in the breath-taking Shenandoah National Park.
Fall could draw you to our on-campus arboretum, maybe into UREC for a yoga class or perhaps on a weekend adventure to Reddish Knob.
We have gear to rent, groups for you to go with and ideas to help you be fit, learn some great lessons and have more fun than you can imagine. The possibilities are everywhere. The choices are yours.

One awesome recreation center
Our 278,515-square-foot University Recreation Center is amazing.
Three multi-use gyms, two indoor tracks, fitness and cardio theater, aquatics center, adventure center, wellness suite, equipment center and eight racquetball courts
A 32-foot-tall indoor climbing wall with a rock-life surface that is used for free climbs, climbing schools and clinics
Six group exercise studios, several locker rooms and two outdoor courtyards
A 33-foot-tall indoor climbing wall with a rock-life surface that is used for free climbs, climbing schools and clinics
A main gymnasium that can be divided into four full basketball/volleyball courts for intramurals, sport clubs and open recreation
UREC has all this and so much more, and is open to every JMU student.
No matter what your game, the 2017 nationally recognized NIRSA Outstanding Sports Facility Award-winning UREC has something that can help make you better.
Wellness is more than fitness
Here are some other special touches we have available for our students:
Personal training sessions can help you get started on the right foot or break through to the next level.

A top-notch nutritionist can help you meet your fitness goals in a healthy, manageable way that will set you up for the rest of your life.

Massage therapists can work out the peskiest of kinks, whether you are just starting back or pushing too hard on your way to the top.

University Park. And lots of other amazing outdoor rec spaces that must be experienced to be believed.
It's up to you. Top-shelf facilities. Lots of possibilities. Find your game here.