This program prepares students to be competitive in nationally recognized doctoral programs.
The study of communication and advocacy creates knowledge and awareness that assist our local, national, and international change makers. For students who want to pursue this field in a Ph.D.  program, the master's in  Communication and Advocacy prepares them by developing their research skills, by encouraging them to present at conferences, and by giving them teaching experiences that, in turn, prepare them for the challenges of doctoral studies.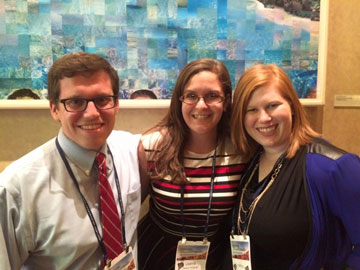 Our M.A. students receive the full attention of dedicated faculty members who mentor them and support their publication endeavors. The list of high-quality programs our graduates have advanced to demonstrates clearly that JMU's School of Communication Studies sets students up for success in gaining admittance to the Ph.D. program of their choice.
Ph.D. and law programs our students have been accepted to:
Boston College (Sociology)
Boston University (Sociology)
George Mason University (Communication Studies)
Indiana University Purdue (Health Communication)
Louisiana State University (Communication Studies)
Ohio University (Communication Studies)
Pennsylvania State University (Communication Studies)
Southern Illinois University (Communication Studies)
University of Colorado at Boulder (Communication Studies)
University of Georgia (Communication Studies)
University of Iowa (Law)
University of Massachusetts, Amherst (Communication Studies)
University of Memphis (Communication Studies)
University of Minnesota (Communication Studies)
University of Minnesota (Law)
University of North Carolina, Chapel Hill (Communication Studies)
University of Notre Dame (Law)
University of Pittsburgh (Communication Studies)
University of South Florida (Communication Studies)
University of Utah (Communication Studies)
University of Washington (Communication Studies)
Vanderbilt University (Law)
West Virginia University (Communication Studies)