Striving for Literacy Professional Learning that Fosters Innovation, Equity, and Sustainability
Associate Professor of Reading and Literacy
Virginia Tech, School of Education
Dr. Dana A. Robertson
DATE: Thursday, March 23, 2023
TIME: 4:30-5pm appetizers; 5-6:30 ceremony
Memorial Hall Auditorium
This event is free and open to the public, but please RSVP here.
Over the past several decades, many large-scale reform efforts have moved rapidly across educational contexts to improve teachers' literacy instructional practices and, ultimately, increase student learning. Yet, many of these efforts have produced only mixed outcomes or have not led to sustainable outcomes once the professional learning providers have left. Meeting the challenge of implementing high-quality literacy instruction and meaningfully improving students' literacy learning requires that we rethink the motivations and contextual factors that may be influencing teachers' engagement in professional learning opportunities and rebalance structural mechanisms that may be hindering sustained outcomes. I argue that high-leverage PL builds capacity and cultures of learning in educational contexts through centering teachers' reflexive growth-in-practice both individually and collectively, while also positioning social networks and collaborations that serve to provide equitable and sustained access to continued teacher growth. These experiences not only foreground high-quality instructional practices, but they also address ways that teachers learn those innovative practices and that teacher learning can be enacted in classrooms to become part of the teacher's instructional repertoire.
Literacy Leader Award Nominations
JMU Literacy Alumni Award
Graduate of JMU's Literacy M. Ed. program
Practices innovative literacy teaching and learning
Promotes literacy engagement within their school, district, or the Commonwealth
Recognized as a literacy leader in the school and/or community
Nominate a JMU Literacy Alumnus Now!
Literacy Teacher of the Year Award
A Virginia educator working in elementary, middle, or secondary classrooms; a reading specialist; a media specialist; or a district leader
Practices innovative literacy teaching and learning
Promotes collaborative literacy engagement within the school, district, or the Commonwealth
Advocates for effective, research-based literacy practices for all learners
Note: Degree from JMU not required
Nomination deadline is February 24, 2023.
For more information, please contact Dr. Chelsey Bollinger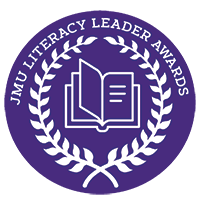 2022 Winners
Cicely Shelton-Barnes (left) received her undergraduate and graduate degrees from James Madison University. She has worked as an educator for the past 16 years. When not working, Cicely enjoys spending time with her family and reading.
Dr. Laurel Sviatko (right) teaches 8th grade English at Thomas Harrison Middle School in Harrisonburg, VA. Over the past 15 years, she has taught students in grades 7-12 in four different Virginia school divisions. Additionally, Dr. Sviatko teaches an Effective Writing course at Bridgewater College. She resides in Broadway, VA with her husband and three sons.