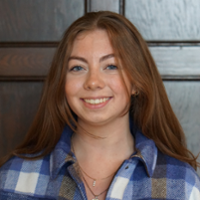 Career Educator
Pronouns: She/Her/Hers
My Career Journey
I am a Health Sciences major with minors in Pre-Occupational Therapy, Exceptional Education, and Honors Interdisciplinary Studies. After finishing my Bachelor's degree, I plan on furthering my education through either a Master's or Doctorate Occupational Therapy program! My dream job would be a pediatric OT working to help kiddos with ASD and/or sensory issues.
More About Me
3 words that describe me:
Friendly

Compassionate

Easy-going
Some fun facts about me:
I love raccoons but would probably be scared if I saw one in person

Obsessed with Trader Joes (Harrisonburg pleasssseeee)

I can't whistle :( someone teach me please!