Dancing with Science
When she enrolled at JMU, Taylor Albertelli knew she loved science.
Then she met Dr. Nate Wright, and the undergraduate research sparks began to fly.
Wright, one of just seven prestigious 2018 Henry Dreyfus Teacher-Scholars in the U.S., explains that a colleague of his from Ohio State and his students asked Wright and Albertelli to help investigate why large numbers of a 50-person Utah family seemed to be dying of heart failure in their 40s.
After the Ohio State contingent sequenced DNA from family members to find all was well except for one protein mutation, the JMU team of Wright and Albertelli eventually pinpointed a correlation between the mutation and the sudden cardiac deaths. The years-long research eventually led Wright and Albertelli down a path that has them on the hunt for a potential cure.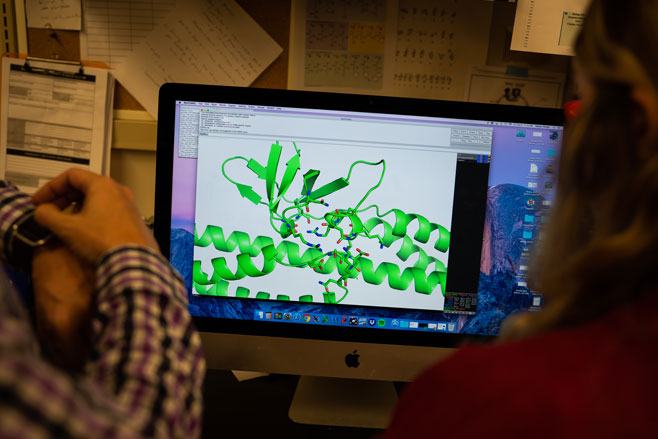 According to Albertelli, "An analogy I like to use to help explain this project is you have the first chapter of a book and the end of the book. And what was in the middle, we didn't really know. Yeah, our work really helped to figure out the whole rest of that story."
"The cool thing about this project, in addition to the obvious therapeutic potential," says Wright, "is how it required both of us to extend beyond our comfort zones and develop aspects of the project that range from physics through physiology."
"That's one thing I really learned doing research here is that I love to be in the lab. I love to work with my hands. I love to do the work myself."
Albertelli is quick to point out that her scientific background was nothing spectacular when she started. "I come from a really small Pennsylvania town—Evansburg—and from a non-science background family, so undergraduate research was kind of like the new frontier for me.
"Seriously, coming into college, never in my wildest dreams did I think that what I've done here would have ever happened," she continues, pointing to a story at one of the many conferences where she has presented that really drove home the magnitude of her intellectual journey thus far.
"I have my poster hanging up on the wall. And another professor came by and we were just talking about it. He said, 'How does it feel to be the only one in the world who knows this?' And it was like I never thought about it that way before, yet it has always stuck with me since then. And that makes it so easy to stay excited about wherever research might take me."
It's completely by design that JMU provides so many varied opportunities for undergraduates to conduct real research.
"It's really hard to do undergrad research in a vacuum," Wright explains. "You need to have really good facilities, and the tendency is that the undergrad schools with really good facilities are, unlike JMU, really expensive. And the other schools with really good facilities don't have room in their programs to allow undergrads to do anything with the work other than watch.
"On the topic of learning things in lab, if getting your degree at JMU is 100%, doing this research has put me at like 250% because I have learned so much by being in here—so much about myself, about science, about how to be a scientist, about how to think."
"One of the real strengths of biochemistry—and really of JMU—is to be able to give undergrads the opportunity to do cutting-edge research that is intellectually interesting and has a chance of helping the world such as Taylor's particular project."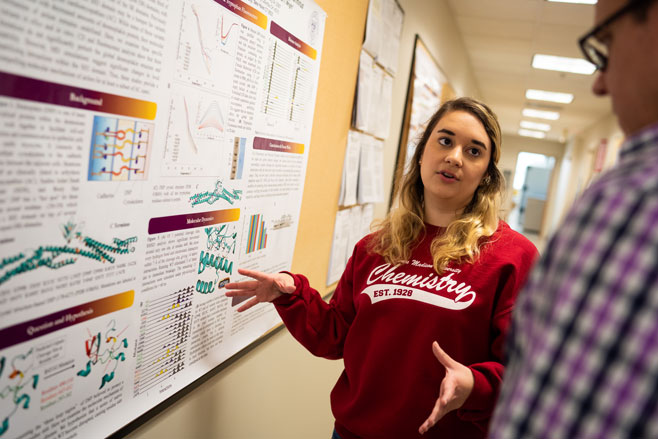 Jokes Wright, "My colleague Chris Hughes in physics has said many times that it's like dancing. You can read a book about dancing and watch dancing, but it's really hard to know if you're going to be a good dancer that way. With science, you can read about it and watch people do it, but if you don't actually to it yourself, you have no idea. You just don't know."
As impressive as it's been so far, Albertelli's dance with science has just begun.
Thanks to her fast start at JMU, the music is likely to keep playing for the rest of her life.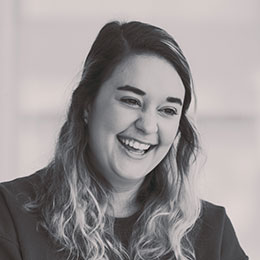 Taylor Albertelli
Class of 2019
Major: Biochemistry
Hometown: Ebensburg, Pennsylvania
Helped Dr. Nate Wright build the computer that they used to do the brunt of their cardiac sudden death research; loves the camaraderie of her fellow lab students; has found her passion—hands-on research—thanks to working in Wright's lab.