Eric Hubbard says that his study abroad experience has given him a toolbox of skills that he will be putting to use for the rest of his life.
JMU Study Abroad takes you places that change how you see everything. Our students discard preconceived notions, expand their comfort zones and find themselves primed to take on new challenges once they return home. Study Abroad the JMU way changes everything.
What's your favorite class so far in Antwerp?
My favorite class so far in Antwerp has actually been finance. It's very applied. It can be applied throughout all of our other classes, too. One of our projects in marketing is to manage a car manufacturer. It's been very useful for me to learn how we should finance the business, different techniques and why we would use certain techniques over others.
Would you say it's hands-on learning?
We definitely do a lot of our hands-on work in case studies. We are given a case study and we read it outside of class, and we come into class prepared to look into all aspects of the company. We're expected to recognize changes in the company and what those changes could mean for other departments within that company. It can be fascinating.
Did you always know you wanted to study abroad?
Initially, studying abroad was a very daunting thought. For me, I was very intimidated by it. It was something that I thought I should do, but I just couldn't commit initially. But after speaking to kids who had gone on the trip previously, and hearing all the great things about the professors and the trips that the University of Antwerp plans for us and the other faculty here, I thought that it was something that I should just go ahead and tackle. And so far, it's been very rewarding.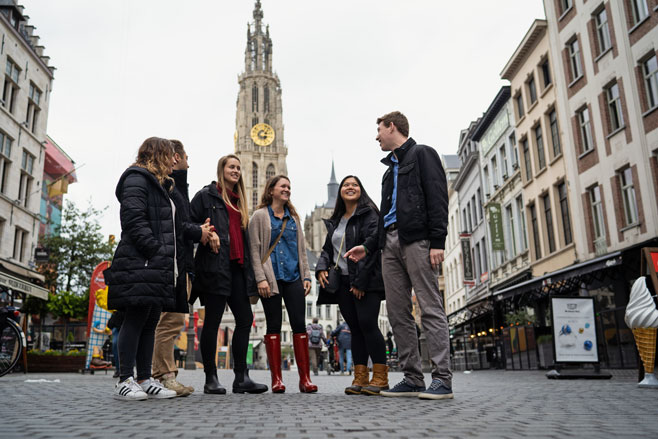 How do you describe COB 300?
You take it your junior year in the College of Business. COB 300 is all about integrating marketing, finance, operations and management together instead of taking them separately. You really get a feel for how business is truly integrated when you get out in the real world, whether that's an internship, or when you first start a full-time job. One of the beauties about the program here is that you do graduate on time if you go Antwerp. You get the same exact classes that you get back at home, and you get the great experience thing here in the city.
Are you getting a lot out of it?
Absolutely! I feel like I'm getting a lot out of COB 300. A lot of what I've learned so far I can apply to my next internships. Even from this summer, I interned with Northrop Grumman. And as I'm learning this in class, I'm relating things back to Oh, that's why they did this or that makes sense now. Now, I can do that on my own.
Talk about your internships.
Two summers ago, I worked as a supply chain intern with a railroad bearing manufacturer. I got to work with all aspects of the company, which is nice, mainly operations optimization. And this summer, I was working in the property management department Northrop Grumman, which was eye-opening for me. I was exposed to many aspects of the business and got to go to several corporate conferences.
Are you well-prepared for the real world?
I expect that because of JMU and my two internships, I will have a very high impact on my first job. So far, I'm leaning toward a consulting group after I graduate. I know that the skills that I have gained through these internships are definitely desired by many employers.
Have you had a favorite JMU class so far?
I really like business analytics because it allows you to take business problems and use linear programming and other technical methods to create tangible solutions to those problems.
"That's the thing about JMU. I feel like you get a great work-life balance. You absolutely get an outstanding education while you're here."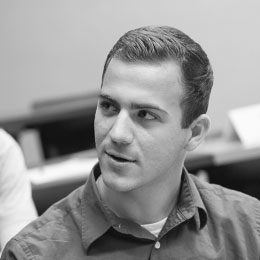 Eric Hubbard
Class of 2020
Major: Management
Hometown: Richmond, Virginia
Finds that JMU provides a great work-life balance; transferred to JMU after being an engineering student at his first university; says the JMU vibe is something special, and includes professors always being there for him.