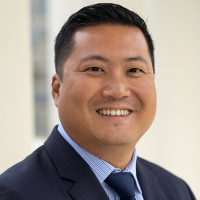 Assistant Dean, Honors College

Dr. Felix Wang is the Assistant Dean of the Honors College. Prior to joining the Honors College, Dr. Wang was the Senior Associate Executive Director for Center for Global Engagement at James Madison University and provided leadership in coordination, collaboration and outreach in global partnerships for the university. In addition, he teaches for the Honors College in the area of Global Studies and Leadership.
A native of Taiwan, he spent most of his life in the Dominican Republic. He earned his B.B.A. and M.B.A from Campbell University in North Carolina and M.Ed. in College Student Personnel Administration from James Madison University. He earned his Ph.D. at the Center for Higher Education Internationalisation (CHEI), Università Cattolica del Sacro Cuore in Milan, Italy. His research focuses on global identity formation and the impact of global experiences on student learning.