Juhong Christie Liu: Member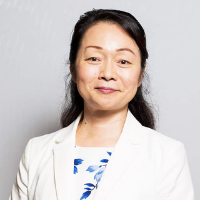 Associate Professor, Libraries

Having been a Senior Instructional Designer and Associate Professor, I am well prepared with practices, teaching, mentoring, and research in instructional design, development, implementation, and evaluation with online and hybrid learning environments. My scholarly interests (click here) include design-based and cross-cultural collaborative research, design and development of OER, applied research of emerging technologies, project management in instructional design (ID), and assessment of technology-mediated learning.  
With interdisciplinary and cross-cultural preparations, I serve on the NSF review panels and the Editorial Boards of TechTrends and Journal of Educational Technology Development and Exchange (JETDE). I am currently on the core leadership team of Shenandoah Valley Inclusive Wellness Coalition (SVIWC). I also serve as the president-elect (2020-21) of the Association of Educational Communications & Technology (AECT) Culture, Learning, and Technology (CLT) and on the leadership team of the American Educational Research Association Instructional Technology Special Interest Group (AERA IT-SIG).
Along with the privilege of engaging in the JMU community and broader academic networks, I enjoy hiking, gardening, reading, writing, and culinary experiments.
Education, Training, and Certification:
Ph.D.(Curriculum & Instruction/Instructional Design and Technology), Virginia Tech
M.Ed.(Instructional Technology), East Tennessee State University
Higher Education Assessment Graduate Certificate, James Madison University
Quality Matters Certified Peer Reviewer, Quality Matters
OLC Quality Online Teaching, Online Learning Consortium