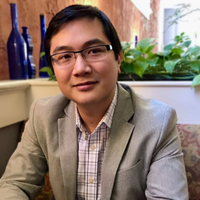 Assistant Professor, English Department

Dennis Lo is an Assistant Professor of Global Cinemas in the English Department at James Madison University. He received a Ph.D. in Cinema Studies at UCLA in 2015, and currently teaches histories of global cinema, film and media theories, media industries, and transnational authors and genres, with a specific focus on Chinese-language cinemas. His research explores the intersections of Chinese-language film aesthetics, film authorship, location shooting, media anthropology, cultural geography, and cinematic ecocriticism.
He is the author of The Authorship of Place: A Cultural Geography of the New Chinese Cinemas, which explores the politics and aesthetics of rural location shooting in Chinese-language cinemas. His work has also been published as a chapter in Production Studies, The Sequel!, as well as in numerous refereed journals, including New Cinemas, Film-Philosophy, and Asian Cinema.
Lo's research and teaching interests stem from his bicultural background growing up in the Taiwan and the Bay Area at a time of intensely accelerated globalization, where he developed an intuitive understanding of the cultural relativity of perception and lived experience. Originally intending to pursue a career in experimental physics to fulfill a lifelong curiosity in the mechanics of the material world, Lo eventually turned to film and media studies due to its uniquely interdisciplinary focus on the intersections of the cultural and social dimensions of perception, as well as the technologies and aesthetics of representation – thus bringing together his dual passions in analytically modeling the myriad environments that surround us, with a desire to better understand the cultural, social, and ideological frames that underpin such knowledge.