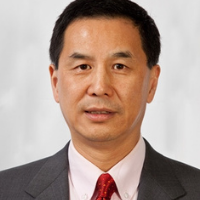 Professor, Political Science

Dr. Jie Chen joined JMU in 2015 and served as the Dean of the Graduate School at JMU from 2015-2019. Dr. Chen's research involves the study of the Chinese middle class and the political implications of Internet use in China. His most recent book, A Middle Class without Democracy: Economic Growth and the Prospects for Democratization in China was published by Oxford University Press. 
He previously been dean of the College of Graduate Studies at the University of Idaho from 2011-2019. At IU, he also held a named professorship, the William Borah Distinguished Professor of Political Science. He was chair of the Department of Political Science and Geography at Old Dominion University for five years. Chen joined the ODU team in 1997 as director of the Institute of Asian Studies, a post he held for eight years before being named director of the graduate program in international studies, a campuswide M.A.- and Ph.D.-granting interdisciplinary program. During his time at ODU, Chen was a finalist for the Virginia Outstanding Faculty Award of the State Council of Higher Education for Virginia and won the Joel S. Lewis Faculty Award for Excellence in Student Mentoring and the Charles O. and Elisabeth C. Burgess Award for Faculty Research and Creativity.