Advancement Organizational Chart
Please click the "full screen" icon 

 in the document below in order to see this document at full size.  If you do not see that icon, click on the "Google Slides" link to see the online document.
The Advancement team operates in a continuum of five progressive phases. This progression is designed to move individuals from a most basic association with JMU to one of full investment.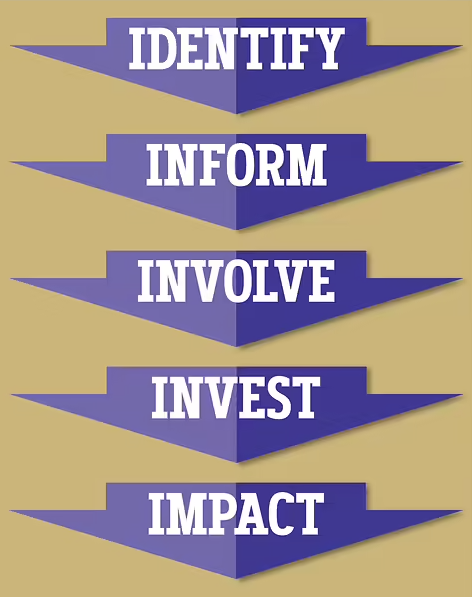 The identify step takes place in Advancement Information Services. This is the most fundamental step and involves ensuring we have sufficient biographical information needed to connect with our constituents.
The next step is to inform them about current events, achievements, people and present day student life at Madison. This takes place in Communications and Marketing & Branding.
Constituent Engagement is the third step in advancement. Here the goal is to involve alumni and friends in ways that encourage their active engagement with JMU.
The fourth step takes place in Development & Principal Giving when an alumnus or friend invests in the university by making financial contributions.
Once a philanthropic investment is made, the relationship is not over. As a fifth element, in a gesture of gratitude the university then demonstrates the impact that a gift had on students, faculty, spaces or learning.