A piece of history
George Washington slept here? Well, not in Harrisonburg as far as we know, but Virginians have shared their home state with good company. Eight U.S. presidents: George Washington, Thomas Jefferson, James Madison, James Monroe, William Henry Harrison, John Tyler, Zachary Taylor and Woodrow Wilson were born in Virginia, and some of their homes are an easy drive from Harrisonburg. So, soak up a little history, enjoy Virginia's beautiful countryside and make a special effort to see James Madison's Montpelier. Yes, we are a little partial. 
The Museum of American Frontier Culture in Staunton is about 20 miles south of Harrisonburg. Besides historic restorations of American, English, German and West African farms, the museum hosts a yearly calendar of events including shape note singing and barn dances, among other things. Take a step back in time to hear the great old harmonies and square dance callers. 
For scenic wonder and history combined, it's hard to beat Virginia's Natural Bridge. Located in Lexington, Natural Bridge is close enough to campus for a day trip and offers visitors both recreational and educational venues. Have your camera ready!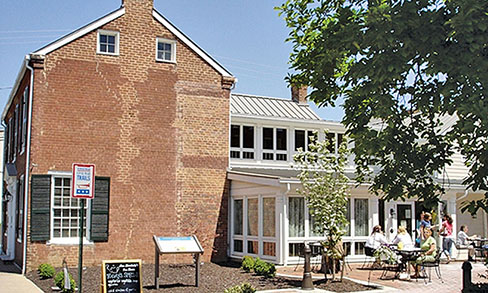 Interested in Civil War history?
The Shenandoah Valley played an important role in the conflict thanks to a large Confederate supply center and two major highways that cross in Harrisonburg (known today as U.S. 33 and U.S. 11). In addition, Rockingham County's position as one of the nation's most prosperous agricultural counties earned it the nickname "Breadbasket of the Confederacy." Two noted struggles took place in the valley: Confederate Maj. Gen. "Stonewall" Jackson's spring 1862 campaign and Union Gen. Philip H. Sheridan's 1864 "Burning of the Valley" campaign. Today, battlefields, historic sites and trails, and even remnants of a freed slave community are carefully preserved throughout the region.
History buffs will want to stop first at the Civil War Orientation Center in the historic Hardesty-Higgins House visitors' center. Next, visit the Heritage Museum in Dayton for a strategic overview of Stonewall Jackson's Valley Campaign presented on the center's "electric map." Your $8 admission also grants you all-day access to the rest of the exhibits including museum-quality displays on Shenandoah Valley folk art and the history of the region from Native American times through the present.
For even more Civil War lore, the New Market Battlefield State Historical Park and Hall of Valor Civil War Museum is located 10 minutes north on I-81. The Battle of Cedar Creek was fought in Middletown, about an hour away from the JMU campus.
Finally, Longs Chapel is a unique monument to the true survivors of the Civil War (and some might consider an unexpected find for Rockingham County). Built in the 1870s, the church was the centerpiece for a community of newly freed slaves known as Zenda. A local preservation society is working to restore and preserve the chapel, but visitors are welcome at the site off historic Route 11.