You are in the main content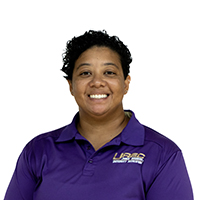 Coordinator of Adventure and TEAM Programs
Sasha Griffith
540-568-8735
UREC 216
Sasha Griffith joined the UREC Team in 2013 as the Coordinator of Adventure and TEAM Programs. While her main responsibility is to oversee the TEAM Challenge Course, Sasha also manages the Adventure Equipment Center.
Sasha graduated from University of Central Florida where she earned her Bachelor of Science degree in Interdisciplinary Studies, her areas being business, music, and recreation. Through her time at UCF, Sasha worked at the recreation center on campus and learned the "ropes" which helped her to move into a graduate assistantship upon graduation. She accepted a position at Texas A&M University-Commerce where she was able to not only start a Challenge Course program but also learn what it takes to be a trip leader. Sasha earned her Master of Science degree studying Training and Development with a minor in Higher Education. Sasha is a member of Sigma Alpha Iota, the Association of Outdoor Recreation Education, and Association of Challenge Course Technology.
Sasha was born in Georgetown, Guyana but grew up in Winter Park, Florida. She has three younger brothers, Hugh, Victor, and Jarod, as well as a younger sister, Alyssa. Sasha enjoys spending time with her siblings and getting them outside. Her favorite activities include cooking, watching movies, hiking, paddling, and learning new things. Sasha's favorite things about UREC are the exchange of ideas and collaboration that reach out to as many students as possible and developing student leaders.