You are in the main content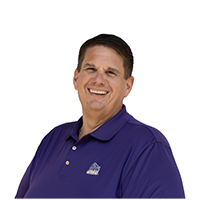 Associate Director for Facilities and Operations
Bob Golson
540-568-8717
UREC 252
Bob Golson joined the UREC team in 1998 and is currently the Associate Director for Facilities and Operations.  Bob oversees capital improvements, facility maintenance, housekeeping and daily operations.  He also works very closely with Aramark and JMU Athletics.

Bob graduated from Florida State University with a double major in Political Science and Criminology.  He received his graduate degree in Sports Administration from Saint Thomas University in Miami, Florida.  Bob has been recognized for his service to the Office of Judicial Affairs and the JMU Duke Club.  Bob is a member of the National Intramural-Recreational Sports Association (NIRSA).

Bob grew up in West Palm Beach, Florida.  He has been married to his wonderful wife Donna, who works with the JMU Field Hockey, Lacrosse, and Swim and Dive programs, since May of 2008.  Bob is very proud of his niece Amanda and nephew Jeremy, who take part in UREC summer camps.  He is a huge sports fan, plays a lot of golf, and loves to travel.  Bob's favorite activity to participate in at UREC is walking 3 miles, on the track or around campus.  His favorite thing about UREC is the students and the staff. His favorite movies are Remember the Titans, A Few Good Men, and The Blind Side.  His favorite show is The Blacklist and his favorite music artists are James Taylor, Bruce Hornsby and Dave Matthews Band. His favorite quote is "Never let the urgent get in the way of the important" by Kay Yow.