You are in the main content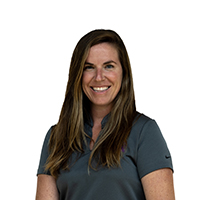 Assistant Director for Marketing and Technology
Kristin Gibson
540-568-8709
Kristin Gibson joined UREC in 2008 and serves as the Assistant Director of Marketing & Technology. She formerly served as the Coordinator of Marketing and Development from 2008-2012. Kristin oversees UREC branding, including UREC digital communications (web site, Facebook, Twitter, Flickr, YouTube), UREC program/facility/service advertising on campus, and sponsorship/fundraising efforts. She supervises marketing graduate and undergraduate student employees and the UREC Technology Manager.
Kristin is the Ex-Officio Chair of the JMU Employee Advisory Committee and has formerly served on the Compensation Advisory Council and the University Planning Team. She is a contract instructor for IS 202: Career Decision Making. She is a member of the National Intramural-Recreational Sports Association (NIRSA) and the SMAD Alumni/Professional Advisory Council. Kristin serves on the Board of Directors for the Harrisonburg Rockingham Day Care Center and began Spark Her Stride, a summer running and empowerment program for young girls in Harrisonburg.
Kristin earned both of her degrees from James Madison University. Her master's degree is in College Student Personnel Administration (M.ed, 2010) and her undergraduate degree (B.S., 2006) is in Media Arts & Design and Communication Studies.  Prior to UREC, Kristin was a Marketing Assistant at a law firm in Washington, D.C. and also worked for a professional services marketing agency. 
Kristin and her husband Kevin (founder of VA Momentum) have two young children, Brady and Colbie. Kristin grew up in Yardley, Pennsylvania. You can catch Kristin on the hockey court a few times a week and running around campus the rest of the time. Her favorite thing about UREC is working with fantastic JMU students and loves that her position encourages her and those around her to live a healthy lifestyle.