//www.jmu.edu/_images/_features/students-studying-in-carrier.jpg
Community with IDEAS: Jan./Feb. 2023
News
Community with IDEAS: Jan./Feb. 2023
The Student Affairs Newsletter
---
Updates
Office of the Vice President for Student Affairs
Rebound Program is looking to expand student participation specifically the written story part. If departments could promote the Rebound website, specifically the "Share Your Story" Tab of the website that would be phenomenal.The program is working to normalize setbacks through story-telling open to entire JMU community, but emphasis on expanding student population participation. It's a program students can participate in Semester-long if they want, or they can just be featured on the website with their written story, video story or as a podcast guest.
If you know of a student who has been through academic or personal challenges while in higher education encourage them to share their story and normalize setbacks through storytelling.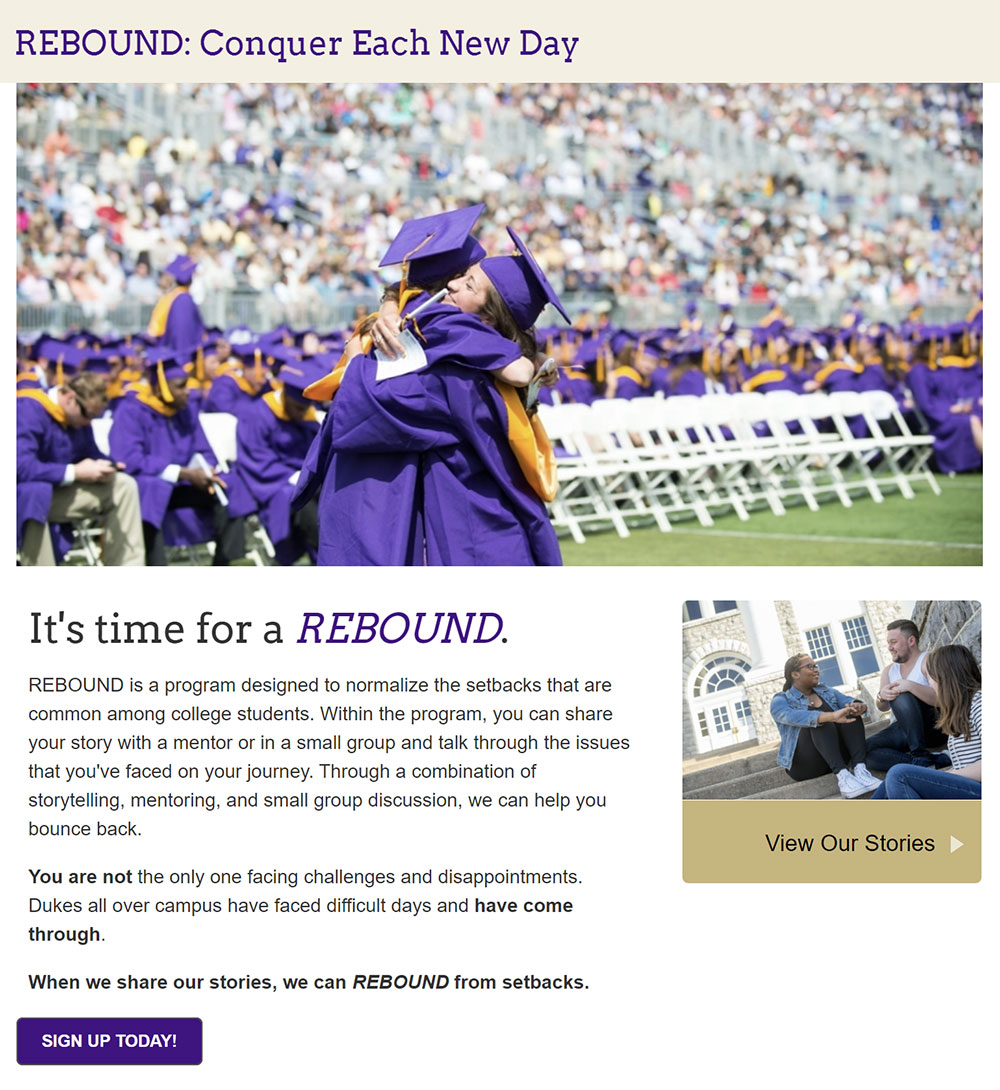 Vice President for Student Affairs Leadership Team
GENERAL UPDATES 
University Wide  
Student Affairs contributes to Admission's programming such as JMU 101, CHOICES, and Dukes for A Day.  Thank you to all that have stepped in to play a role and those who will continue to assist with future events. See email from lonettcy@jmu.edu on 2/21 for more details. The sign-up for CHOICES, March 31, Student Life Showcase was shared with SA Leadership Team.  
The Board of Visitors meeting occured on Feb. 9-10. The Student Affairs Committee hosted a lunch for committee members in the CMSS and SOGIE Lounges. Afterwards, Dirron Allen and his team presented on the Master Housing Plan, including upcoming construction plans for Ikenberry Hall. Learn more about the Board of Visitors meetings, see full minutes and summaries here.  The next board meeting will be April 20-21. Myles Surrett and his team will provide an update from the Career, Experiential Learning, and Transition Area. Anyone is welcome to the Student Affairs Committee meeting on Thursday, April 20 from 1-2:30pm. 
Fall dates and calendar  
The Fall 2023 Academic Calendar was released: 
August 23 – First day of classes

 

September 29 – October 1 – Family Weekend

 

October 18-22 – Fall Break

 

October 27-29 – Homecoming

 

November 18-26 – Thanksgiving Break

 

Final Exams – December 9-15

 
Student Affairs  
In the recent Student Message sent on March 1, students were reminded about Healthy Minds Survey, East Campus Student Services and safety with bird scooters. There are conversations regarding potential changes around max speed of scooters on campus. Students were encouraged to enjoy their break and be mindful during gatherings and celebrations. To see all archived student messages, use this link. Student messages are sent the first week of every month. If you have something to highlight in the student message, please share it here.   
As part of the Master Housing Plan, which includes the Village, Ikenberry will be the first building to begin construction this summer. We have hired a contractor and are finalizing plans for this May. The Residence Life website will post updates regarding Ikenberry and Village construction. This page will be live in the next few weeks. It will include links to a camera so that we can view construction over the summertime, as well as Ikenberry's final student move out. Opportunities to celebrate Ikenberry will be coming soon. 
University Career Center
Career Questions to ask students about their summer plans:
Encourage them to be intentional and proactive when seeking out jobs/internships for the summer
If they don't have plans, direct them to the

 

University Career Center

UCC has knowledgeable

 

Career Advisors

 

that can help them form a plan and give them practical tools
Achievements
AVP—Diversity, Equity and Inclusion 
I would thank to thank everyone that made the new satellite office for Exam Accommodations possible. The Office of Disability Services has opened a satellite office for testing in the Union-502 as of February 6. We are excited to offer another location which as added 40 seats for our students to take exams.
Special thank you to the team in ODS and specifically the leadership of Valerie Schoolcraft and Chris Kinney on this project, in addition Amy Cook, Kristina Bright, and the GA's assisting in exams.
We also had several partners outside of ODS that supported us in this effort, a huge thank you to: Towana Moore, DIrron Allen, Jen Grossman-Leopard, Dave Barnes, Megan Driver, Jini Cook, Lisa Mastin, Jared Combs, Paul Williams, Sam Warren, Jeff Knicely, Gary Shears, Facilities Management, Networking & JMU IT.
Lastly, on behalf of ODS we would like to thank Dr. Tim Miller for his efforts and support of ODS and our students to get this project completed.
Conferences and Presentations
Office of Student Accountability and Restorative Practices 
Cover Heishman, Patrick Francis, Lindsay Stebbins and Dylan Sorkin attended ASCA 2023 in Portland, Oregon. Lindsay and Dylan presented their session titled, "Using Restorative Practices to Address Sexual Harm."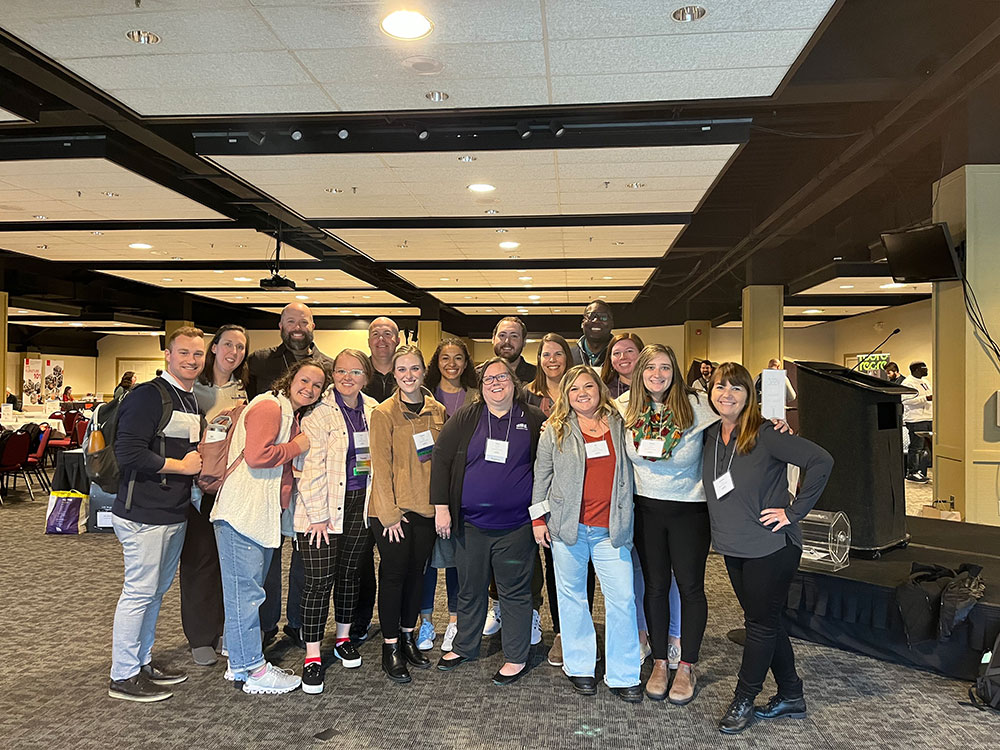 Upcoming Events
Office of Disability Studies 
Disability Advocacy Week is March 20—24, 2023. Check out the events, here. 
Libraries Update
Libraries

A Place to Pick Up Books (and More) When Carrier Closes for Construction
We're excited to share that we are preparing to open a new, temporary location at 1050 S. Main Street, next to Parking Lot "K". We plan to open it soon after Carrier Library closes for construction in May. Learn more, here.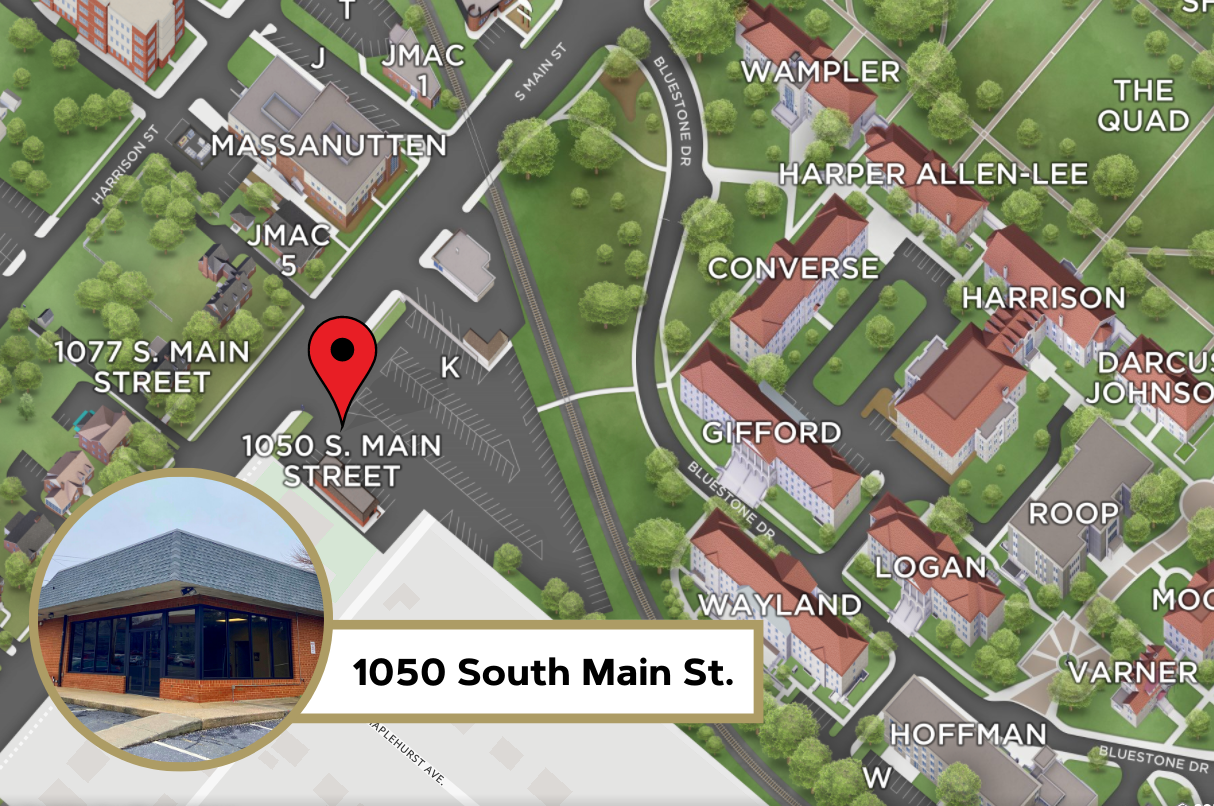 Adobe Software in the Libraries
If you need the Adobe Creative Suite for your class, your job, or even for personal projects, check out these locations at JMU that provide free access to the Adobe Creative Suite:
- Computer Lab in the
Rose Library 24/7 Space
(Mac and PC)
- Rose Library Makery (4 Macs on the 1st floor, available only during open hours for The Makery)
- Other places at JMU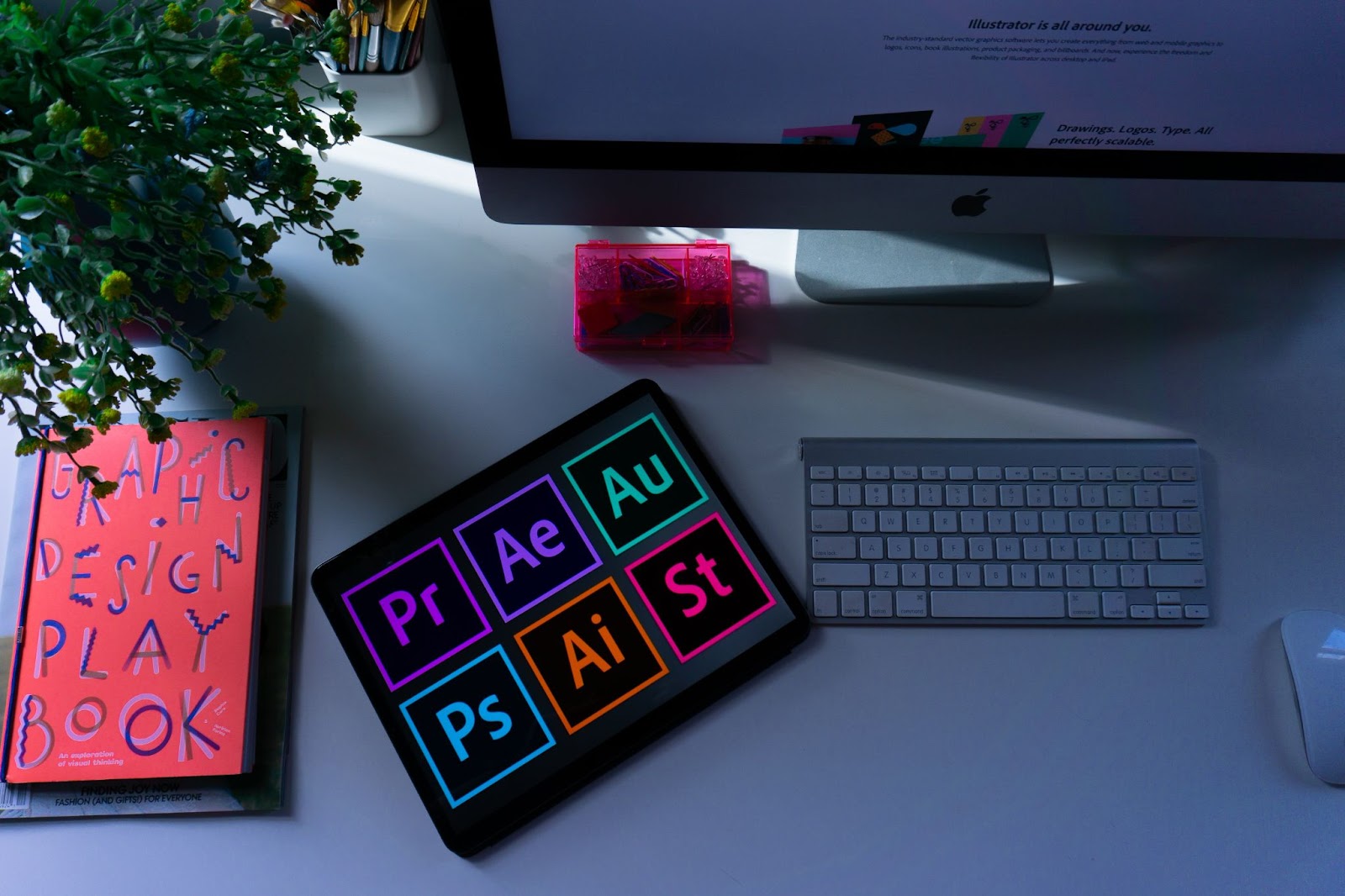 Equipment Loans and The Makery have moved to Rose Library
Stop by the new Learning Innovations & Design desk on the first floor of Rose Library (to the right of the main service desk) to access equipment loans, The Makery and other services for teaching and learning with technology.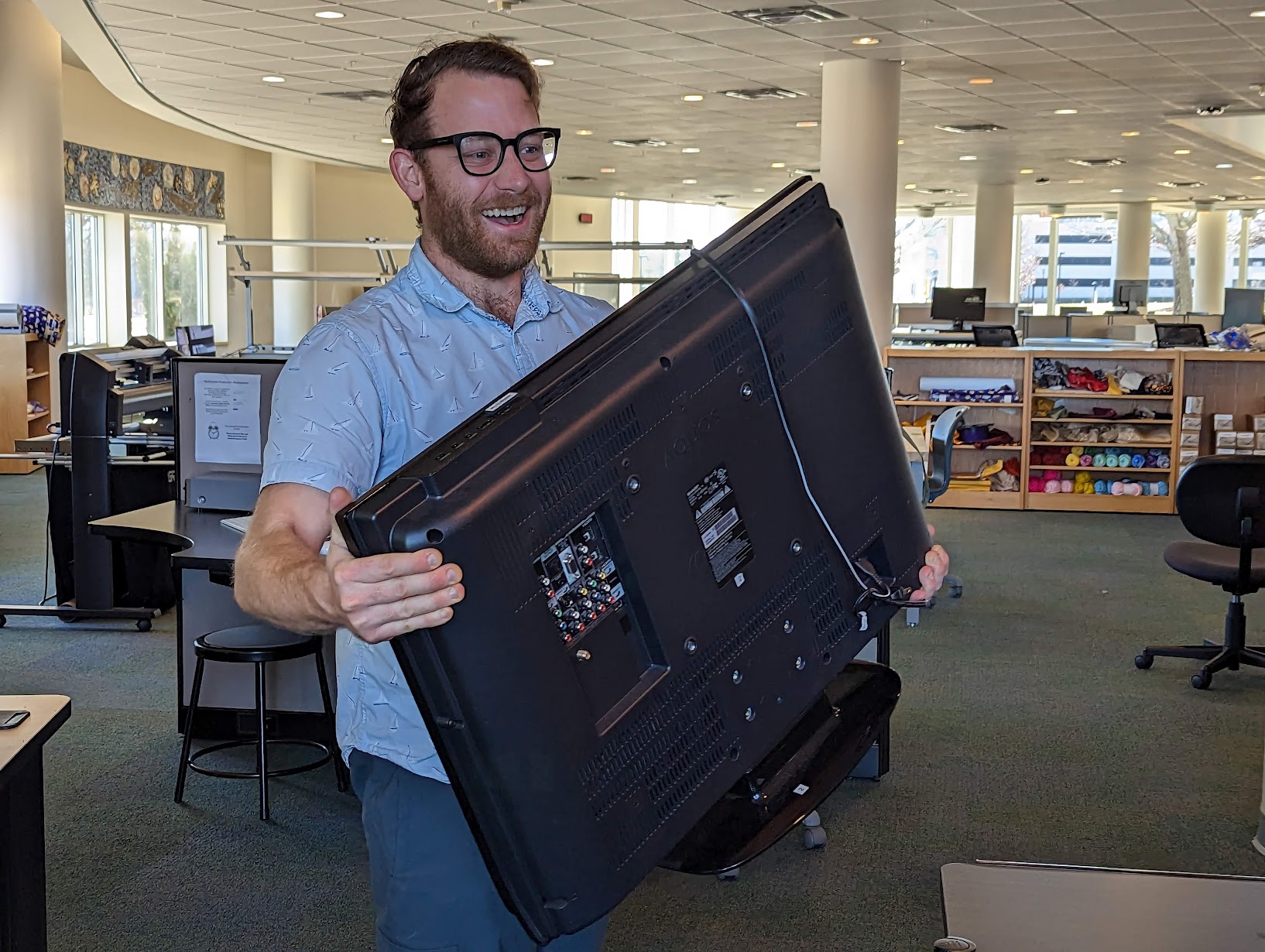 Things You Didn't Know You Could Do in the Music Library
The Music Library is for everyone! Find out 10 things you can do in the Music Library that might surprise you.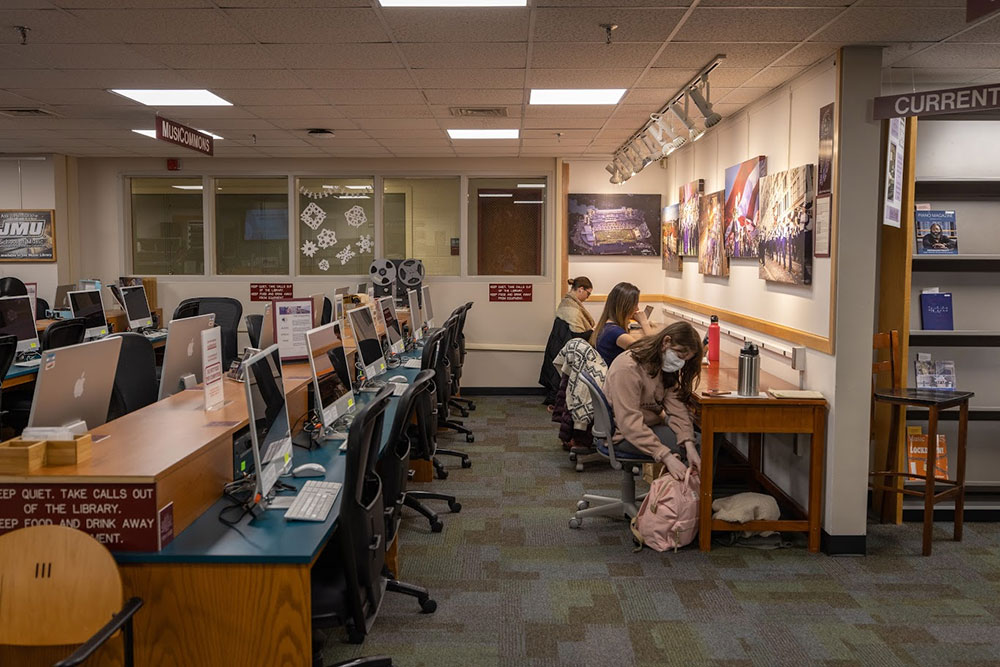 Donate Seeds to the Community Seed Library
Are you ordering seeds for your own garden this year? If you have some left over, consider donating them to JMU's Community Seed Library. We are happy to accept store-bought seeds, partially used packets or seeds saved from your garden. You can donate or pick up seeds at self-service locations in Carrier Library (moving soon to Rose Library!) and Massanutten Regional Library. Envelopes for repackaging seeds are provided. For a larger donation, or if you have questions, contact seedlibrary@jmu.edu. Learn more, here. 
The Community Seed Library also received some recent media coverage! Check it out on our JMU Libraries in the News page. 
About Community with Ideas
The masterminds behind the scenes.
Community with Ideas is your monthly newsletter.

We welcome all comments and suggestions. Please contact a Community with Ideas committee member to submit content, photographs or announcements. We look forward to hearing from you!
COMMITTEE MEMBERS
Angela Ritchie | Chair | Student Affairs Communications and Marketing (SACM) | ritchiac@jmu.edu  
Ann Simmons | Student Affairs Communications and Marketing (SACM) | simmonae@jmu.edu  
Kylie Formisano | Student Affairs Communications and Marketing (SACM)–GA | formiskx@jmu.edu   
REPRESENTATIVES 
Brent Lewis | Student Affairs Diversity Council | lewis2be@jmu.edu 
Brittany Dioszeghy | Office of Disability Services | dioszebd@jmu.edu 
TJ Stafford | Orientation | staffotj@jmu.edu
Deborah Hoover | UHC | hooverdd@jmu.edu 
Dylan Sorkin | Office of Student Accountability and Restorative Practices | sorkindj@jmu.edu 
DaNae Peterson | AVP-Diversity, Equity and Inclusion and CELT | petersda@jmu.edu 
Leslie Bailey | AVP- Health and Well-Being and AVP Student Life and Involvement | baile2la@jmu.edu 
Jen Grossman | Student Life | grossmjb@jmu.edu 
Carson Lonett | VP Student Affairs | lonettcy@jmu.edu
Dianne Nibblins | CMSS | nibblidk@jmu.edu 
Sydney Wood | Office of Residence Life | arnol2se@jmu.edu 
Cassidy Angelo | Sexual Orientation, Gender Identity and Expression Programming | angelocn@jmu.edu
Emily Blake | Library | blakeed@jmu.edu  
Jill Staley Wade | Dean of Students | staleycj@jmu.edu  
Kristin Gibson | UREC | gibsonkj@jmu.edu 
Lindsey Richards | Community Service-Learning | richa2lm@jmu.edu  
Moriah Fallon | Counseling Center | fallo3mj@jmu.edu 
Tiffany Corbin | University Career Center |  corbintt@jmu.edu