News
President Alger: "JMU is home"
---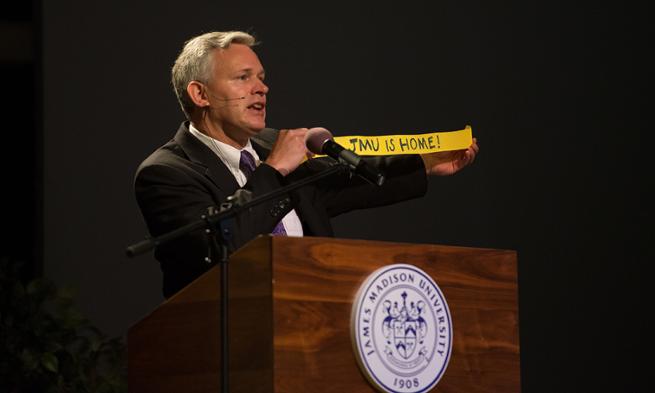 Opening Staff Address
Wilson Hall Auditorium
August 16, 2013
I think you all know that I'm now starting my second year at JMU with all of you. I want to emphasize that we do want you to work hard, but we also want you to have fun here. That's part of the magic at JMU. There was an event not too long ago where people had the opportunity to write three words on a streamer that described their JMU experience. After a year here, I wanted to share this as one of my sentiments: "JMU is home." And that's how we want it to feel for all of you—like home.Good morning, everyone. We are thrilled to have all of you here. I hope you're ready because the academic year is quickly approaching. I hope you got a sense from the video we just watched of some of the things that you all know are true about this university—particularly the sense of community and family here at James Madison University. We care about each other and we try to help everyone succeed at JMU. I think the video really captured the personal side of the university as well as the educational process.
I've discovered more and more this past year, both through the listening tour and my own travels, about the growing national and international reputation of James Madison University. We have an increasing presence around the country and around the world. We made trips this summer to three of our study abroad programs in Spain, Italy and London. We had the opportunity to see JMU in action overseas and the impact our Study Abroad programs have on our students. We also visited one of our programs in Los Angeles where some of our students are studying film and media. We had a chance to witness what tremendous opportunities we provide all around the country and the world. I know all of you are a part of creating that educational environment both on campus and off campus for our students.
This is an institution that is about changing lives, as I think all of you know. Now that I am reflecting on the listening tour from this past year, we have to continue deciding where to go from here as a university. Why Madison? What makes this a special place to learn, to live and to work? We turned a page after this year as we started to get more and more tremendous answers from everybody to that question. We now have a lot of those answers, but it doesn't mean we're going to stop listening.
I can tell you that the No. 1 theme on the listening tours that came through loud and clear, both on campus and off campus, was the importance of personal relationships. Over and over again people talked about the personal touch, the spirit of teamwork and collaboration. Students talked about faculty and staff members who'd made a difference in their lives. Years later they remember and are thankful for all of your work. People and relationships are hallmarks here at JMU. Another theme that I heard repeatedly from alumni was the genuine hospitality here on campus. Students learn better in an environment where they feel valued, respected and known. That spirit of hospitality—that "opening doors" policy I know all of you are a part of--is really an important part of who we are, and it doesn't exist at every other university. I've been to a lot of other campuses where if you say hello to somebody on the sidewalk whom you've never met, they look for their wallet and wonder, "what do they want?" That is not the case here at JMU.
One of the times I was most impressed with your hospitality was during Madison Week in March. It was a tremendous team effort across the entire university. We had a lot of events, and many of you participated and prepared for those events across the university and in the community. We heard from guests from all around the country about how impressed they were with all of you and the effort you put in.
The listening tour has helped to set us up for this year as well as the next big stage of our planning—the strategic planning process that is going to take us forward from 2014 to 2020. Many of you know that the Madison Future Commission has been hard at work to help us think about all different aspects of life at the university and how we can plan for these next six years and beyond. The Madison Future Commission is helping us build on the momentum we have and to dream big for our future. They've been incredibly enthusiastic. They have had a lot of great ideas and they'll be bringing their report to the Board of Visitors this fall. We hope and expect that the plan will be adopted and that it will be in place for 2014 to 2020 and beyond. The listening tour feedback has been shared with the Madison Future Commission so that all of the great ideas you've submitted during the year are being shared with that group and helping us with our planning. I hope you'll see evidence of that as we go forward. It is an exciting time.
Our mission as a university, which is the basis for the rest of the strategic plan, has not changed. The mission statement says that we're a community committed to preparing students to be educated and enlightened citizens who lead productive and meaningful lives. Those are important words. "Citizens," implying that you have responsibilities beyond yourself, that you're part of a larger community, and that it's not just about you, but about all of us. It implies that we are all interconnected, and that's really what our mission is about and what we want to help our students realize as they are here. The working draft of our vision is for us to be the national model for what I call the "Engaged University." I consider this to be the opposite of an isolated, ivory tower. What does that mean? It means that we're engaged with ideas in the classroom, but also engaged with the world outside the classroom. It means that we take those ideas and knowledge and apply them to real world problems and challenges. That is a core part of what we do as an educational institution. We want people to use their education to make a difference in the world and to understand that it's a great privilege and a great responsibility to have such an education.
It starts with a great liberal arts background, which is why we have General Education. As I've traveled this past year on the listening tour, I've heard time and time again from alumni who have said, "Back when I was taking General Education classes, I wasn't so sure about them. Why did I have to take a course over here or over there that wasn't in my major?" But they then realized how those critical thinking skills, those communication skills, and the ability to see things from different perspectives were so valuable later in their lives and throughout their careers. Employers also tell us that those are key skills and attributes they're looking for in their employees. The liberal arts foundation is a key part of what we do and it's important that we recognize its continuing importance in the 21st century. At a time when everybody is so concerned about that first job, we are also trying to prepare people for a lifetime of learning. That is what a liberal arts core is all about.
Engaged learning also has many other elements to it. When we think about engagement with people and the world around us, it includes things like undergraduate research and creative performances. Teamwork, leadership and interpersonal skills are taught both in the classroom and outside of it through student organizations and other forms of involvement. Internships are also a very important part of what we offer. Intergenerational collaborations, through which students can interact and learn from alumni, are very valuable and something that we want to encourage more of. There is also service-learning, as well as international and travel experiences of all kinds. I hope that all of us will have chances to not just participate in the JMU Experience on campus, but to see the impact that we're having all around the country and the world. These are all elements of what it means to be an Engaged University—engaged with ideas, but also engaged with the world. Another thing I repeatedly heard on the listening tour is that JMU is an interesting place. We don't just talk about preparation for careers, but we talk a lot about public service, as well as community and civic engagement. Our students, faculty and staff take them very seriously. I've been working with our colleagues at Montpelier to strengthen the relationship between our university and our namesake's life and ideas. I also visited with the National Constitution Center in Philadelphia this summer to talk about our relationship with them. I wanted to think about, "What does it mean to be an engaged citizen in the 21st Century? What are our rights and what are our responsibilities that we have in a community as engaged citizens?" You are going to hear more about that idea of public service and citizenship as we go forward.
I got a real taste of our sense of community service when I witnessed lots of you in action all around the city, the county and the region this past year. For example, we had the Big Event in April, which I know many of you participated in. Over 700 people engaged in 42 local service projects. We also had a day of service during Madison Week and lots of other occasions throughout the year. I know that a lot of you are volunteering your time to make the community a better place and that is important. We want our community to understand that James Madison University wants to be a good neighbor, a good partner, and part of the solution to the challenges that we face all around us. I want to thank all of you who participate in community service. And for those of you who'd like to participate more, talk to almost anybody in this room and they can give you ideas of how to get involved in the community.
As we think about citizenship and our roles as citizens going forward, another exciting thing we're unveiling is the "Madison Collaborative: Ethical Reasoning in Action." This initiative encourages us as an institution to talk about ethical reasoning in students' professional, personal, and civic lives. We're going to jumpstart it at JMU's upcoming 1787 Orientation by unveiling this new initiative to all of our new first year and transfer students. But, I hope it's also something that all of us can participate in, so be thinking about how you can get involved in that conversation.
I am also pleased to officially announce the leadership for this exciting new initiative. After a competitive national search, Dr. Bill Hawk has been selected as the chair. Dr. Lori Pyle will be assisting him as the associate chair. I want to thank both individuals for their leadership. We are very excited to have them here. We know it's going to be a busy time, but I believe this idea of thinking about ethics and ethical reasoning is going to be a real signature for the university as we go forward.
We have over 4,000 incoming freshmen who will be participating in their orientation with us very soon. The part of their orientation that will be focused on ethical reasoning is named "It's Complicated." When you see that phrase around campus, whether on t-shirts or other places, you will recognize the phrase in relation to our Ethical Reasoning in Action initiative—that it's complicated to think about ethics and ethical reasoning, but that it's important for our students to have those skills. Thank you to all of you who volunteered to be facilitators for those sessions. We had over 150 volunteers for 130 slots, so that's a terrific reflection of your teamwork and your commitment to this institution. That initiative, by the way, came out of our 10-year SACS review, which is the accreditation review that the university goes through every 10 years. We had a site visit this past spring and the visiting team gushed about JMU. They had zero recommendations as part of the process by the time they were finished, which is extremely unusual for one of these visits. We were thrilled with the outcome. It reflected a lot of hard work across the university and it shows the quality of education that we provide.
I also want to talk a little bit about compensation, the budget and enrollment as we go forward. I think all of you know that one of our big challenges when I first came into office last year was addressing compensation issues. And believe me, I was very excited in June to hit that send button as soon as we got final board approval to get across-the-board salary increases for the first time since 2007. That was a very exciting moment for us. We were very grateful that we had support in Richmond, that people understood our message, and that the budget folks here at JMU worked really hard to push those increases. Not to mention that these were on top of the bonuses that we had also already had in the past eighteen months. We made some significant progress. And while we know there's much more work to be done, we wanted to send the message that we value our people as our top and most important resource. I hope people have felt that this message rang loud and clear and that it will continue to be the message as we work on these issues.
Compensation is still a top priority in our six-year plan that we'll be presenting later this month to the State Council on Higher Education for Virginia. We'll continue to talk to legislators about this topic and the need to invest in their people in higher education. I believe it's the best investment our state can make for its future. I also want to acknowledge the Compensation Task Force; we had a lot faculty and staff who helped us to look at these issues and came up with a lot of good recommendations—not just about salaries, but a much broader set of issues to be thinking about when we think about your life here at work. We're going to be appointing a Compensation Advisory Committee to continue this work as was recommended to us. And, more importantly, to take a comprehensive look at how we can be a great place to work. We want to focus on work-life balance issues as well, where we can be a real leader. I hope some of you enjoyed the summer work hours this summer. It was something of an experiment, but we'd heard from a lot of people that they thought it would be possible. We will be surveying the staff after the end of this summer because we do want to get your feedback on that. If you have any ideas for tweaks or what we can do to improve, we would like to hear from you. Thank you for your participation and for your flexibility in that regard.
We also want to continue working on issues such as professional development and training. You should know that JMU is a real leader in that regard—investing in its people in terms of training and professional development. I am so impressed with the leadership programs we have here, like the IMPACT3 program, for example, in which many of you have participated. It's a real strength for us and one that I want to continue as we go forward. I want to make sure we can celebrate the accomplishments of our people and recognize each other in various ways. If you have thoughts about that, I would love to hear them. I know the EAC would like to hear them as well.
Speaking of the budget, I have some good news to report on the fundraising front. Let me just share a couple of numbers with you. The number of alumni donors over this past year went up by almost 10 percent in one year. In terms of the annual giving—and this is a phenomenal number—we had a 59 percent increase in the amount of new commitments, which was just shy of 13 million dollars. Now, no pressure, but I think a 59 percent increase would be good every year. I do want to especially acknowledge all of you who participated in the Employee Giving Campaign. It speaks volumes about the kind of place this is that so many of you would participate in this campaign, particularly in tough economic times, and we fully recognize how hard it is with all the challenges that we face. I know we can get that number even higher as we go forward. We are, by the way, making plans for a next comprehensive campaign that will coordinate with our strategic planning. You'll be hearing more about that as we go forward. We are not going to rest on our laurels by any means; we know we have a lot of work to do to develop a culture of philanthropy, and to convey that achieving our hopes and dreams requires a lot of resources.
Here is another quick update in terms of this coming year. I wanted to share information with you regarding the incoming freshman class and our fall enrollment. We expect to have a record enrollment again this year—slightly over twenty thousand. The incoming freshman class alone represents 29 states and the District of Columbia. They come from 30 different countries. In terms of the top female names in our incoming class, the No. 1 female name is variations of Sarah, No. 2 is Emily and No. 3 is variations of Catherine. Now, on the male side of the equation, No. 1 is... anyone care to guess? It's John or Jonathan. I'd like to think that's not just a coincidence! No. 2 is Matthew and No. 3 is Ryan. The majors they are interested in are notable as well: No. 1 is Biology; No. 2 is nursing; No. 3 is health sciences; No. 4 is marketing; No. 5 is IDLS. Then we have management, psychology, accounting, finance and No. 10 is media arts and design. This may give you a sense of how things are changing at the university. It's a very different list than you might have seen 20 or 30 years ago.
On the academic side, we have many highlights. The new 2012-2013 Annual Accomplishments Report has just been completed, and I hope you'll all take a look at that. The state has top jobs legislation, as you've probably heard about, to prepare students for the 21st century. Here at JMU we've been very responsive to the state's needs. Over the last five years, we've increased the number of STEM (science, technology, engineering, and math) graduates by 65 percent and the number of health graduates by 33 percent. Those are big numbers that show we are preparing students for the economy of the 21st century. You may also know that Student Affairs has been hard at work all summer preparing for our incoming students. We have a program that is recognized all across the country as one of the very best with tremendous leadership from Dr. Warner and his colleagues. Residence Life has now implemented online room and roommate selection. They've created a Res Life app for iTunes and Android that allows students and families to have a virtual 3-D tour of their residence hall. So be on the lookout for the latest and greatest from Student Affairs.
Now, just a couple quick words about facilities and construction updates. Renovations are continuing at Montpelier and Madison Hall. These buildings will have more than 250,000 square feet of space and will serve as a leading center for student health and success as well as behavioral studies programs, among other things. We are excited about the reuse of that old hospital facility. Duke Hall, as you all know, is being renovated at the corner of Grace and Main streets. That's on schedule for substantial completion late this year and that renovation and addition will include sorely needed space for the visual and fine arts. We are excited to have Duke Hall right across from the Forbes Center. You may have noticed, speaking of the Forbes Center, that a median has gone up. We are always trying to increase safety here. We have seen a lot of people crossing the street in the wrong place and creating issues for traffic. So, please don't climb over that fence, but go around and through the tunnel.
We also have a housing project on Grace Street coming up that will house 500 students. It is slated to open in August of 2014, so be on the lookout for that additional residential space. In addition, we're bringing together several community-based programs that will be located in the Ice House, a building in downtown Harrisonburg, to underscore our relationship with our community. That building is still under renovation and we'll have more announcements about that as we get a little bit later into the fall.
UREC will be experiencing some changes as well. Listen to these numbers: UREC's daily visits have increased nearly 100 percent since 1996 and sports club participation has increased by 200 percent. Last year alone, UREC recorded 550,298 visits. So our facilities need to reflect this increased usage. We want to encourage health and wellness education, which is a big challenge in our society. UREC plays an important role in that, so renovations are currently in the design stage to accommodate more visits. University Park, which opened last year, has been very well used already. University Park is another part of the equation, so work will continue there over the coming year. The Convocation Center will also undergo changes in the near future. We don't have a timetable just yet, but we know that the building is approaching the end of its useful life and is going to have to be replaced. In the meantime, our teams had a pretty good year and we're hoping for more this coming year in basketball and other sports.
As we close, I hope you remember that this is a family; this is your JMU family and we're all a part of it. As you think about this coming year, I hope you can reflect on the fact that our people are the most important resource we have. It's all about you. You're the ones that are making a profound difference in the lives of our students and of your colleagues around you. What I urge all of the incoming students and their families to do is what I also want to urge all of us to do as we go forward. Dream big about our hopes and possibilities for this coming year. We dream big. Let's dream big together and have a great year. Thank you all so much for coming.
Published: Friday, March 15, 2013
Last Updated: Tuesday, June 7, 2016