News
Meeting the need
"I couldn't have made it there without my professors knowing me — and how close I was to giving up that first semester."
---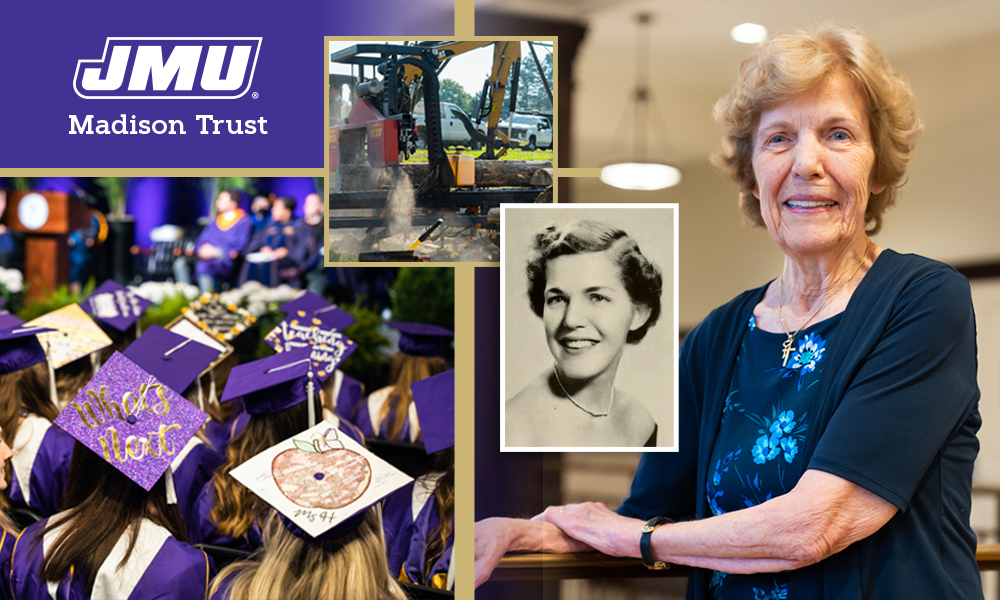 SUMMARY: In 1952, a college scholarship brought Jeannette Williams to Harrisonburg, Virginia. When funds fell short for continuing, a faculty member stepped in. She finished with a bachelor's degree in 1956 and went on to complete graduate studies, too, earning her doctorate in 1971. Now retired after a career in education, Williams gives back by funding Madison Trust projects she believes sustain the special JMU student-faculty interaction that changed her path — and her future.
---
Students graduate from JMU with experiences shaped by the school's emphasis on student-faculty engagement and community service. An alumna from the Madison College days who benefited from these connections, Jeannette Williams ('56) donates to many of today's campus initiatives, which she views as a direct investment in sustaining this core of the Madison Experience.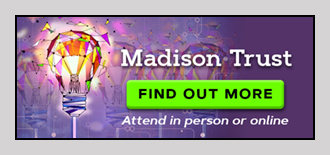 One of the ways she discovers projects where her philanthropy can make a significant difference is by attending Madison Trust at JMU each spring. Finding those avenues is especially important right now when, according to Williams, people are "growing more distant from each other." She believes interactions between the faculty and students are special and wants to see those relationships continue to thrive.
"After all," she adds, "I couldn't have made it there without my professors knowing me — and how close I was to giving up that first semester."

"There's no limit to how far you can go when people see you and appreciate what's going on with you. That's how you engage, teach and provide direction. We've got to find ways to keep JMU special in doing this — and I see funding Madison Trust projects as one excellent way to do this."
Jeannette Williams ('56)
Well worth it
One of nine children, Williams came to Harrisonburg on a Virginia Teaching Scholarship. But at mid-year, she recognized that without additional funds, she wouldn't be able to keep going. She questioned her choices: Was a degree worth the cost? She took off a year to work, but then a faculty member intervened and convinced her of her potential, and together they secured a private scholarship that enabled her to continue.
Williams also had a job with the Madison dining hall and did some secretarial work to make ends meet. In her senior year, she nearly had to stop again — but again a faculty member helped out, and Williams was able to complete her degree, a B.S. with a major in Business and Marketing Education.
"I was in the first generation of my family to attend college," she says. "Who'd have thought I'd graduate and go on to earn master's degrees in teaching and business education and add a doctorate in psychology and counseling? I wouldn't have been successful in school without the support and personal attention of faculty — and that success opened up a path and changed the direction of my life."
Direct Impact on the Madison Experience
Williams seeks to offer others this same support and to encourage them not to give up no matter how difficult circumstances may seem. She is especially passionate about ways for using people-to-people interaction to answer local needs: "I think this is where you really see innovation," she says.
In Madison Trust projects, she sees not only innovation at work but also the fruits of that innovation making a direct impact on everyone touched by and engaged with the project. Plus, she says, she wants her dollars to go to people who are really going to do what they say they will.
Recently, for example, Williams contributed to JMU Valor, a program serving veterans on campus that got a significant boost from Madison Trust.
"This project felt very personal to me," she explains. "My husband was a veteran of World War II and Korea, and I know how hard it is to transition from the military to college, and finances are just part of the struggle."
New pathways, innovative solutions
In funding JMU Valor, she appreciated the way project leaders proposed using people-to-people engagement to meet an unmet need — and to meet that need uniquely by engaging both veterans and their families.
"Again," says Williams, "it's about that different path JMU makes possible."  
Having been a teacher herself, Williams also likes to fund projects that include interactive learning. A recent favorite was Constructs of Local Knowledge, a project that recycled diseased trees into lumber that students then used to design and build facilities directly benefitting the children of Harrisonburg,
Williams will again participate in the annual Madison Trust funding event this spring. She'll be most interested in plans for addressing the high cost of people becoming more distant from each other. She's looking forward to funding practical innovations ready to sustain the Madison Experience and open up those "different paths" toward brighter futures.
---
YOU ARE INVITED to attend the 2023 Madison Trust — to join the panel of philanthropic investors as we consider this year's top 10 new projects proposed by JMU faculty, staff and students.
Friday, March 10, 9 a.m. to 4:30 p.m on campus or online
Since 2014, this annual funding event has launched nearly 100 innovations and is expected to surpass $1 million in total support this spring. Seats are limited, so sign up now to be a part of this major milestone.
---
Madison Trust is an initiative of University Advancement managed by the office of Corporate & Foundation Relations in collaboration with colleagues across the JMU campus.