Students learn how parks can address social equity
News
---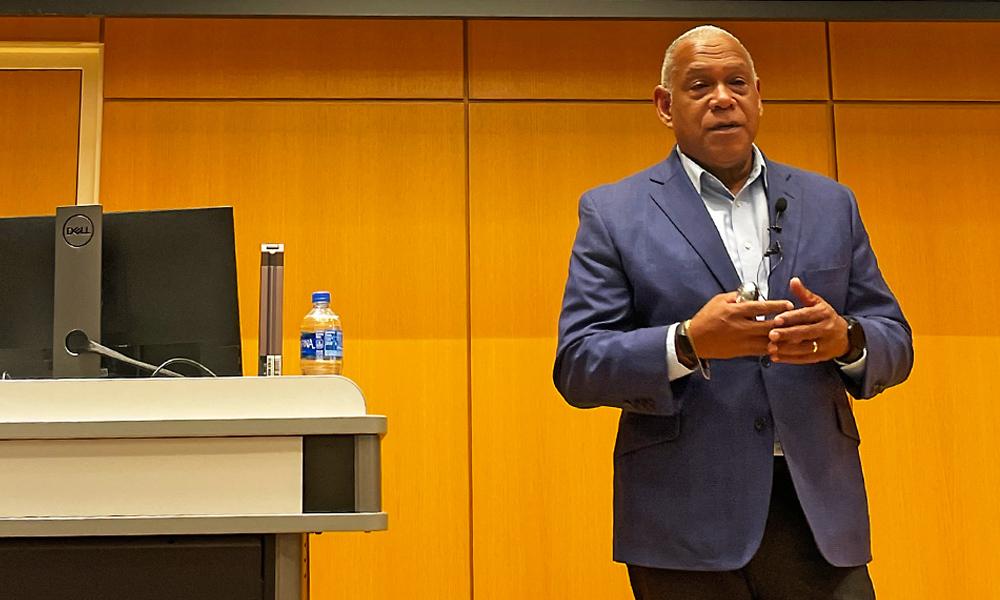 SUMMARY: Students in the Sport and Recreation Management Program learned how park and recreation professionals are "Being the Change" by using data and current research to make evidence-based decisions that improve the social equity of residents in their communities.
---
Mitchell J. Silver, the former parks commissioner for New York City, recently spoke to students in the Hart School of Hospitality, Sport and Recreation Management. Appointed by Mayor Bill de Blasio in 2014 and serving as the parks commissioner until July 2021, Silver used his professional expertise as an urban planner to improve the equity of parks for the residents of New York City. 
Recognizing that parks provide space for residents to relax, play and connect with one another, Silver sought to transform neighborhoods through the provision of active, inclusive and lively public spaces that would serve as catalysts for community engagement, development and resiliency. He scoured current research on crime, safety, physical activity and mental health and compared it with best practices in urban planning, parks and recreation and historical data on NYC park expenditures. According to Silver, "an outstanding city starts with outstanding parks and public spaces."
While commissioner, Silver released "Framework for an Equitable Future," a roadmap to reversing decades of inequity by creating and restoring public places in all five boroughs. More than $2 billion dollars were ultimately invested in neighborhood and community parks that had not seen capital improvement projects over the last sixty years. 
In addition, he cited the mental health benefits of being in nature and how that led to his decision to plant one million trees citywide. Similarly, data on crime and perceptions of safety led to changes to park entrances and embracing the edges and sidewalks adjacent to parks as part of the park system. Data collection efforts included the completion of NYC Parks' third street tree census, producing the world's largest and most detailed online street tree map, and the use of solar-powered benches to offer insight on park usage. 
Collectively, efforts undertaken helped to ensure that residents of NYC not only had a park within a 10-minute walk of their home but that the park would be of a high enough quality that residents would want to spend time there. One way he did this was to place benches in groupings where residents could sit together and talk, as if in someone's living room, rather than having all of the benches lined up in a row, thereby discouraging communication and social interaction with anyone not sitting directly next to you. 
With a personal interest in pursuing a career in the parks and recreation industry, Sport and Recreation Management major, Owen Stewart, described former commissioner Silver as "inspiring" and "incredible," while other students in attendance said they thought Silver lived up to JMU's mantra and Gandhi's advice to "be the change you want to see in the world."
Silver was the fourth high profile speaker brought in as part of the Hart School Speaker Series this fall. Other speakers, all JMU alumni, included Jason Aughey ('03), from the Tampa Bay Sports Commission, Matthew Murray, COO, CMO and partner for 98Strong and Mark Carnevale ('82), previously a professional golfer and presently a commentator for PGA Tour Live and PGA Tour Radio. 
The Hart School Speaker Series is funded by donations to the Hart School, including those made by G.J. and Heather Hart, whom the School is named after, and the Crotty Family. Additional funding is provided by
Le Gourmet
, the Hart School's largest fundraiser.